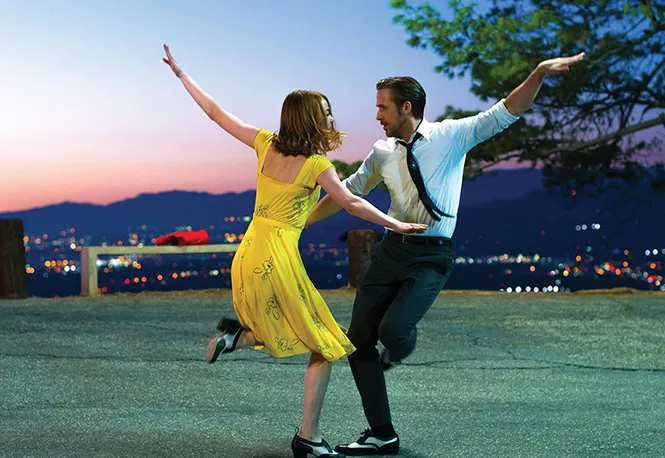 "Why do you say 'romantic' like it's a dirty word?" struggling musician Sebastian (Ryan Gosling) says to his sister (Rosemarie DeWitt) early in La La Land. It's hard not to imagine that's the thesis statement from writer/director Damien Chazelle (Whiplash) because the movie musical is built almost entirely on the willingness of an audience to submit to romanticism—not just "romantic" in the sense of boy meets girl, but "romantic" in the sense of an aesthetic built on emotion. You either accept that a first flutter of infatuation can cause people to burst into song, or you roll your eyes and raise your finger in a "check, please" gesture.
La La Land wastes no time in announcing what sort of movie it is, transitioning from black-and-white credits into a "CinemaScope" title card, and tracking through southern California freeway traffic as motorists leap from their cars to celebrate "Another Day of Sun" in the first of Justin Hurwitz' wonderful songs. It bursts with color and optimism, in the middle of a scenario that usually results in frustration. Romantics: You are welcome here.
Conceptually, it's simple bordering on simplistic, in that way that many "boy meets girl" musicals are. Sebastian is still licking his wounds after a failed attempt to open a jazz club; Mia (Emma Stone) is an aspiring actress working a day job at a coffee shop on the Warner Bros. studio backlot. After they unwittingly meet-cute during that aforementioned traffic jam, they cross paths briefly at a restaurant, then again at a party where Mia spots Sebastian forlornly playing keyboards in an '80s cover band. Will they, or won't they? Should they, or shouldn't they? Will their relationship lead them both to the inspiration they need to create their best art?
The answer to the first question is "yes," making this the third time in six years—after Crazy, Stupid, Love and Gangster Squad—that Stone and Gosling have been paired romantically in a movie. Their chemistry is more charming than crackling, which is just the right vibe for what La La Land is trying to do. As they stroll around the side of a road in the hills of Los Angeles, then don the appropriate shoes for dancing together to the sort-of-not-a-love-song "A Lovely Night," there's an almost impish recognition that they're caught up in a musical. The potential for crushing preciousness is diluted by the leads' sheer commitment to the kind of movie they're in.
That kind of movie is one that's always aware of itself in a context of vintage movie history, which is exactly the sort of thing that can drive some cinephiles nuts. Sebastian and Mia meet for a date at a repertory screening of Rebel Without a Cause; they recognize one set on the Warner's lot as a window from Casablanca; a night on the town turns into a montage where neon signs for bars and clubs drift by over the characters' faces. It would be easy to chide Chazelle for his chutzpah: The nerve of him, quoting from classics, as though his movie has earned a place there.
There's something far simpler going on, though, as Chazelle makes his way through a narrative about people bumping up against the peaks and valleys of creative lives. It's a movie about the euphoria that beautiful, silly and, yes, romantic art can inspire in viewers. When Sebastian and Mia take each other by the hand at the Griffith Observatory and begin floating into the stars of the domed theater, it's a thing of sweet and simple beauty. And when Mia's crucial audition for a potentially career-changing role turns into a paean to "The Fools Who Dream," the room disappears in a recognition of the way art transports both those who create it and those who are lucky enough to experience it.
Maybe it's overstating the case to suggest that La La Land is exactly the kind of movie that matters most in a time when cynicism feels easiest and most justifiable. Art might not be actual magic, but maybe the magic comes from the belief that it can make our world richer, happier, easier to understand. You're only stuck in place if you resist the romantic notion that you can jump out and celebrate another day of sun.