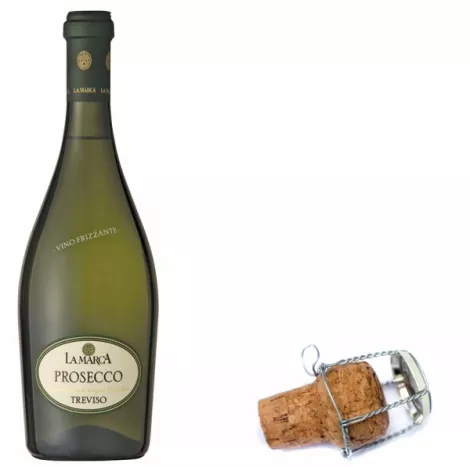 Maybe your financial situation is rosier than mine, but I can't afford French Champagne often enough to satisfy my jones for bubbles. And while I certainly enjoy inexpensive Spanish Cavas, the selection in Utah's wine stores tends to be predictable—the usual suspects. So increasingly, when I'm in the mood for something sparkly, I turn to Italy, to Prosecco.
Prosecco is a perfect way to get a dinner, party or picnic started, thanks in part to its low alcohol content. Prosecco—which traditionally comes from the Friuli Venezia Giulia and Veneto regions of Italy—typically weighs in at about 10 percent alcohol, compared to Champagne and most other sparkling wines, which run at least a couple of percentages higher. That might not seem like much, but the slightly lower alcohol content of Prosecco makes it easier-drinking, less filling and a surprisingly food-friendly wine. It's also a pleasing, light, simple wine to drink on the patio in warm weather.
To compare Prosecco straight up with French Champagne, domestic U.S. bubbly or Spanish Cava might be a bit unfair. It's a subtler animal, with fewer bubbles and less mouth-puckering dryness. Also, vintage doesn't matter. Most Prosecco is non-vintage and made to be drunk immediately. It's not something to get dusty in the cellar.
Prosecco—made from Prosecco grapes (also called Glera)—is more fizzy than bubbly. Indeed, the sparse bubbles there are in Prosecco tend to die out quickly. So the mouth feel of Prosecco can be a little disappointing; it feels like last week's Champagne on the tongue. But stick with it, because the subtle effervescence of Prosecco—as opposed to the in-your-face fireworks of Champagne—will grow on you, as will the price. Most non-vintage Champagne sells for $50 or higher. Prosecco, on the other hand, tends to top out at around $20, and you can find quality stuff for about 12 beans.
Prosecco grapes—some of Italy's oldest—are transformed into sparkling wine using the Charmat method, in which stainless-steel tanks and yeast are utilized to produce a natural second fermentation. It's typically a dry wine with apple and citrus notes—less yeasty and without as much depth as Champagne, but with its own simple virtues.
Zonin Prosecco Brut is on sale this month in Utah for $10.99, a deal that's hard to beat. This is a good representation of the Prosecco varietal and cheap enough that you won't break the bank trying to decide if you like it or not. The flavor of Zonin is earthy and alluring, with a strong floral quality. Earthy and floral? Yep, it's sort of like getting dirty working in the rose garden.
Peach and apple flavors pair nicely with Mionetto Prosecco Brut's ($14.99) pear and citrus bouquet. Like most Prosecco, this one is straw-colored, with a light mouth feel—a good choice for movie night at home with a big bowl of buttery popcorn.
Zardetto Prosecco Brut ($15.99) is light, but dry and crisp, not sweet. A leader of sparkling-wine production in Italy for over 30 years, Zardetto makes a lemon-straw colored bubbly, with pretty, tropical fruit aromas, white peach and grapefruit flavors and an elegance that's hard to beat for $16. This is one of my favorites and a really good choice for your brunch Bellini.
The Prosecco I enjoy most these days is La Marca ($13.99). It made Wine Spectator's "Top 100 Wines of the Year" a few years ago and is brimming with effervescent white peach, honeysuckle and green-apple aromas. The wine's acidity also makes it a great match for everything from seafood to grilled quail and summer salads.