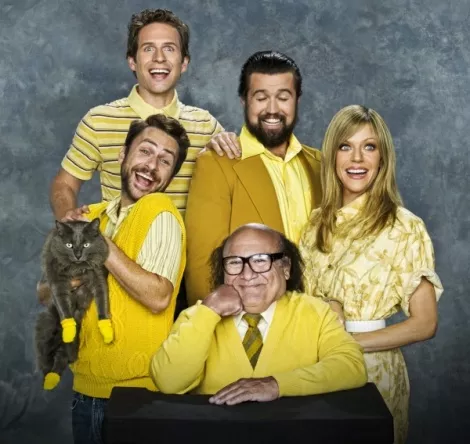 It's Always Sunny in Philadelphia

It's Always Sunny in Philadelphia
Thursday, Sept. 15 (FX)
Season Premiere: Mac (Rob McElhenney) has gained over 50 pounds and carries around a garbage bag full of chimichangas, and the Season 7 premiere ends with a dead hooker in the hallway—comedy gold all the way around. McElhenney did indeed get fat this season because he thought it "would be funny" (he's right—it totally worked for Cartman and Jim Morrison); no one's saying if he and the rest of the gang (Glenn Howerton, Charlie Day, Kaitlin Olson and Danny DeVito) went full Method and actually snuffed a prostitute. Other topics/targets this season include toddler pageants, baby funerals and, most disturbing of all, the Jersey Shore. Welcome back, Sunny!
The Secret Circle
Thursday, Sept. 15 (The CW)
Series Debut: Like The Vampire Diaries? Then The Witch Diaries, er, The Secret Circle, is for you. Sure, Charmed and even The Craft did the girl-power-coven thing better years ago, but The CW needed a demo-retaining lead-out for TVD—what else were they gonna do? American Apparel doesn't sell accessories for werewolfettes.


2 Broke Girls
Monday, Sept. 19 (CBS)
Series Debut: Since it premieres after the mega-hyped Two & a Half Men return with Ashton Kutcher (yes, that's still happening), 2 Broke Girls will easily be the highest-rated new-series debut of the 2011-12 season—it doesn't even have to be better than (blech) Mike & Molly, it just has to fill the 22 minutes between commercials. Fortunately, it's as smart, charming and funny as you can expect from a laugh-tracked sitcom anymore (which bodes well for creator/producer Whitney Cummings' upcoming Whitney, also a studio-audience throwback). This is almost entirely due to stars Kat Dennings (as snarky, "dead-inside" Max Black) and Beth Behrs' (as newly destitute ex-socialite Caroline Channing) instant, easy chemistry as working-stiff waitresses and the show's subtly authentic touches (finally, a craphole New York City apartment that looks like a craphole New York City apartment). Never mind that Saturday Night Live O.G. Garrett Morris is awkwardly shoehorned in as the diner's wacky cashier (who owed him a favor?), 2 Broke Girls works ...

Unlike …


The Playboy Club
Monday, Sept. 19 (NBC/KMYU 2.2)
Series Debut: Damn. You don't even know how big a favor local NBC affiliate KSL 5 is doing all of us by, however hypocritically, refusing to air The Playboy Club: It's nowhere near as dirty as some shows KSL currently runs without question, and it's the most convoluted pilot The Only TV Column That Matters™ has suffered through since last year's sucktastic The Cape (which now looks like a model of restraint and common sense in comparison). As with ABC's new Pan Am, this is a network jumping on the Mad Men retro-'60s bandwagon waaay too late, and then having the balls to pose it as "historical," "suspenseful" and "not at all like an idiotic Lifetime Movie Network reject." Mad Men touched on '60s themes like women's rights, racism, homosexuality and severely shellacked hair (star Eddie Cibrian could be Don Draper's little brother from special ed) over four seasons; The Playboy Club beats you over the head with them all in the first episode, then throws in a mob-murder subplot, smarmy Hugh Hefner voiceovers and period musical-act imposters (first up: Ike & Tina Turner!). Too much, too stoopid, too bad you might still happen across KMYU 2.2.



New Girl
Tuesday, Sept. 20 (Fox)
Series Debut: Will relationship comedy New Girl skate by on star Zooey Deschanel's looks, quirks and tendency to break into song, and somehow succeed where Mad Love, Perfect Couples and Traffic Light all failed in 2011? It's on after Glee … so, yeah.
ALSO THIS WEEK:

Thursday, Sept. 15
Archer (FX) Season premiere

Friday, Sept. 16
Real Time With Bill Maher (HBO) Season premiere

Sunday, Sept. 18
The 63rd Primetime Emmy Awards (Fox)

Monday, Sept. 19
Dancing With the Stars, Castle (ABC) Season premieres
How I Met Your Mother, Two & a Half Men, Hawaii Five-0 (CBS) Season premieres
The Sing-Off (NBC) Season premiere
The Comedy Central Roast of Charlie Sheen (Comedy Central)

Tuesday, Sept. 20
Unforgettable (CBS) Series debut
Body of Proof (ABC) Season premiere
NCIS, NCIS: Los Angeles (CBS) Season premieres
Glee, Raising Hope (Fox) Season premieres
The Biggest Loser (NBC) Season premiere
Tosh.0, Workaholics (Comedy Central) Season premieres

Wednesday, Sept. 21
Revenge (ABC) Series debut
The X Factor (Fox) Series debut
The Middle, Modern Family (ABC) Season premieres
Criminal Minds, CSI (CBS) Season premieres
Harry's Law, Law & Order: Special Victims Unit (NBC) Season premieres