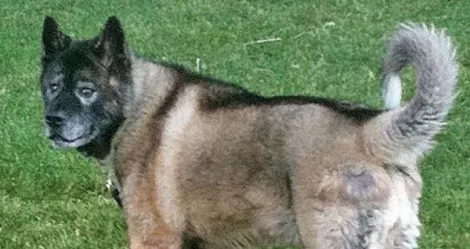 Stella is my ten year old Akita who's been with me since she was 8 weeks old.
She's moving much slower these days, and I know that being a large breed, her time with me is nearing an end. I want to make sure that she enjoys every minute of the time we have left together. After so many years of loyal obedience, I owe her.
I've definitely loosened up the rules of the house a bit. I don't send her away when she slobbers all over me after taking a drink. I actually think it's funny to watch her lift her nose to see what's on the table. (Really!) She gets a little more than her share of leftover meat from dinner. (And, she doesn't have to work nearly as hard as she used to for it!)
Stella, as most dogs, would rather sniff her way from tree to tree instead of joining me for a nice brisk walk around the hood. I have to remind her "this is a walk...not a sniff" and she will dutifully return to my side. But recently, our walks have taken a different turn. I put a long line on her and we walk or sniff, wherever Stella chooses. Actually, without having a planned route in mind, it's kind of fun following her. She moves in different directions, circles around tracking critters, sits on the grass and watches people pass by, throws herself on the ground and squirms with her legs up in the air. It's like watching her perform a dance.
So now I'm dancing with Stella, but I won't be leading anymore.

Speaking of Dogs is written by the certified trainers at "Calling All Dogs" in Holladay. Owner/Trainers are Anna Bettina Johnson, Nicole Corson, and Michelle Rizzi, who is married to CW publisher Jim Rizzi who knows nothing about dogs.