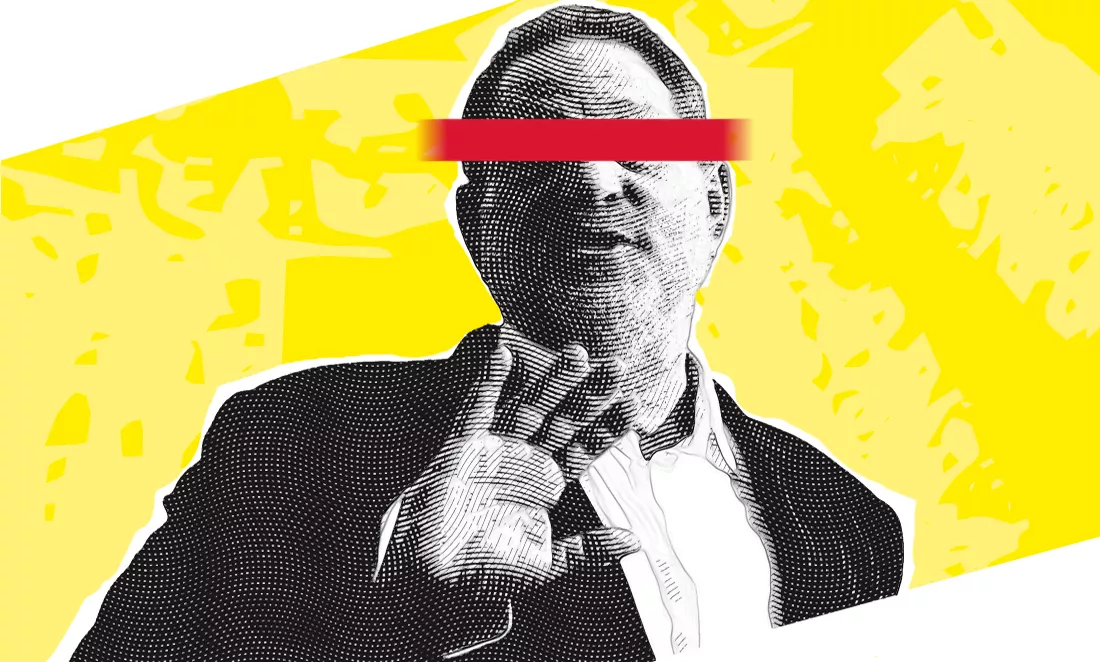 For more than 30 years, the Sundance Film Festival has positioned itself on the leading edge of change in the cinematic universe. From offering exposure to traditionally marginalized voices to recognizing the rise of low-budget DIY digital filmmaking, the annual Utah showcase demonstrates how the conversation about movies is ever-changing—and ever in need of changing.
In 2018, the art and business of movies finds itself facing more crucial transitions, and City Weekly's festival preview offers a look at a couple of them. In the wake of 2017's wave of explosive stories exposing sexual misconduct in the entertainment industry, a Sundance panel explores who gets to tell their stories in the media, and how those stories can effect change. We also dig into the way the 21st-century streaming-platform revolution and envelope-pushing TV series have complicated a question as seemingly simple as, "What is a movie, anyway?"
Add our annual preview of festival features based on a look at the books that inspired them, and a handy guide to surviving the festival as an attendee, and you'll be ready to dive into the 2018 Sundance Film Festival. As the world of movies keeps changing, just let us help show you where it's headed.

—Scott Renshaw,
A&E editor
Justin Bishop/Vanity Fair
Sarah Ellison
Hearing Their Voices

In a post-Weinstein movie industry, a Sundance panel investigates how storytellers can change the world.
Officially, the Sundance Film Festival panel that journalist Sarah Ellison will be moderating on Friday, Jan. 19 isn't about sexual harassment in the entertainment industry. Unofficially, it's hard not to see that subject infusing every conversation about whose stories get told in the media, and how those stories can change the cultural conversation.
That panel—titled "The Power of Story: Culture Shift," with guests still not finalized at press time—will likely explore, per the festival catalog description, "gender, race and the complex nature of systemic change." But considering the seismic impact on the movie and television industry since the October publication of sexual assault and harassment allegations against Harvey Weinstein—a film producer and distributor whose often-controversial presence loomed large at Sundance for most of the festival's history—the need for a particular kind of systemic change has dominated headlines.
"You can't look at what's happening right now in the culture at large or in the entertainment industry, and not see that something is happening," Ellison says. "Every social change feels revolutionary at the time, but it's such a long trudge toward a better future. I think people feel like this is a moment that needs to be seized upon, because it's hard to get people's attention about anything, and post-Harvey Weinstein, there's a real awareness of sexual harassment."
Local producer and director Diana Whitten agrees. The active documentarian and head of the Utah chapter of Film Fatales, an international consortium of women filmmakers, told City Weekly last month the Weinstein case is "the stuff of movies. A ruinous unraveling of blackmail, non-disclosures, gaslighting and Mossad spies all betraying the lengths to which a mogul and his minions were willing—and financially able to—go to silence his victims.
"More compelling to me is that a choir of women's stories was ultimately more powerful than all of it," she continued.
That sentiment rings true for Ellison, a former Vanity Fair special correspondent set to join the staff of the Washington Post later this month. She recently covered the story of Matt Lauer's dismissal from NBC in the wake of sexual misconduct allegations, and also regularly covers politics. As a result, she has been immersed in both major working worlds that have been at the center of these stories of powerful men misusing their positions to take advantage of women. Ellison notes that the response within those two arenas has not been identical.
"The biggest thing that I can see," she says, "is that, as far as who's losing what jobs, we're seeing much more movement on that in the entertainment industry. ... Lauer was such a bombshell, because viewers had such a relationship with him. You certainly saw more of him, if you were a Today show fan, than you did of any president or politician."
While the stories of Weinstein, Lauer, Louis C.K., Kevin Spacey, filmmaker James Toback and other alleged abusers have suggested that the entertainment industry is disproportionately affected by sexual misconduct, Ellison believes that it's complicated to understand whether that's true. "People in positions of power [in entertainment] would say, 'This is a societal problem. This isn't specific to this industry,'" she says. "If you look individually at circumstances that fuel these situations of sexual harassment, there are elements of the industry that are so distinct if you are shooting a movie or working on a television set: getting your hair and makeup done, changing your clothes in front of other people. Things happen there that don't happen as naturally in, say, the insurance industry."
At the same time, the high-profile nature of the entertainment and political arenas has made it more possible for accusers to come forward and have a journalist listen and investigate. "One of the things that's obvious and clear, is that people who are really suffering the most from these dynamics are those working in low-wage jobs, where their platform is so much smaller than the actresses that have come forward," Ellison says. "A person running a factory in the Midwest who is sexually or otherwise abusing employees will get less attention from the media."
Because these stories have thus far focused on the entertainment industry, however, that offers show business an opportunity to get ahead of the curve in making institutional changes. The question then becomes whether the industry takes that opportunity. "The Weinstein effect has had a lot of attention on who is the next man who is going to be outed, or step down, and what is the right way to deal with those cases," Ellison says. "There will be a solidification of the way these things play out. What I hope is that there's a bit more attention on the cost to people who have undergone this kind of harassment, because we really haven't grappled with that as much. It's on everyone now to keep this on [their] top of mind, and make the type of changes that need to be made, not just removing the most egregious kind of perpetrators."
That kind of shift in the movie and television industries—including increasing the opportunities for people besides white men to be in positions of power—will also ultimately have an impact on the kind of stories that are told. While the Sundance Film Festival has offered more opportunities for female, non-white and queer filmmakers to tell their stories, the transition from this venue to being in front of multiplex audiences might require changes at the top of big studios and production companies.
"There was a piece earlier this year about how someone had gotten plucked from an indie movie by a big producer to direct a huge blockbuster franchise," Ellison says. "And that male director was plucked because the producer could see himself in this young indie director. If we're going to follow that pattern, you need to have different kinds of people in that position of power, to pluck other people from the indie movie scene."
That expectation, Ellison points out, affects everything: "The budget, what people get paid, how the marketing rolls out. How many times do people need to be surprised by a hit movie that doesn't center around a straight white guy before the expectations change? That's the hard part of the conversation."
There are lots of hard conversations ahead, with this panel only one among them. Yet Ellison hopes that, despite the challenges, this moment can inspire a real movement toward change, even recognizing how hard that process will be. "There's going to be a lot of different small, brave movements that will push forward, and it probably won't all be steps forward," she says. "There will be steps back and mistakes. But it's incumbent upon everyone to take this moment: for journalists to keep writing about it, politicians should engage with it, people who work in the industry need to be vocal about it. ... You can't rely on the entire country being woke at exactly the same time."

Power of Story: Culture Shift
Friday, Jan. 19, noon
Egyptian Theatre
328 Main, Park City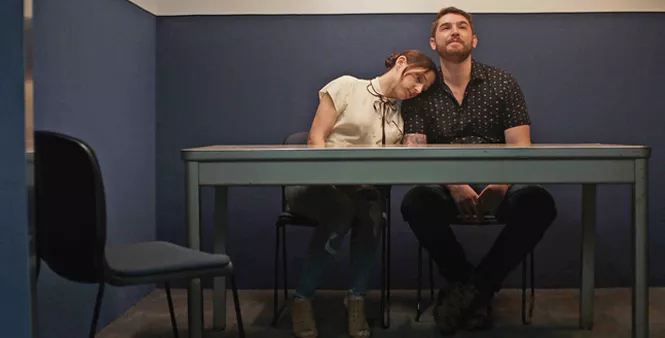 Sundance Now
'This Close' began as 'The Chances,' an independently produced short-form series.
Defining Your Terms

More than ever, the question "What is a movie?" challenges film festival programming.
By David Riedel
What is a movie? If you asked that question in 1980, you'd be mistaken for an alien unsuccessfully trying to assimilate into human culture. But now, because of streaming services such as Netflix, Hulu and Amazon Prime, the distinction between film and television is blurring.
Depending on whom you ask, a feature-length film is between at least 40 minutes and 80 minutes long, first runs in a theater, and the audience has to watch it with a bunch of people they'd never spend time with otherwise. Plus, there's terrible food.
Joking aside, "What is a movie?" was a big question in 2017. Take Twin Peaks: The Return. For my money, it's episodic television, but two episodes played at the Cannes Film Festival in May 2017 after the Showtime premiere. It landed on Sight & Sound's Best Films of 2017 list, and this month, the Museum of Modern Art in New York shows the entire series over three days in a screening spearheaded by MoMA's chief curator of film.
Then there's O.J.: Made in America. The five-part (and nearly eight-hour) episodic Oscar-winning documentary about O.J. Simpson premiered at Sundance in 2016, was released in New York and L.A. theaters in May of that year to qualify for the Academy Awards, and then ran on ABC and ESPN in June. It's arguable most of its audience didn't see it on the big screen.
"It's funny," says Charlie Sextro, the Sundance Film Festival's senior programmer. "We loved O.J.: Made in America. There was no way we knew it was going to be an Oscar winner, and it's a clear example of how the world is changing and how creators are changing. Lines [between television and film] are getting blurred."
In that spirit, Sundance is offering for the first time a section for episodic work called—appropriately enough—Indie Episodic. That's not necessarily because the festival has the definitive answer about what is or is not a movie (or a TV show), but because it wants to discover new storytellers—whether their work eventually lands in theaters, on television, or a streaming service. (For its part, the Academy of Motion Picture Arts and Sciences determined after O.J.: Made in America won an Oscar that episodic documentaries would no longer be eligible to compete. In the Academy's eyes, maybe things aren't so blurry.)
The episodic idea has been gestating at Sundance since it showed all seven episodes of Jane Campion's Top of the Lake in 2013. Over the years, the festival has screened several pieces of episodic work, from the first two episodes of the Mark Duplass executive produced Animals in 2015, to the Transparent pilot, to episodes of HBO's The Jinx.
Then came The Skinny, a six-part web series created by Jessie Kahnweiler that premiered in 2016. "That was our first experiment with short-form episodic," Sextro says. "That got a good response. Jessie, the creator and star, was embraced and that put a light bulb in our heads. So last year was the year we opened submissions to episodic work." Entries in 2017 played under the Special Events banner.
"[Indie Episodic] was informed by what we did last year," Sextro says. "And we wanted to focus on independently produced projects."
Slated to premiere at this year's festival within Indie Episodic are three episodes of This Close. The six-episode, 30-minute series—created by Shoshannah Stern and Josh Feldman—explores the lives of two best friends, both deaf and both going through significant changes in their personal lives.
This Close began as The Chances, an independently produced short-form series that was submitted when Sundance first considered episodic work. It ran in January 2017. "We liked the series, loved the creators, and it's a clear example of what can happen with the episodic space," Sextro says. "It's an original new path to a series being created."
Sundance Now purchased The Chances last year, and developed it into a series. It was the first time the video-on-demand channel bought a series.
To keep Indie Episodic from being swallowed by the features premiering during opening weekend, the section rolls out on Monday of festival week with the premiere of Steve James' America to Me, a documentary about a progressive high school in the Oak Park suburb of Chicago. The other Indie Episodic programs will play on Tuesday and repeat on Wednesday. "We had space within the schedule to carve out. We could grow this [section] so it's not having to fight within the confines of the first weekend," says Sextro.
And a word of advice for aspiring filmmakers: "This is probably the best opportunity to get into Sundance," Sextro says. "We're playing 17 projects this year in Indie Episodic. I don't know the exact number of submissions, but it's around 400. There are more than 8,000 submissions for short films. They're playing around 70."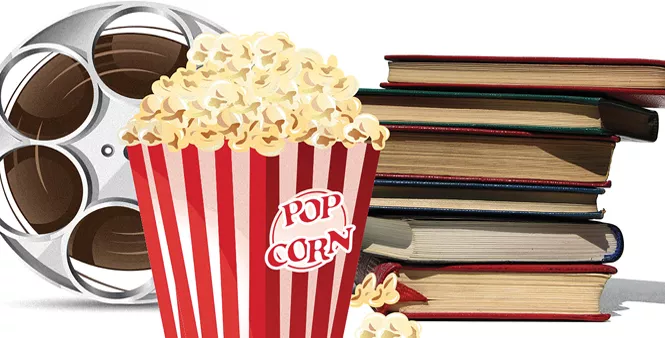 Sundance 2018 By The Book
As a showcase for new filmmakers and independent voices, Sundance can be a mystery for those trying to choose what to see. But at least a few titles every year are based on books, allowing for some hint of what might be in store for a viewer. Here's a preview of five 2018 Sundance features through the source material that inspired them.

—Scott Renshaw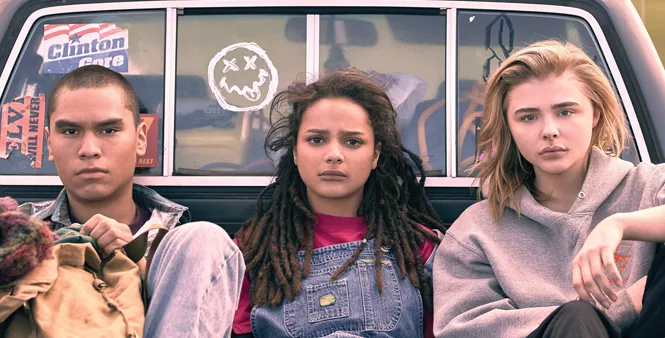 The Miseducation of Cameron Post,
by Emily M. Danforth

Festival Section:
U.S. Dramatic Competition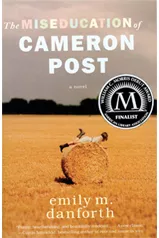 Book Synopsis: In early 1990s Montana, teenager Cameron Post is just coming to terms with her identity as a lesbian, when the aunt who is her legal guardian finds out and sends her to a Christian "gay conversion" program.
Book Review:
Danforth's first-person prose makes Cameron a lively, sympathetic protagonist, and the author effectively ties the character's conflicted feelings to guilt over the death of her parents. Things get a bit more frustrating once the story shifts to Cameron's time at the conversion program, where it feels like there's too little tension in her own response to carry the dramatic momentum towards the conclusion, plus the loss of the narrative's most interesting relationship. While avoiding easy demonization of the program's overseers, it also occasionally lacks a strong sense of tonal focus, while still providing an important hero for young-adult readers.
Reasons for Movie Optimism: Writer/director Desiree Akhavan did a solid job of telling a "coming out in a conservative culture" story in 2014's Appropriate Behavior.
Reasons for Movie Concern: Story's split structure could result in a similar loss of focus to that in the book.
Book Grade: B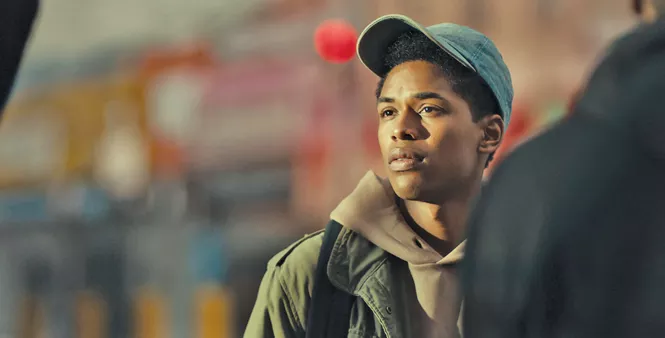 Monster, by Walter Dean Myers

Festival Section:
U.S. Dramatic Competition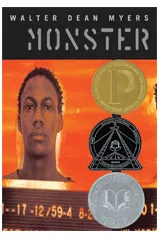 Book Synopsis: In contemporary Harlem, African-American teenager Steve Harmon stands trial for murder for his role in a drug store holdup gone wrong.
Book Review:
Myers attempts a unique structure for his story, alternating between Steve's journal entries and a format that presents the events of his trial—including flashbacks—in the form of a screenplay. It's a thematically interesting choice—showing Steve's attempt to distance himself from a possible life sentence in prison by thinking of the events as a movie—but the use of screenwriting jargon proves distracting, and the legal minutiae of the proceedings are included in a parade of objections and motions which, while likely authentic, are a long slog. The central idea of Steve as a possibly innocent kid viewed by society as less than human gets lost in a bunch of gimmickry.
Reasons for Movie Optimism: The problems of a book trying to position itself as a movie might be avoided in a movie that's actually, you know, a movie.
Reasons for Movie Concern: Director Anthony Mandler—a music video veteran making his first feature—needs to show he can sustain the emotional weight for 90 minutes.
Book Grade: C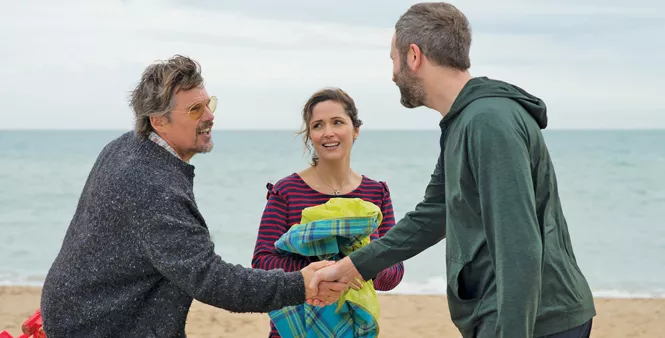 Juliet, Naked, by Nick Hornby

Festival Section:
Premieres
Book Synopsis: Annie and Duncan, a couple who have been together for 15 comfortable but passionless years, near the end of their relationship just as Annie begins an email correspondence with Tucker Crowe, the reclusive American singer-songwriter with whom Duncan has long been obsessed.
Book Review:
The narrative fits in well with Hornby's oeuvre of stories about men whose relationships are stunted by their popular-culture obsessions, and he always has compassion for his flawed characters. But it's also a perceptive look at how easy it is to idealize and romanticize anything—maybe a connection to a musician, maybe an online flirtation—as a possible way to fill in the holes in one's unhappy life. With typical warmth and humor, Hornby delivers a tale that pokes fun at obsessive fans
and
those who dismiss passionate connection to art, while always remaining human in its approach to both sides.
Reasons for Movie Optimism: Great casting of Rose Byrne as Annie and Ethan Hawke as Tucker; pretty solid track record of Hornby adaptations.
Reasons for Movie Concern: Sanding down the rough edges of Hornby's story to focus on a romance could end up sacrificing its most interesting components.
Book Grade: B+
My Abandonment, by Peter Rock [for
Leave No Trace]

Festival Section:
Premieres
Book Synopsis: 13-year-old Caroline and her father live alone as semi-homeless gleaners in a wooded park near Portland, Ore., but their off-the-grid life is upended when they're discovered and brought into civilization.
Book Review:
Rock takes some structural chances, not making it a simple story of "girl raised outside of normal world has to adapt." That decision also results in some bumpiness, as it takes a long stretch of the novel before it becomes entirely clear what it's about, and why Rock is playing coy with certain plot points. The echoes of the laconic parent-child dynamic from Cormac McCarthy's
The Road
feel deliberate, but there's additional intrigue as it remains tantalizingly unclear what Caroline is meant to learn from her experience, and even whether certain key characters should be considered sympathetic or not.
Reasons for Movie Optimism: It's wonderful to see Debra Granik (Winter's Bone) back in the director's chair for a narrative feature, and telling the kind of story—about a tough, resourceful young female protagonist—at which it's clear she excels.
Reasons for Movie Concern: If Granik retains the constantly-shifting setting for the book's events, it could easily lose an audience in its jumps.
Book Grade: B+
The Catcher Was a Spy, by Nicholas Dawidoff

Festival Section:
Premieres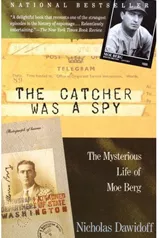 Book Synopsis: Non-fiction biography of Moe Berg, a journeyman Major League Baseball catcher, Ivy League-educated lawyer, fluent speaker of multiple languages and, eventually, OSS operative who used his many skills to help determine Germany's atomic bomb capabilities during World War II.
Book Review:
Berg is a fascinating character, but in an attempt to give his story a cradle-to-grave scope, Dawidoff spends more than 150 pages on Berg's life before getting to his espionage career, then a fair amount of time on his post-war life with his brother. While that exhaustively-researched approach certainly allows for a sense of the subject's quirky, private personality, it ends up feeling like a lot of throat-clearing and distraction from the most fascinating anecdotes. At a certain point, you just want to get to the "spy" part, and not so much the "catcher" part.
Reasons for Movie Optimism: A narrower focus on Berg's espionage activities seems essential for a feature that clocks in under 100 minutes, which would be a plus.
Reasons for Movie Concern: Paul Rudd as Berg seems to work for the character's intellect, but the actor hasn't really had to carry a movie on his dramatic skills.
Book Grade: B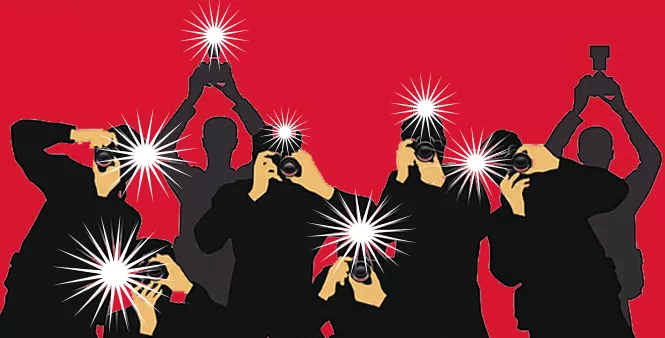 How To Sundance

It's not too late to be part of the festival with these tips and tricks.
During the 2017 Sundance Film Festival, non-stop snow turned Park City into a daily Arctic adventure, and a high-profile protest complicated the logistics of getting around the already challenging location. But don't let any of that scare you away from considering attending Sundance, even if it might be your first time. With a little help from a knowledgeable Sherpa—like your humble narrator, after 20 years of festival coverage—you, too, can be a part of Utah's annual mixer with the movie industry.
What's New in 2018. If the festival schedule presents you with a couple of unfamiliar names, never fear. The venue formerly known as The Yarrow—inside the ballrooms of the now-renamed DoubleTree by Hilton—The Yarrow hotel—still exists, but it's now identified as the Park Avenue Theater. And getting to the other new venue—The Ray Theater—from there doesn't even require you get into a car or shuttle. Located in the same strip mall area as the Park Avenue Theater and the Holiday cinemas, The Ray is a converted space that was formerly home to a Sports Authority store, right next to the Fresh Market on Park Avenue.
Also new in the programming: the Indie Episodic section, focusing on works created for broadcast, cable or streaming series (see Dave Riedel's piece above for more details).
How to Get Around. Look, there's no other way to say it: Trying to get around Park City during Sundance week is a nightmare, and that's if the weather is good. Traffic is brutal on the main arteries of Park Avenue, Kearns Boulevard and Main Street. There is exactly one officially designated parking area—the China Bridge structure on Marsac Avenue—and it's both ridiculously expensive ($8 per hour with a $60-per-day max) and likely to fill up early in any given day. It's easy to understand why Salt Lake Valley day-trippers might not want to deal with it.
If, however, you want to get a taste for what it's all about—and there really is nothing quite like it—trek up the mountain as early as possible. Find one of the limited (and free) street parking spots in Prospector Square, in the general vicinity of the Park City Marriott festival headquarters. Then, leave your car and take the festival shuttle buses everywhere you need to go. Word of warning: Try to avoid heading out of town during the peak 4-7 p.m. period, no matter whether it's a weekday or weekend. Bumper-to-bumper traffic is the norm, as locals getting off of work and day skiers combine with festival traffic to create a perfect storm of frustration.
Or for an even more stress-free option, consider taking the PC-SLC Connect bus (UTA route 901), where it leaves from the 3900 South (Meadowbrook) Trax park-and-ride at least twice daily to the transit center at Kimball Junction—where you can catch festival shuttles into town—and heads back down the mountain from the same stop. Best of all? It costs a measly $4.50 per person, and someone else does the driving. (Visit rideuta.com for schedule and routing information.)
If you opt to do all of your Sundancing at Salt Lake City venues, you can still take advantage of public transportation. Three of the principal valley venues—the Broadway Theater, Library Theater and Rose Wagner Center—are a 10-15 minute walk from the Gallivan Plaza Trax stop.
Seeing a Movie. Yes, this is a film festival after all. Many screenings are officially sold out well before the festival begins, but, in part, that's to allow wiggle room for the many festival passholders who might attend any one of a number of films at a given time. That means taking advantage of wait listing, which got considerably less stressful in the past few years with the addition of the eWaitlist. Download the official festival app, create an account, then select titles you want to see. You can get in the electronic "queue" for a movie two hours before its scheduled start time—on the dot, so have your trigger finger at the ready. Once you get a number for your virtual spot in line, you can decide whether you've got a good enough chance to make it worth your time to head over to the actual venue, where you'll need to be present no later than 30 minutes before start time, and have $20 cash only per ticket. Your odds will always be better for getting in at the larger venues—like Park City's Eccles Theater—as well as the earliest and latest screenings of any given day, when many festival attendees are either enjoying a party or sleeping off the previous night.
Of course, locals can also consider seeing the "Best of Fest" screenings on the Monday after the festival officially ends (Jan. 29, this year). Titles aren't announced until Sunday, Jan. 28, but they're all winners of festival awards, which certainly increases the odds that you'll see something great. Tickets are free, distributed at the main festival box offices (including Trolley Square) on Saturday, Jan. 13 beginning at 8 a.m. Limit is two tickets per person, and you must have a valid Utah identification. (SR)