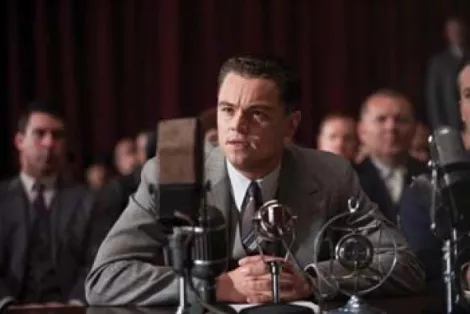 Because nothing is more intriguing than people, and in theory celebrated people are even more intriguing, it continues to be a baffling frustration that cinematic biopics—the new J. Edgar included—generally work better as anesthesia than as drama. And it's largely because they continue to make the same, inexcusable mistake: They assume that "who" and "what" are more interesting questions than "why."

Any schoolkid instinctively knows that's the wrong focus. They slump in their seats as they're fed a beaded string of names and events, because packing away the trivia is deemed more important—or at least less controversial—than diving into the sticky stuff of human psychology. Director Clint Eastwood and screenwriter Dustin Lance Black have as a subject one of American history's most enigmatic, polarizing figures in J. Edgar Hoover, and yet J. Edgar almost never offers the buzz of discovery. It's merely a 50-year kaleidoscope of American history, with the founder of the modern FBI serving as Forrest Gump.

The narrative opens during the Kennedy administration, with Hoover (Leonardo DiCaprio) seething over the growing esteem of Martin Luther King. Determined to "re-clarify the difference between villain and hero," Hoover begins dictating his life story to a series of assistants, flashing back to his early days in the Justice Department circa 1919, through the creation of the FBI and its Depression-era rise to prominence. Of course, certain subjects won't be part of Hoover's "official" story, including the most important people in his life: his mother (Judi Dench); his trusted personal secretary, Helen Gandy (Naomi Watts); and his assistant and constant companion, Clyde Tolson (The Social Network's Armie Hammer).

From the very outset, J. Edgar has the feel of something that's more than slightly … off. DiCaprio's performance registers as forced, as he attempts to imitate Hoover's distinctive, precise speech patterns (the result of therapy to counteract a childhood stutter)—and that's even when he's not buried beneath old-age makeup. The chronological ping-ponging between the 1960s and Hoover's early career proves disorienting, never allowing any given framework for his life to build significance. Eastwood's stately direction plods through individual scenes, but the scenes never add up to a story—or, more significantly, add up to a life.

That's partly because J. Edgar spends nearly as much time name-dropping as it does anything else. While Hoover certainly socialized with both statesmen and celebrities, the scenes involving his interactions with the likes of Ginger Rogers, Shirley Temple, Charles Lindbergh, Robert Kennedy and others come off as gimmicky rather than part of an exploration of Hoover's desire for the spotlight. When he comments in one scene about having spotted Desi Arnaz (and an unnamed but obviously identified Lucille Ball) at a racetrack, it's almost a surprise that they don't actually show up for a cameo.

But this is what happens in movies that treat a life as nothing more than a timeline, with the bullet points devoted to encounters with other famous people or headline-grabbing incidents. J. Edgar spends a fair amount of time on Hoover's involvement in the celebrated "Lindbergh baby" kidnapping and the subsequent trial of Bruno Hauptmann, including the role of new forensic science championed by Hoover.
While it might have been fascinating to understand how Hoover's personality played a role in his dedication to meticulous police work, the film treats the subject as a curiosity, perhaps a piece of Hoover's legacy to "balance" the more notorious aspects of his iron-fisted reign and keeping of secret files. It's a lot more "what," without the "why."

You'd expect that at the very least, J. Edgar would try to understand the much-speculated-upon relationship between Hoover and Tolson, especially given a screenwriter like Black (Milk). Indeed, there are a few effective moments capturing the tension between the deeply closeted (in Black's interpretation) Hoover and Tolson, as well as the influence of Hoover's mother on his life. But nobody involved here seems to understand how to pull it all together as character study: what it meant to be a man hiding his own secrets while digging up everyone else's; how Hoover, the committed law-enforcement professional, connected to Hoover, the publicity-hound. For 140 minutes, J. Edgar strolls through an American life pointing at people and things, blind to the reality that nothing could be more compelling than the man in the middle.

J. EDGAR


Leonardo DiCaprio, Armie Hammer, Naomi Watts
Rated R