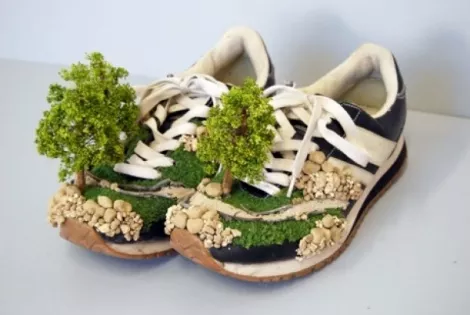 To say that Jared Steffensen's body of work is eye-catching is an understatement. Watching him turn the art form of "organic displacement" into a creative statement—whether it be a support beam transformed into a dying tree, a pair of fancy shoes with a garden growing over them or even the words "Go Team" formed out of red beer cups in the middle of the woods—Steffensen is ahead of many in this particular field.
Where many would credit a major artistic influence, Steffensen credits skateboarding as an early inspiration for becoming an artist, along with 1980s Saturday-morning cartoons and their ability to induce a suspension of disbelief. In his teens, Steffensen and his family visited European museums while living in Germany. He encountered contemporary art for the first time at The Pompideu Center in Paris. He recalled a giant Swiss army knife piece that "blew my mind" at one of its exhibits. With support from a junior high school teacher and his parents, Steffensen was encouraged to pursue art.
His formal education began at the University of Utah, where he earned a bachelor of fine arts degree in intermedia sculpture in 2002. After the U, Steffensen set his sights on the University of Texas for his MFA, drawn in not only by the city itself after visiting the campus, but by artist Mel Zeigler. The approach to public art by Zeigler and his late partner, Kate Erickson—as well as his thoughts about people and places—excited and resonated with Steffensen, along with some of the ideas that he worked on at the U.
Steffensen received his MFA in studio art in 2006, along the way creating several exhibitions in Dallas and Austin, Texas, that garnered attention. Most notable were works where he brought nature indoors, and, at times, took the domesticated outside, as with a fully functional "Exit" sign in the middle of a park, a man-made tree on wheels with a rope to pull it, or a forest setting inside a small room.
"I'm not sure if it was a conscious decision to bring the 'outside in,' " says Steffensen of his work. "It ended up being the best way for me to explore certain things that I was thinking about, namely homesickness and nostalgia."
After his time in Texas, Steffensen received an offer to work with an artistic cabinetmaker in Providence, R.I., a job that influenced later artwork involving more miniature and elaborate sculptures. He took it as an opportunity to learn a new skill, but after a year, both Jared and his wife, Candace, considered moving back to Austin. It was at this point he received an e-mail from his former Utah professor Kaiti Slater, inquiring if he'd be interested in teaching some classes as an adjunct.
"Teaching was always in the back of my mind," says Steffensen about the job and his return to Utah. "I sent my résumé in and they liked me enough to extend an offer. I feel very fortunate for the opportunity.
"Admittedly, I was nervous about moving back to Salt Lake [City]. I thought once I left, I wouldn't ever live here again, but I was excited to be back around close friends and family. I love being here. ... It's home."
Upon returning, Steffensen required studio space to continue his own work, eventually finding a spot in the A Wing of Brad Slaugh's Poor Yorick Studios. He built his latest creations in privacy, only showcasing them on a few occasions in Salt Lake City and Austin, or displaying his current projects during Poor Yorick's open-house shows. Some of the work that's come out of that studio includes his landscaped constructions, such as "Nestled," a pair of mountain ranges created out of wooden frames and colored triangular pieces. Four years later, he's still working out of his space, now sharing it with fellow media artist Michael Handley.
"I'm not a sketchbook guy. I use it to ask myself questions and to write down my ideas," Steffensen says. "It might sound strange, but I feel like if I draw it, I don't need to make it. Sometimes I get an idea and go straight to the studio and make the piece. Others sit in my head for a while until I feel like I've got it all worked out."
While continuing to be a local influence, Steffensen has also taken his work to display across the country and in Mexico, as well as shipping some selections to the De WitteDame in Eindhoven, Netherlands.
"I think there's good stuff happening here," says Steffensen about the Utah art scene. "I dig it when artists take it into their own hands to create their own thing in a small art community. I'm not sure if we'll ever be prominent, but I don't think that's a bad thing. As long as it's a place with a strong art community that continues to support contemporary art, we'll be all right."
JARED STEFFENSEN:




LOFTY PEAKS & WIDE STREETS


Nox Contemporary Gallery
440 S. 400 West, Suite H
801-289-6269
April 15-June 3
Reception April 15
6-9 p.m.
NoxContemporary.com