Jason Isbell & The 400 Unit, Here We Rest
Here We Rest
is the album Jason Isbell fans have been waiting for since the talented songwriter and guitarist left the Drive-By Truckers in 2007 after six years and three albums with the revered Southern rockers. Isbell's previous solo efforts,
Sirens of the Ditch
and
Jason Isbell & The 400 Unit
, both had excellent moments, but neither was as consistent or cohesive as this new set.
Isbell spent much of 2010 at his northern Alabama home rather than working a nonstop tour schedule, and as a result, Here We Rest is full of evocative characters and a sense of place that he would not have been able to evoke without that time spent contemplating "normal" life.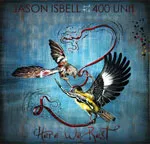 On the excellent album-opener "Alabama Pines," Isbell sketches out a character who's lost everything—his woman, his friends—and simply yearns for "someone to take me home through those Alabama pines." Like many of Isbell's songs, the harsh realities of the picture he is painting with his lyrics is offset by an undeniably beautiful musical background. On "Tour of Duty," Isbell dissects the thoughts of a soldier returning home after years in combat, struggling to assimilate back into civilian life. Musically, Isbell remains a scorching electric guitar player, but on Here We Rest, he adds plenty of traditional country elements to the proceedings, and it's a natural fit. Acoustic guitars and fiddles lace songs like the winning ballad "Save It for Sunday" and smooth "Codeine." And the 400 Unit has never evoked the soul of Muscle Shoals more than on a cover of Candi Staton's "Heart on a String." Isbell's voice has aged gracefully since his Drive-By Trucker days, retaining the whiskey-soaked grit and rasp while actually becoming a more pliable, pleasing instrument. JasonIsbell.com

Bronco, Painting Pictures of a Perfect Life


The second full-length release from Salt Lake City's Bronco is a 14-track (including three instrumental interludes) set of addictive country-rock from singer/songwriter Tyler Anderson and Co., and its songs full of characters living on society's margins, around "boarded-up houses and abandoned buildings."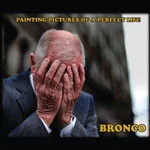 Anderson's voice has an inviting twang, and when bassist Angie Midgley's harmony vocals join Anderson's on songs like the urgent, hook-filled "Don't Slow Me Down" or the sprawling ballad "You're Too Good to Have a Good Time," it's bliss. Bronco delves into some new, borderline-pop realms on Painting Pictures, particularly on songs like "Element of Surprise" and "Sutter's Mill." But it's still the sparse tracks like the harmonica- and acoustic-guitar-driven "Calm in the Air" where Anderson's talents come through most clearly. Sonically, Painting Pictures of a Perfect Life sounds great, and Mike Sasich, who recorded and co-produced, deserves credit for helping the band realize its potential. BroncoTheBand.com