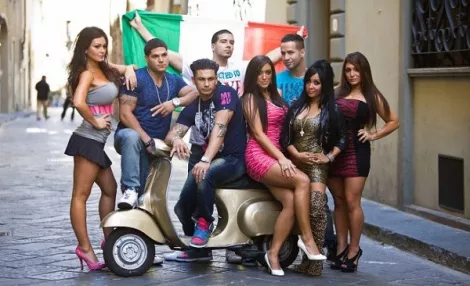 Jersey Shore
Thursday, Aug. 4 (MTV)
Season Premiere: The long-anticipated fourth season, filmed/perpetrated in Florence, Italy. But, as we've learned, it doesn't matter where Jersey Shore takes place, just like it matters not from where you contracted that venereal drip: It's still a venereal drip. Anyway, the venereal drips we've come to know and love (The Situation, Snooki, Pauly D, Vinny, JWoww, Ronnie, Sammi and Deena) are hooking up in their "homeland" this year, and we're all going to watch it—and then come back next year for Season 5(!), which returns to the actual Jersey Shore, and remain rapt until the 2027 Season 20 finale in Boca Raton, where lone surviving cast member Mike "The Declining Situation" Sorrentino finally succumbs to cancer after one last GTL (gym, tan, lumpectomy) session.


Friends With Benefits
Friday, Aug. 5 (NBC)
Series Debut: This has been collecting dust on a shelf at NBC since May 2010, which means the network either had more faith in doomed dreck like Outsourced, The Paul Reiser Show and The Cape, or thought it would benefit (get it?) from the wrongly predicted summer 2011 success of the unrelated-but-same-named movie starring Justin Timberlake and Meg Griffin. And who heard the pitch "Friends With Benefits is a half-hour comedy revolving around a group of 20-something singles as they navigate the difficult, and often confusing, world of dating" and said, "That's the kind of fresh, innovative thinking that's going to save this network"? Former NBC boss Jeff Zucker, that's who—the guy who chased away Conan O'Brien, destroyed the network, took a $40 million buh-bye check, etc. Still, he never greenlit anything like …


Whisker Wars
Friday, Aug. 5 (IFC)
Series Debut: For everything the former Independent Film Channel has gotten right in recent years (Portlandia, The Increasingly Poor Decisions of Todd Margaret, The Onion News Network, reruns of Mr. Show and Larry Sanders), it's gotten just as much wrong (the cancellation of Z Rock, the continuation of The Whitest Kids U'Know, "indie-culture" embarrassment The Grid, inserting commercials into everything). Here's another possibility for the Wrong column: Whisker Wars, all about … the world of competitive facial-hair growing. If 'Merica is ever going to defeat Germany for the World Championship, it's up to uber-bearded gladiators like Jack Passion (author of The Facial Hair Handbook) and members of organizations like the Austin Facial Hair Club and the Gotham City Beardsmen. Not making any of this up, though IFC does call Whisker Wars a "docu-comedy," which may or may not sit well with the USA's 80(!) dead-serious beard chapters. Maybe it'll grow on 'em.

Sugar High
Monday, Aug. 8 (Food Network)
Series Debut: Cakin' TV hasn't been the same since Ace of Cakes was canceled earlier this year (Cake Boss is a poor, boneheaded substitute—don't even suggest it), but Duff Goldman is finally back! But just him. In Sugar High, he Guy Fieris it across the country, hitting everything from boutique bakeries to food carts to find the sweetest desserts in the nation. Not the most original premise, and most of Ace of Cakes' charm was Duff's quirky staff back at Baltimore's Charm City Cakes—but if Sugar High can take down Cake Boss on Monday nights, I'm all for it. Did I mention how much I hate Cake Boss? Just checkin.'



The Bachelor Pad
Monday, Aug. 8 (ABC)
Season Premiere: Apparently, someone actually watched the inaugural season of this Bachelor-meets-Big-Brother-meets-chlamydia crapfest last summer, thus necessitating Season 2 of The Bachelor Pad. Even better, Salt Lake City Bachelor castoff Michelle Money is in the house! Hey, you think you feel dirty? I had to wear a condom just to type that.