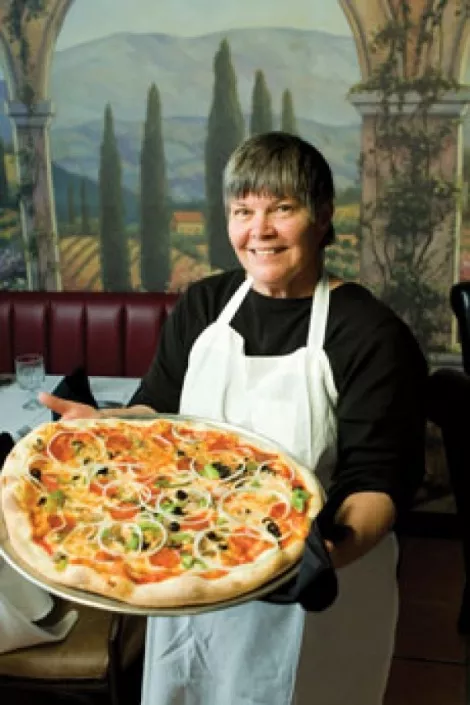 Wow!" was how a
City Weekly
reader named Jeannette described her first meal at a Sandy restaurant which opened this summer: Little Italy Pizzeria e Ristorante. She went on to fondly describe Little Italy's food as "delicious," the family service as "friendly," and her overall dining experience there as "delightful." After her second visit, Jeannette illustrated Little Italy's linguine with red clam sauce thusly: "I was humming while eating … so good!"
I should probably turn over my fee for this week's column to this perceptive reader-informant, since her description of Little Italy Pizzeria e Ristorante is spot-on. I can only supplement it. But she totally caught the essence of this little Italian gem.
One bite into a slice of Little Italy cheese pizza—served whole or by the slice—and memories came flooding back. Memories of countless pizza slices I'd eaten in nondescript no-name pizzerias in New York, New Jersey and Philadelphia. I'm not talking here about wood-fired, Margherita-style pies. I'm talking about the by-the-slice heaven I used to get for 75 cents each in Manhattan and Brooklyn. "It's the Grande," said Little Italy owner Kathleen Galati. "The Grande mozzarella costs more than regular, but it's worth it." I'll say. That melted Grande atop perfect crisp crust with just the right smear of tomato sauce had me grinning about Little Italy's pizza for days.
This Little Italy is a bifurcated one. Steer to the right through the entrance and you'll find a handful of tables for informal dining—the ideal spot for a slice of that great pizza pie—and a bit of memorabilia, such as an Italian translation of the Book of Mormon. To the left of the restaurant's entrance is the main dining room, which is constantly filled with kitschy Italian accordion music. "O Sole Mio," "Volare," "Funiculì, Funiculà" … that sort of thing. Table service is a bit sketchy at this stage (note the "Help Wanted" sign in the window) and there's no host/hostess at Little Italy, so getting seated can be a tad confusing. But, once seated, you are in for a treat, my friend.
City Weekly's own managing editor Jerre Wroble describes Kathleen's Galati's Italian wedding soup at Little Italy "a triumph." If there's a better way to wed fresh greens, meat and pasta than her minestra maritati, I'd like to know about it. It starts with a whole stewed chicken for the broth and incorporates tiny pork/veal/beef meatballs, escarole or collard greens and bead-shaped pasta called acini di pepe. Legume lovers will be just as enthralled with the pasta fagioli ($3.95). And while our kids munched happily on Little Italy's garlic bread with melted cheese on top ($2.50), me and the wife fought over a dozen and a half mussels ($10.95), bathed in a spicy Italian tomato sauce and served half-shell style. A request for a round, rustic bread loaf made by Stone Ground Bakery to the Galatis' specifications was quickly honored, and we tore into it to sop up all of that sensational sauce. You know it's good when you see those telltale pools of olive oil.
Little Italy Pizzeria e Ristorante is owned and run by Ron and Kathleen Galati, along with son Dominic. The extraordinary meatballs that stuff Nicky's Jersey Style Meatball Sandwich ($5.50) are made from Dom's recipe—a simple matter of ground chuck, stale bread, salt, pepper and parsley. They are bathed, as are many dishes at Little Italy, in Ron's simple but outstanding tomato sauce (it would be called "gravy" in Jersey). In case you're wondering about all the New Jersey references, the Galatis hail from Bergen County, N.J., just a meatball's throw from the GW Bridge to Manhattan.
Veal seems to be a disappearing ingredient in restaurants these days, so I was thrilled to see veal in many forms on the Little Italy menu. At a table next to us, I heard a woman say that her veal Marsala ($16.95) was "incredible." There's also veal Française, parmigiana and scaloppini on the menu. The chicken parmigiana ($16.95), too, is terrific: a thick, moist, tender boneless chicken breast breaded, fried and served with Ron's luscious red sauce, topped with cheese. Chicken, veal and eggplant parmigiana are also available as sandwiches; the eggplant ($6.50) is the best in the valley.
"We never made fettuccini Alfredo ($10.95) back East," Ron says. But here in Zion, it is Little Italy's most requested pasta dish. And it is wonderful—again, the best I've tasted in Utah. That dish, along with pasta in a rudimentary garlic and oil (aio e oio) sauce ($6.95) are about the only nods to Northern Italy. Little Italy Pizzeria e Ristorante is mostly about southern Italian and East Coast American-Italian cooking done right.
There are glitches. Our server—there seems to be only one—forgot our house salads on a dinner visit, and the amount of shrimp in the otherwise generous serving of shrimp marinara ($18.95) seemed skimpy for the price. But one taste of Kathleen Galati's ethereal tiramisu ($5.95) makes up for any bumps on the way there. She was actually kind enough to share the secret of her top-notch tiramisu with me—but I'm not kind enough to share it with you. You'll just have to talk to Kathleen yourself.
LITTLE ITALY PIZZERIA E RISTORANTE, 9284 S. 700 East, 255-0363