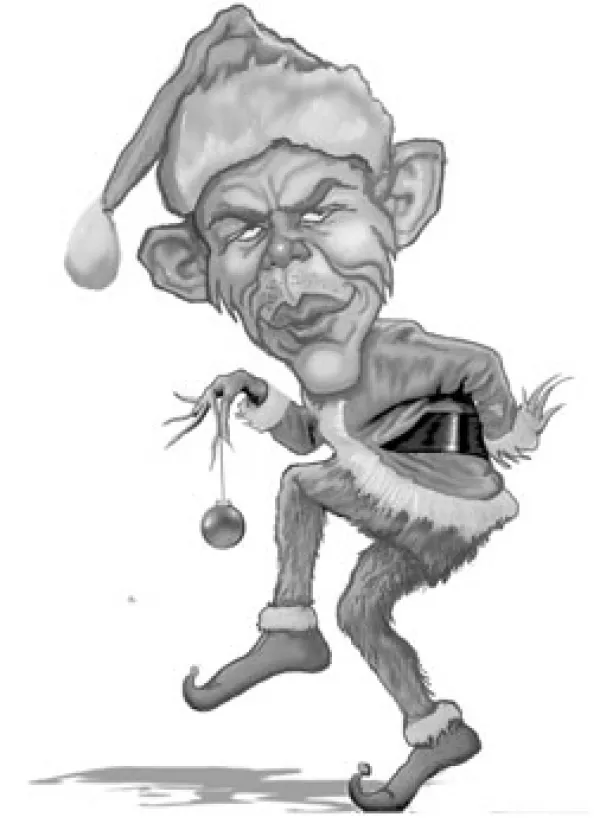 Considerable doubt exists as to whether Christmas will be coming to Utah this year, now that experts from all fields of endeavor have come to the conclusion that this will be The Year Without Winter.

Technically speaking, we did experience a sort of winter a few weeks ago when a four-day storm brought two feet of snow to the valley and several feet to the mountains. But it was clearly what is known in the weather trade as a "false winter," comparable to a false pregnancy in inducing both hope and dread in the affected parties.
Climatologists are comparing our Year Without Winter to the catastrophic Year Without Summer in 1816, when red snow fell in Italy, brown snow fell in Hungary and water buffalo in China froze to death in their favorite watering holes. Hundreds of thousands of people died in the worldwide famine and cholera epidemic.
More dramatically, unable to take nude swims with Lord Byron in frozen Lake Geneva, Mary Shelley occupied her cold nights in the Year Without Summer by writing her novel Frankenstein, which would go on to become a great movie by Mel Brooks. Of almost equal historical significance, in that same year, unable to work the land in frozen Sharon, Vt., the family of Joseph Smith Jr., set out for warmer weather and softer soil in Palmyra, N.Y., where the future prophet was visited by God and Jesus.
The biggest catastrophe of our Year Without Winter will be the absence of Christmas. While happy golfers hit the links and fervent sunbathers bask in the sun at city pools, worried merchants can be seen scanning the skies, hoping against hope for some sign of winter. Gloomy yuletide carolers can be spied sighing in sunny parks, unable to get through a single verse of the "Little Drummer Boy" without throwing their sheet music onto the grass in total despair. Tiny tots no longer have their eyes all aglow; parents wipe their tears and hire grief counselors specializing in the absent-Santa syndrome.
Experts are divided as to the cause of our Year Without Winter. In the 1816 Year Without Summer, everyone quickly figured out that the stupendous eruption of Mt. Tambora on the island of Sumbawa in the Dutch East Indies obscured the sun itself and stymied summer's bloom in every corner of the globe. But for our Year Without Winter, no single natural event jumps out as the immediate cause.

It's much too easy, and obvious, to claim global warming as the culprit. To do so would be to admit the existence of fact and evidence, something a goodly percentage of our fellow passengers on spaceship Earth are loath to do. We must look elsewhere for an explanation sufficiently sinister to satisfy those who have absented themselves from rationality.

Blame it on the Boss Obama. Look what he was able to do with that convenient monster storm that laid waste to whole areas of the eastern seaboard. He ordered up (or maybe he had to pray five times a day to his foreign god) Hurricane Sandy to steal the election from Utah's favorite un-native son. And now the infidel wants to take away Utah's Christmas by taking away our winter.
It's easy to figure out why the Man Without a Birth Certificate has singled out Utah. There he is, lounging around in the White House after his big victory—which gets bigger every day as all the votes come in, now 52 percent to Romney's 47(!) percent—celebrating by smoking a big Cuban cigar and drinking Russian vodka, and he happens to look at a map and sees that he got maybe 37 votes in Utah.
"I'll teach them!" he says, and proceeds to arrange for winter to be cancelled in Utah, which, more
importantly, means a cancellation of Christmas, which is Utah's second-favorite holiday, after Halloween.
Praying and fasting, which didn't save Brother Romney, is unlikely to save Christmas. Nor will a sacrificial bonfire of Christmas vanities save the day—pile the fire as high as you please with Christmas sweaters and Christmas boxes.

Christmas lights will flicker, fade and die; Christmas presents will lie unopened under the dying tree; no reindeer will pause up on the rooftop; no wise men will find a meanly swaddled infant in a manger. With no snow, Suzy Snowflake will not be tap-tap-tapping on your window pane, and Frosty the Snowman will have to wait till next year to come to life.
D.P. Sorensen writes a satire column for City Weekly.