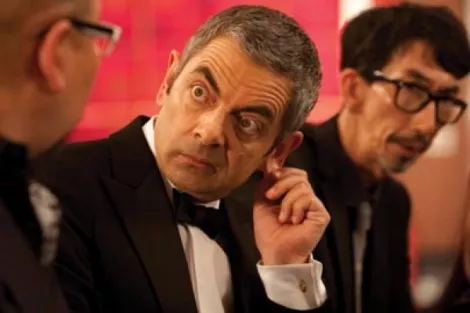 When we last left Johnny English, Rowan Atkinson's dubiously qualified British secret agent … wait, what's that? You say you don't recall Johnny English, the 2003 feature that introduced us to the titular bumbling hero? That's probably because you almost certainly didn't see it in a movie theater—or, in all likelihood, even realize it existed. Johnny English grossed a whopping $28 million at the North American box office in 2003, ranking it behind such blockbusters as The Fighting Temptations, Hollywood Homicide and Malibu's Most Wanted. Thanks to Atkinson's popularity overseas and the relative inexpensiveness of his comedy films like Mr. Bean's Holiday, American audiences get a chance to see what may be the least-anticipated sequel ever to grace multiplexes.

That's something of a shame, because Atkinson is one of the most uniquely versatile comedians of the last 30 years, as gifted at the mime-like physical comedy of Mr. Bean as he is wrapping his lips around a scathing insult in the BBC Black Adder series. Feature films haven't known quite what to do with him, though, and the original Johnny English was yet another example of material far less inspired than Atkinson's own talents. Johnny English Reborn gives him a bit more to work with, but still feels like an attempt to force its star into a package that can't decide which side of his comic personality to exploit.

The setup acknowledges the time that has passed since the original, most of which Johnny English has spent in exile after bungling an assignment in Mozambique. For uncertain reasons, he's called back into action by MI7, specifically requested by a CIA agent (Richard Schiff) investigating a possible assassination plot against the Chinese premier. Such a plot does exist, it turns out, and will take Johnny to a variety of exotic locations in an attempt to prevent a global calamity—even if he may do so accidentally.

There's more than a passing resemblance between Johnny English and Peter Sellers' Inspector Clouseau of the Pink Panther series, both of them forces of disastrous incompetence whose demeanor often suggests a thoroughly misplaced self-confidence. That's also where Johnny English Reborn is at its best, placing Atkinson in situations where his attempts to maintain his dignity collide with his ineptitude. He gets a terrific extended bit at a conference table in which he can't quite adjust his chair to the appropriate height, and another while attempting to hide from his new boss (Gillian Anderson) the fact that he's just knocked her cat out the window. When Atkinson gets a chance to be a clown, he's hard to resist.

But for some inexplicable reason, director Oliver Parker (An Ideal Husband) and screenwriter Hamish McColl (who wrote Atkinson's Mr. Bean's Holiday) want to sneak the cunning brand of Atkinson humor into a character where it just doesn't belong. One of the longest sequences finds Johnny chasing down a parkour-ing bad guy, employing more pragmatic, wisdom-that-comes-with-age methods to keep up with his human-pinball quarry. The gags are amusing—the villain scampering down scaffolding while Johnny calmly takes an elevator—but the character instantly loses any sense of consistency. On a dime, he'll change from a savvy, highly trained machine into a guy who drinks from the drug-spiked glass without pondering its potential dangers.

That inconsistency might have been more forgivable if Johnny English Reborn had been flat-out funnier, something that inspired more audible laughs than mere smiles (and with fewer punch lines involving crotch trauma). It just doesn't feel particularly well thought out, throwing a variety of ideas out there without considering which ones best showcase its star's talents.
There's a huge missed opportunity after a smart early gag in which British intelligence has turned to corporate sponsorship and is now "Toshiba British Intelligence." What a clever premise: A cash-strapped government forced to hire back a third-rate James Bond because that's the best they can afford. Maybe the gadgetry would similarly indicate the need to scale back on budget, as well.

But that's not the premise Johnny English Reborn takes the time to develop. Atkinson deserves better—something that, no matter how big he may be in Europe, might actually be remembered fondly enough here that we'd look forward to another installment.

JOHNNY ENGLISH REBORN



Rowan Atkinson, Rosamund Pike, Dominic West
Rated PG