Johnny's Kegger Karaoke: College Edition
If you're keeping charts at home of dubstep's migratory pattern in Salt Lake City, we've reached a definitive marker, as far as its mainstream appeal: Johnny's on Second (165 E. 200 South) recently introduced dubstep night on Tuesdays. More exciting than that, though, Karaoke That Doesn't Suck joins Johnny's lineup on Wednesdays for college night. It's being billed, appropriately enough, Kegger Karaoke. During this "college appreciation night," cheap drinks for thirsty students will be flowing like ... beer. There's also $1 Natty Light drafts, $2 Kamikaze shots and $1 Jell-O shots. Drink up, kids! Forget studying for a night.
Bad News Bears: Star Bar Closes
If you were planning on hitting up Park City's Star Bar this weekend—don't. Mainly because you can't. It closed several weeks ago after filing for Chapter 7 bankruptcy. In addition to Harry O's shutting the shutters, the nightlife prospects for Main Street twinkle significantly dimmer.
Unofficial BASHing: Bourbon House
October 8 will find the X96 Big Ass Show (BASH) taking place at its new home at the Gallivan Center. National bands like She Wants Revenge and Anberlin will be sharing the stage with locals like Neon Trees and King Niko. What better place than the bar across the street from Gallivan to host an unofficial afterparty? If it's bourbon or whiskey you're craving (yes, there is a difference) after listening to hours of loud pop, soothe your sonically induced headache at The Bourbon House (19 E. 200 South), which resides in the old Monk's House of Jazz location in the basement of the Walker Center—as far away from the music as possible.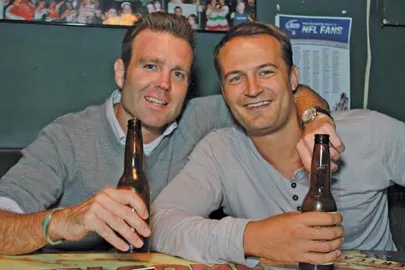 Pics from Johnny's on Second
1. Sam Reed, Alexis Everson, Seth Perkins, Travis Evans
2. Jack McCoy, MJ Andrews
3. Garreth Long, Rick Vick
We want to keep Utah up to speed on local nightlife. Submit tips about club openings, closures, remodels, special events, drink recipes and noteworthy changes to comments@cityweekly.net.