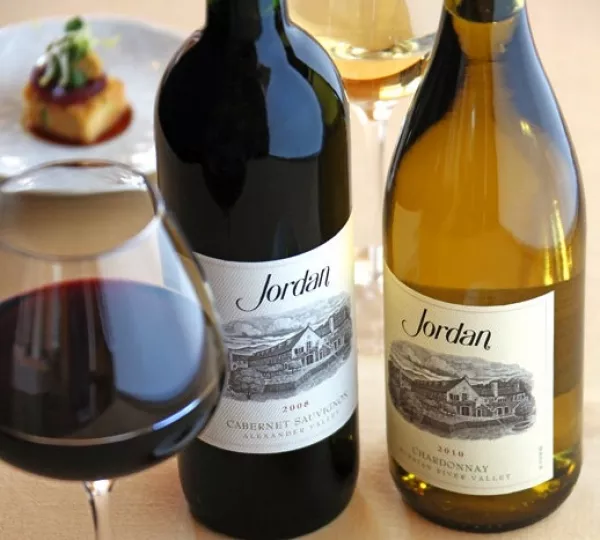 Founded in 1972 on 275 acres in Sonoma's Alexander Valley, Jordan Vineyard & Winery turned 40 this year. Four decades in, the winery combines Old World winemaking and farming practices with state-of-the-art technology. In a time when high-alcohol, fruit bomb, tannic red wines have reached a popular peak in the United States, longtime Jordan winemaker Rob Davis—who has been with the winery since its first harvest in 1976—insists on making wines more typical of the Old World: wines with balance, finesse, refinement, silkiness and elegance. His wines don't whack you upside the head with their power; they seduce you like a deep, long French kiss.
Modeled after France's renowned châteaux of Bordeaux, the Jordan estate is a plush, gorgeous property that features an ivy-covered château and impeccably kept grounds. If you're ever in Healdsburg, where the winery and estate is located, I strongly urge you to treat yourself to a tour and tasting. Jordan also offers occasional wine-paired dinners, with menus designed by Executive Chef Todd Knoll that are intended to enhance the synergy between the wines and the foods, "so that the wine and food don't overshadow one another, but instead bring out the best in each other," Knoll says.
Jordan is a very focused winery. They produce just two wines: Alexander Valley Cabernet Sauvignon and Russian River Valley Chardonnay. This is refreshing in an era when so many winemakers' portfolios include everything from Tempranillo and Sauvignon Blanc to Zinfandel, Pinot Grigio, Pinot Noir and Port. The less-is-more approach to winemaking at Jordan allows a laser-like focus on making wines that are some of the best in their class, and in your glass. Not that these wines are inexpensive: a bottle of the current 2008 Alexander Valley Cabernet Sauvignon will set you back about $50. But that is money well spent for such a beautifully crafted wine. Jordan Russian River Chardonnay is a relative steal at $30.
Jordan wines are produced using classic methods, but the winery also incorporates cutting-edge technology into the process. For example, they are currently winding up a six-year program to reduce energy consumption to the lowest possible level before converting to solar power, which they did this past June. According to early reports, as much as 90 percent of the winery's electricity needs are now met via the use of solar power.
And, wanting to give his nearly 100 employees a special gift for Christmas, a couple years ago, Jordan Vineyard & Winery CEO John Jordan surprised all of them with top-of-the-line iPads. The end result has been nothing less than a new way of making wine. The iPads are put, predictably, to great use by the sales and marketing staff, who can do video presentations and virtual tastings for their clients on the spot. But the iPads are also getting put to use in the vineyards. For example, Jordan viticulturist Brent Young employs an app called AgCode, which allows him to manage and schedule crew assignments and equipment needs out in the fields, without ever having to set foot in his office. Winemakers can also plug into the UC-Davis application called SoilWeb, which connects them to a national soil database. Other apps allow the winemakers to do things such as monitor fermentation-tank temperatures, humidity and other conditions from the vineyard.
Ultimately though, all of this old-meets-new technology comes down to what's in the bottle. And, whether Jordan wines are made utilizing the iPad or abacus, they never fail to bowl me over. If you're looking for quality and elegance in the next bottle of wine you buy, take a Jordan Cabernet or Chardonnay out for a spin. Happy 40th, Jordan!