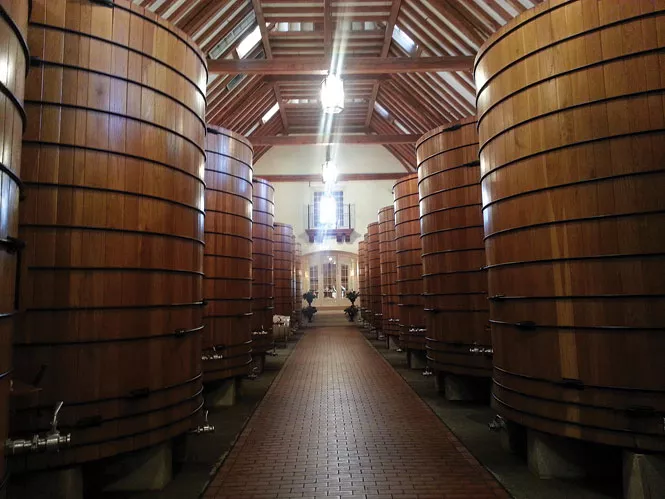 In my next life, I wouldn't mind coming back as John Jordan. Jordan has served as CEO of his family's Jordan Winery—founded by his parents, Tom and Sally Jordan, in 1972—since 2005, and when he's not busy making world-class Chardonnay and Cabernet Sauvignon, he lives on the beautiful 1,200-acre Jordan winery estate in Sonoma, where he also bass fishes on Jordan Lake. He has both private and commercial pilot certificates, and you'll frequently see and hear his Piper Cub aloft above the winery, or his Gulfstream G3, which he pilots for longer excursions. Nope, being reincarnated as John Jordan wouldn't suck.
Lest you think Jordan is a silver-spoon, trust-fund wine kid, think again. He is passionate about well-made wine, shares his hillside home with local rescue Labradors, and his John Jordan Foundation funds literacy and technology projects in elementary schools, as well as micro-loan programs for low-income families to launch small businesses. His employees and colleagues continually emphasize how generous and down-to-earth Jordan is. And I happen to know, for example, that his generosity extends to giving a longtime employee who worked the Jordan vineyards a place on the Jordan estate to live out his golden years with his family.
I also happen to know that the oft-told tale that John Jordan attempted to purchase France's Chateau Margaux (or some variation of that story) is not true. It certainly is true that the Jordans were very influenced by French winemaking, so much so that they built a gorgeous French-style chateau on their property and specialize in Bordeaux-style Cabernet Sauvignon and Burgundy-worthy Chardonnay. The laser-like focus at Jordan Winery is on those two wines. Oh, and they also produce an outstanding extra-virgin olive oil, sourced from the estate's olive groves.
Recently, I had the opportunity to spend a couple of days and nights at the Jordan Estate, and was bowled over not just by the excellent wines, but by the Jordan hospitality. Anyone can schedule tours and tastings at Jordan Winery, and they should. Programs range from a one-hour, $30 tasting of Jordan wines, estate olive oil, and food pairings in the private Jordan library, to complete tours of the winery and estate, including wine and food samplings, breathtaking views and much more. A program called Jordan Estate Rewards offers loyal customers hospitality programs based on wine purchases made in person, online or by phone, and range from private tastings and tours to luxury overnight stays in the Jordan chateau with private meals and car service into nearby Healdsburg.
Whether you ever visit Jordan Winery or not, you should certainly treat yourself to Jordan's wines. During my visit to Sonoma, I got to sip my way through a number of Jordan vintages. While it's interesting to see how the wines develop over time, I was also impressed by how good the current vintages are right out of the bottle.
Jordan 2010 Cabernet Sauvignon Alexander Valley ($50.67) is sourced from 60 Jordan Estate vineyard blocks and from a more than a dozen family growers. Luscious blueberry, blackberry and cacao aromas and flavors dominate the wine, along with a core of cassis. I loved this Cabernet and its long, layered finish with duck confit and beluga lentils.
As for the current Jordan 2012 Chardonnay Russian River Valley ($32.33) release—well, the 2012 growing season in Sonoma was, as Jordan winemaker Rob Davis says, "a dream year." He adds, "I think the 2012 Jordan Chardonnay is about as close to Burgundy as we've ever come." I can only say, amen to that!