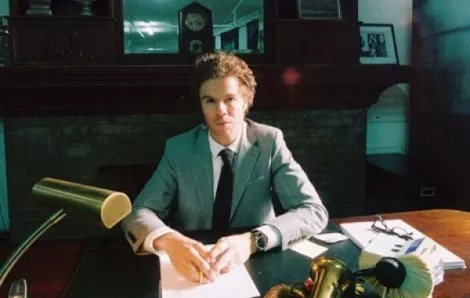 Lyrics are a labor of love for Moscow, Idaho, native
Josh Ritter
, and tinkering with the right word in the perfect place is just one step in his "scientific method."
Ritter's sixth and latest album, So Runs The World Away, introduces a new maturity in his musical sensibilities. "You have sunlight and only a small part of it is visible, though the rest is still there," Ritter says via phone from his Brooklyn home. "With writing, you take that full spectrum of thought and condense it to something small and powerful."
One of America's rising lyricists, Ritter formulates near-perfect ballads over bowls of oatmeal, usually writing the best first thing in the morning and late into the evening. "I tend to write in the kitchen. It has the best light, and it's where stuff gets made. Writing is like [cooking], it's a very organic process," Ritter says. On break from the road, Ritter is reflective about recent experiences that will ultimately become future songs. "When I'm on the road I collect a lot of ideas, I read, I listen to people, little things might catch my attention."
It's not surprising Ritter uses science-heavy vernacular to decode his songwriting methodology. He began college studying neuroscience at Oberlin College. About two years in, he realized he wouldn't ever be a scientist, but he still carries the trait of working away diligently until a particular moment of insight occurs. "[Scientists are] artists just like everybody else," Ritter says. Thus, he began studying folk music, creating his own major, "American Music Through Narrative Folk Music," in his pursuit of concocting songwriting formulas.
"My one rule is that it should never be about myself. There is a glut of self-writing that is intensely introspective and completely narcissistic. It's a pitiful scope when we could write about the whole world," Ritter says. The beauty of creating a new character is truly a thrilling thing, with longer-lasting pleasure for the writer and the reader/listener. Ritter's songs sometimes have an easy rapport, but more often take listeners on a trip to a place they couldn't go otherwise. One such song is "The Curse," a tale of an archeologist-mummy love affair gone wrong, set to a waltz.
He says each song is completely different in its scope and writing; "The Curse" took longer than a week, while "Long Shadows" was whipped up in an hour. "It's about knowing when it's done. That's the part that's funny. When it's not done, it annoys the hell out of writers. Finishing is sometimes just fixing the things that are annoying," Ritter says, "but it's a fun process. It's not tortured."
It's a good thing for him it's not tortured, because he's now making the jump from song lyrics to more lengthy prose, joining the ranks of other songwriters-cum-novelists like Nick Cave and Richmond Fontaine's Willy Vlautin. Ritter's first novel, Bright's Passage, is slated for a summer 2011 release, and tells the story of a seemingly normal young veteran who returns from World War I with an angel he picked up in France. In this short comedy, skeptical folks scrutinize the angel while the main character is busy trying to figure his life out.
Now deep in the editing process, Ritter realizes it's similar to songwriting, where so much importance lies in every word, yet penning a novel is more solitary than producing a record. Ritter initially began writing Bright's Passage as a song for So Runs The World Away, but it was too long. "The whole plot was there, so I decided I would take a chance with my hypothesis that I could unfold a novel out of a song. I think with any good song you can." 
JOSH RITTER
With Greg Laswell
The State Room
638 S. State
Friday, June 18
8 p.m., Sold Out
TheStateRoomSLC.com