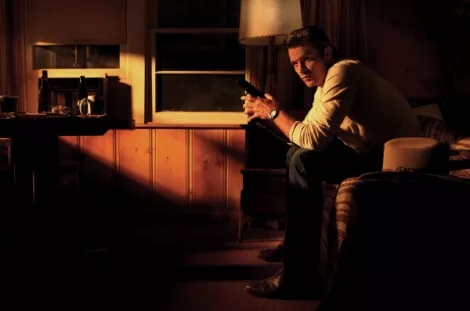 Tuesday, March 16 (FX)
Series Debut:
Timothy Olyphant (
Deadwood
) is back with a cowboy hat, a badge and an Elmore Leonard-penned pedigree—and a whole lotta FX hype, in case you haven't noticed. When U.S. Marshal Rayland Givens (Olyphant) guns down a Miami gangster for being, well, a Miami gangster, he's reassigned back to his Kentucky homeland to cool off and have awkward run-ins with everyone he very purposefully left behind. Those include an ex-wife (Natalie Zea,
Dirty Sexy Money
), an old-bud-turned-white-supremacist-bank-robber (Walter Goggins,
The Shield
) and a soon-to-turn-up criminal father; the usual colorful Elmore Leonard gallery of crooks, hustlers and smart-asses populate the country backdrops. Olyphant's Marshal Givens is looser and funnier than
Deadwood
's uptight Sheriff Bullock, but he's still a lawman (factoid:
Justified
was originally titled
Lawman
before Steven Seagal tainted it) with a black-and-white sense of justice. Likewise,
Justified
is far easier to follow than FX's timelines/morals-mangling
Damages
. Think of it as the rural flipside to
Sons of Anarchy.
Saturday, March 13 (SyFy)
Eric Balfour (24, Six Feet Under) and several actors you've never heard of star in Dinoshark, producer Roger Corman's not-really-a-follow-up to last year's Dinocroc! Global warming (or "climate change," or "the enviro-liberal-media conspiracy") causes glaciers to melt, unleashing the million-years-old Dinoshark from frozen captivity! Says SciFiSquad.com, "It's half-shark, half-Tyrannosaurus Rex, half-awesome. Yes, it has three halves. Spoiler: People die." Please, please let Dinosquid be next.
Above the Law


Against the Law


Mother-in-Law
Wednesday, March 17 (The CW)
New Season: Last year, it was "short" models—what's the theme for Cycle 147 of America's Next Top Model? Looking at the initial portfolio shots, The Only TV Column That Matters™ is going with "not-conventionally-pretty" models, or "whacked-with-the-fugly-stick" models, or "yeccch." Also, ANTM seems to be going all Project Runway: Miss Jay will become a "mentor" to the unfortunate-looking girls (a la Tim Gunn), and a rotating cast of guests will replace him at the judges' table with crazy-ass Tyra. One of 'em is Whitney Port of The City, herself a double-bagger who can relate to homely models—go, diversity!
Wednesday, March 17 (ABC)
Season/Maybe Series Finale: Who thought AfterScrubs was a good idea? This should have ended after last season—hell, it should have ended on NBC in 2008, if not earlier. Oh, and thanks for helping to kill Better Off Ted, Scrubs. Good riddance.
Wednesday, March 17 (CBS)
Season Finale: It's not one of my favorite sitcoms because it has Paula Marshall, currently enjoying the only Season 2 of any series in which she's ever been a co-star—Californication doesn't count; she was just a guest star over two seasons (and very naked … not that I noticed). Where was I? Oh, yeah: Gary Unmarried, pretty funny show. Also most likely canceled after tonight. Note to self: Start doomed Facebook campaign to get her back on Californication …
Wednesday, March 17 (Comedy Central)
Season Premiere/Series Debut: Can you believe this is the beginning of the 14th season of South Park? And, for the 14th year, nobody at Comedy Central knows what's going to happen in the first new episode? Probably not even Trey Parker and Matt Stone? Sweet. As for new animated series Ugly Americans: Meet Mark Lilly, a New York City social worker who helps vampires, werewolves, sea monsters and other fantastical transplants adapt to life in the Big Apple—on the more realistic side, he also has a zombie roommate and a demon ex-girlfriend. Entertaining, but no Dinosquid?