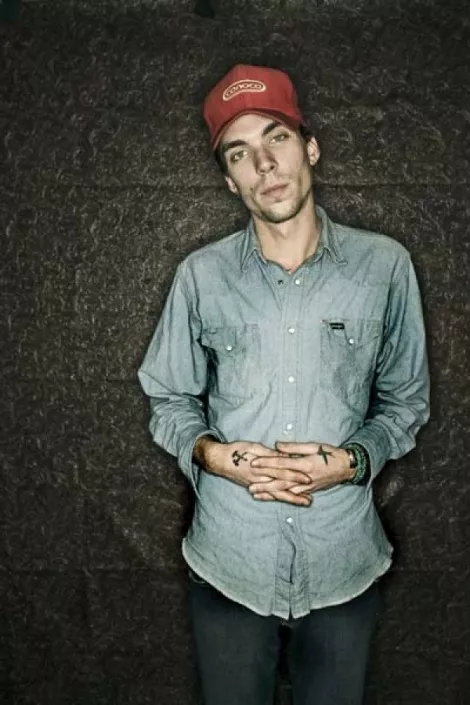 Justin Townes Earle. I almost staggered right into him at the Bloodshot Records party last week in Austin, Texas, but that's as close as I came to antagonizing the guy, or even saying hello. The reason is, at 6 feet, 6 inches tall, Justin Townes Earle is also the son of one Mr. Steve Earle—who's one ornery sumbitch.
"I've been told that I'm an intimidating person," he drawls. "I'm a big man. I'm not that big around, but I cast a big shadow. I got tattoos on my hands and neck, and I'm an ex-street-level crack dealer. That should be pretty fuckin' intimidating."
Yet, he laughs readily—and adds, "I got [my height] from my mama." He's a nice fella. Not that the senior Earle isn't; he just doesn't suffer fools. Justin's more likely to tell a story and laugh at your jokes. There are similarities. For example, he used to share Daddy's once-notorious knack for partying. "I've been goin' to South-By for about 10 years," he says. For eight of those, he "went down and got as fucked up as I possibly could."
Nowadays, he does things differently, almost the same as his famously recovered substance-abusin' father. Earle no longer gets tossed. He books a hotel on the outskirts of town, far from the booze and action. He hires a driver to get him to his gigs and whisk him back to his hotel immediately afterward. "I stay outta the way."
Justin is constantly compared to his father. The name Justin Townes Earle, however, is doubly loaded; his middle name references Pop's hero, the departed songwriting legend Townes Van Zandt. The younger Earle, unlike some celebrity scions following in their 'rents footsteps, figures it comes with the relation, whether it's paternal or honorary. Good attitude. It's understandable that the son of a singer-songwriter would want to be taken on his own merits. But the petulant insistence of some musical offspring on unqualified individuality is equally unbecoming, and reeks of artifice—truly talented progeny don't need to act like children to stand out.
From his debut EP Yuma and LP The Good Life, Justin Townes Earle has bucked the association by failing to be the hardcore troubadour a la Steve Earle or Townes Van Zandt. To be sure, he's a singer-songwriter, and his music is steeped in folk and country influence, but the similarities end there. Like his prior releases, Justin's newest, Midnight at the Movies (Bloodshot), is stylistically diverse. The McMurtry-esque title track has as much in common with Americana singer-songwriters as it does with more rock-oriented songwriters as Jim James of My Morning Jacket or M. Ward. His cover of The Replacements' "Can't Hardly Wait" is decidedly Westerbergian—damned near a tribute to his jangly rock. When he plays country, like on "They Killed John Henry" or "What I Mean to You," he sounds more like Hank Sr.
This time, the reviewers noticed this—maybe because they read it in the more astute reviews of The Good Life, or maybe they're just listening more closely. Whatever's cool with Justin: "People keep telling me that I'm finding my sound. And since people think that, I'm just gonna go ahead and agree with 'em." It's easier to accept now that people are less inclined to recognize him as someone else's son. "It is nice … I feel a little more comfortable now that everything I do is not being added up to my father or added up to Townes, because that's something that no man or woman should ever try to live up to."
No matter what, though, "I'm still Steve Earle's son. That's a massive part of my identity. He's my father, he's my blood, and I love him." And, really, any comparison to his father is a good one, even if it rings negatively. On the song "My Mother's Eyes," in which Justin affectionately does some dirty laundry, he sings, "I am my father's son/ I've never known when to shut up/ I ain't foolin' no one."
Recently, father and son gave a joint interview and performance on NPR, and it was clear they enjoyed a sturdy bond—one that their interviewer tried his best to break. "The interview was with Steve Inskeep, who loves to get people fightin'. The whole time he was tryin' to bait us," Earle says. Inskeep resorted to using "My Mother's Eyes"—in which Justin complains about how things ended between his parents. Despite NPR's best efforts, the Earles just wouldn't go Springer.
Here, discussing the interview, Earle acts the most like his spitfire sire. "We have our problems and … they're deep-set, [but] he's still my father. I can talk bad about him all I want, 'cause I'm his blood. Nobody else can, and I'm damned sure not gonna let anybody else hear me talk bad about him, 'cause I'm not gonna let them think that's OK. I'll bust their fuckin' lip if they badmouth him."
JUSTIN TOWNES EARLE W/ JASON ISBELL & THE 400 UNIT
The State Room
638 S. State
Wednesday, April 8
8 p.m.
21
The Heavy Metal Shop
63 E. Exchange Place
6 p.m.
All-ages