Club Edge Mondays: Kade Steel Karaoke
2010 Pride Idol winner Kade Steel has plenty of experience behind a microphone, and you can hear it when he announces singers and breaks off a few bars for lucky crowds Mondays at Club Edge (625 N. 400 West). This isn't your Mom's family home evening, and the tradition here isn't sacrament songs; it's shots and sex (sex not included at club). The event is billed as Utah's only "Karaoke Dance Party," and the huge floor at Edge plays perfect host to plenty of dancing shoes.
Also, be sure to check out the first annual Sadie Hawkins dance at Club Edge on Sept. 30. Sadie Hawkins is girls' choice, so make sure you bring somebody along, ladies, or find your dance-card partners at the event during the hourly slow-dance song. The first 300 people to show up will get free fanny packs, as well. And if you haven't gotten the memo—fanny packs are back.
Irie Wednesdays: Pierpont Party
Drink specials like the mysterious "Bob Marley" and Red Stripe beer—both $3—and live reggae music share the pebble floor of The Sandbar (122 W. Pierpont Ave.), the hottest tropical club in town Wednesday nights. If you don't know what "irie" means, enjoy a few—approximately five to seven—Red Stripes, a pull or two on the mysterious Bob Marley and you'll figure it out for yourself.
NIGHTFREQuency: Bar Deluxe Tunes In
NIGHTFREQ is a DJ showcase that bounces about town to different venues. This week finds them at Bar Deluxe (666 S. State) on Sept. 30. Say goodbye to September and hello to October with MSTER SHREDDER, TYPEFUNK, COBOL and GOOBERS. All their DJ handles are in uppercase, so you know they're serious. Free until 10:30, $5 after.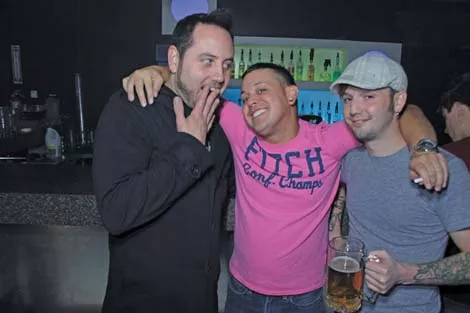 Hotshots from Club Edge:
1. Jeffrey Hacker, "Superstar DJ Dega," Dustin Dean
2. Shay Pauley
3. Nick Watts, Kade Steel
We want to keep Utah up to speed on local nightlife. Submit tips about club openings, closures, remodels, special events, drink recipes and noteworthy changes to comments@cityweekly.net.