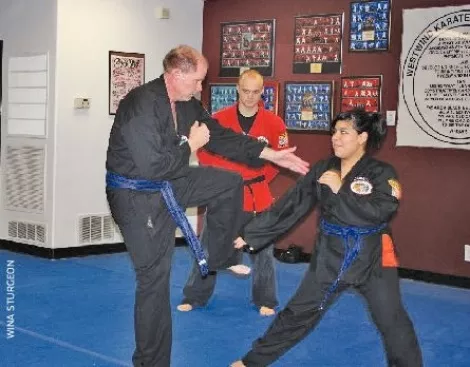 Are you bored with the same old gym and the same old machines and routines? Try something new to get in shape: karate.
Martial arts are becoming increasingly popular. Hundreds of small schools are popping up in strip malls and empty shops, with parents enrolling their kids and adults joining up to become quicker and more agile—and learn about self defense. But in fact, there's much more to karate than how to defend yourself against an attack.
Maria Swenson, a teacher at Westwind Karate in Kearns, says, "It's more of an art than anything. In addition, it's a way of behavior. In the process of becoming a black belt, we're taught the principles of black belt: modesty, courtesy, respect, integrity, self control, perseverance and indomitable spirit. We're taught to apply those principles in our daily life."
Aside from the aggressive moves practiced in classes and sparring bouts, the constant movement of a karate session builds aerobic capacity and endurance. And, karate is not the only form of martial art taught in schools. Makeon Hendrix, program director and one of the head teachers at Westwind, says, "It's good for people to learn about different styles, because everyone has different interests. Some people are interested in wrestling, which is also a martial art, so they could take classes in judo or jujitsu. If they want a stand-up style, kempo—which is the basic style we teach at Westwind—would be good for them, because we use our legs a lot. Taekwondo is more of a competition style, where they do a lot of flashy kicks."
Karate is known for its skill-ranking system, defined by belts of different colors. A white belt signifies a beginner, whose belt is traditionally white because it's still unused. The tradition is, an increasingly used belt gets darker, turning yellow, orange, etc., all the way up to black.
But that's not the end of it. Karate is about constant improvement, so once you go through the 10 belt colors to reach a black belt, you then work for degrees of excellence within that category. Those dedicated enough to reach a 10th-degree black belt become "Grand Masters," the highest achievement in karate.
But what about the self-defense aspect of the sport? Hendrix explains, "We train students to prepare for situations where they may need to defend themselves, but, of course, they don't start off with the experience to do that. We also teach students to avoid conflict, to use their heads to defuse situations and avoid incidents. That's why karate teaches self-control, because if you let your emotions control you, that's when you might get hurt."
Kempo karate was first introduced to America by Ed Parker, who opened the first commercial karate school in Provo. He once said, "If you're a black belt, you never get into fights, because you know you're a Porsche. A Porsche doesn't have to prove it can outrun a Chevy. Any karate student who gets into an altercation has failed."
The cost of karate lessons is more than a regular gym membership, ranging from $125 to $250 per month, depending on the school. Hendrix suggests calling around and then taking an introductory session, offered by most schools, to see if that's the right school for you. At Westwind, an intro session costs $20 and comes with two lessons and the uniform, or gi (the white or black coat students wear for a class).
"The first lesson, we teach you the basics of how to punch properly, how to kick properly, and we go over the student creed," Hendrix says. "We teach you a basic technique against somebody maybe choking you or pushing you, so you can get out of it. You go home and practice, then we do your second lesson, and that's when you earn your white belt. You actually have to earn your white belt."
You may not ever get to Bruce Lee status, but learning karate will definitely make you more agile, flexible, stronger and in better aerobic shape—and, it's a nice change from the gym, where you've probably already broken your New Year's resolutions.