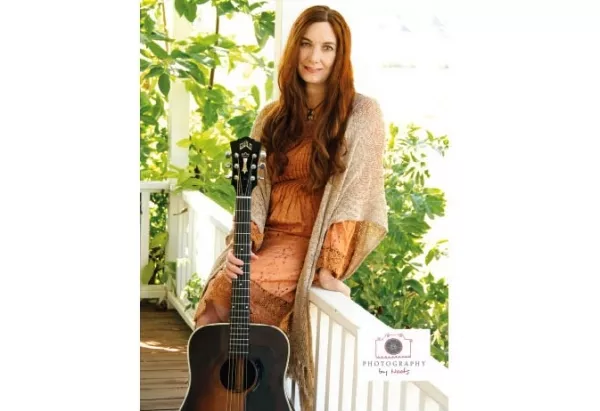 Sometimes books are just impossible to put down; riveting, all-consuming page-turners. Other works must be slogged through while hoping for a bountiful literary reward. But either way, says Kate MacLeod, acoustic musician, singer and songwriter, there is value in every bound work of prose, for books are integral to our humanity.
"Books seem to represent our collective consciousness, a record of history and a canvas for the imagination," MacLeod says. "In a curious way, I'm not often concerned about whether a book is a great piece of literature or not, for each contains some record of humanity."
Similarly, music can grab us and shake us to our roots, giving us exactly what we need emotionally—or, simply, recording a moment in time and place. MacLeod hopes to find synergy between these two artistic mediums in her forthcoming live-recorded album of book-inspired songs. Live at Ken Sanders Rare Books is set for a December release, but will be made available at her Sept. 29 performance at the Utah Humanities Book Arts Festival, which runs through the end of October.
Over MacLeod's 30 years of songwriting, there have been many books that have inspired her and informed her craft. Whether books made her want to re-express the ideas, process them or sing about them, she's written 16 book-inspired songs.
The source material for the 13 songs she recorded at Salt Lake City's Ken Sanders Rare Books in August 2012 was a wide-ranging swath of books, in terms of styles and the time of their release. The inspirational works included John O'Donohue's Anam Cara, Audrey Niffenegger's The Time Traveler's Wife, William Least Heat-Moon's PrairyErth, James Knipmeyer's Butch Cassidy Was Here and Marion Zimmer Bradley's The Mists of Avalon.
"I don't pick a book to write about," MacLeod says. "In fact, these books don't necessarily create a list of favorite books. The songs are spawned by something that clicks within myself while reading."
One song in particular, "PrairyErth," clicked with her while she was sleeping. "Amidst all the activities of raising three children and working hard to keep life in order, songs were waking me up in my sleep—I've especially paid attention to those," MacLeod says. "PrairyErth" is essentially a detailed ode to the prairie land. MacLeod imagined herself in a sea of grass as she wrote, "Twisted rivers in the hills and the grass as tall as the Osage's horses' mane."
Other songs weren't so vivid in their genesis but are profound regardless. One song that often finds its way into MacLeod's repertoire in concert is "Anam Cara." In his book of the same name, O'Donohue writes about the spiritual growth of the human heart, and that theme resonated with MacLeod as she "picked this book up off of a coffee table in Spokane, Wash., in 2010, and couldn't put it down," she says. "My hostess generously gave it to me. Since then, I've shared the book with many people."
MacLeod's most recently written tune, "Love In and Out of Time," was inspired by Niffenegger's The Time Traveler's Wife. MacLeod acknowledges that it took her a while to get into the novel, but she found herself richly rewarded. "The imagery, the love stories illustrated, the chain of events that represent complex human experience, and faith in love's bond impressed me so much that by the time I got to the end of this book, I had also written this song," MacLeod says.
With a retrospective like this—a compilation of songs written over 30 years—MacLeod sees a few patterns in how she writes. She likes epic subjects that are full of detail, and that she doesn't write comical songs, saving humor as a sprinkling of spice, she says.
MacLeod recorded Live at Ken Sanders Rare Books as a way of bridging the music and book worlds. "The project celebrates our shared experience by way of the arts," MacLeod says. The format of her appearance at the book festival will mimic that session, performed for a full house at the iconic bookstore. The performance was crafted with minimal sonic accoutrements, with the intention of having her simple, yet beautiful voice and an acoustic guitar mimic the minimalistic experience of ink and paper while reading a story.
"One of the great experiences of reading is the reader's creation of their own visuals, sound embellishments and environment, because many interpretive details are not dictated to them," MacLeod says. "If I was to tell you a story, with only my voice, there would be no additional studio production. I wouldn't be asking for 'more cowbell' or anything like that."
KATE MACLEOD
Salt Lake City Main Library
210 E. 400 South
Sunday, Sept. 29
4:30 p.m.
Free
UtahHumanities.org/BookFestival.htm
Twitter: @AustenDiamond