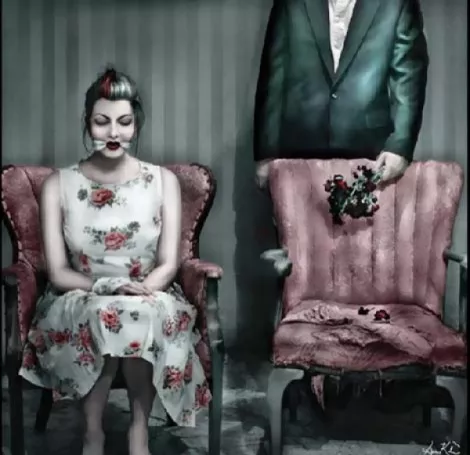 Kayo Round 7
sounds like the outcome of a pugilistic contest, a knockdown product of flying fists, jarred bones and, perhaps, spilled blood. Running an art gallery in Salt Lake City in the current economy is no picnic, either, as Kayo Gallery's owner Shilo Jackson would probably tell you, but this show is a celebration of the gallery's seventh anniversary—a noteworthy achievement for a local art venue.
It's difficult to pick out highlights of this group of small works, a constellation of almost two dozen of the brightest lights in the local art scene, but your 1980s TV back-brain will be sparked by Gentry Blackburn's set of portraits of Peg and Al Bundy from Married … With Children. Mary Toscano's almost lighter-than-air drawings have been paired with Cara Despain's works on paper at the gallery before. Grant Fuhst has a ghostly, yet cartoonish "Idiot Apparition" or two on hand, and surrealism raises its alarming head with Elmer Presslee and Lone Vilnius, all three with mixed-media works. Trent Call's pop-art graffiti-painting style is instantly recognizable. In addition, Illinois artist and singer Aunia Kahn (detail of her "One Day After" is pictured), known for her Silver Era Tarot images, adds a haunting work to this show.
It might have felt like a sporting event just trying to squeeze through the door in the crush of Gallery Stroll night, but conditions may be more favorable now. Aside from just celebrating the success of Kayo Gallery, the show is a brilliant celebration of the stylistic diversity of local artists.
Kayo Round 7 @ Kayo Gallery, 177 E. Broadway, 801-532-0080, through March 12, Tuesday-Saturday 12–6 p.m. or by appointment, free, donations appreciated. KayoGallery.com