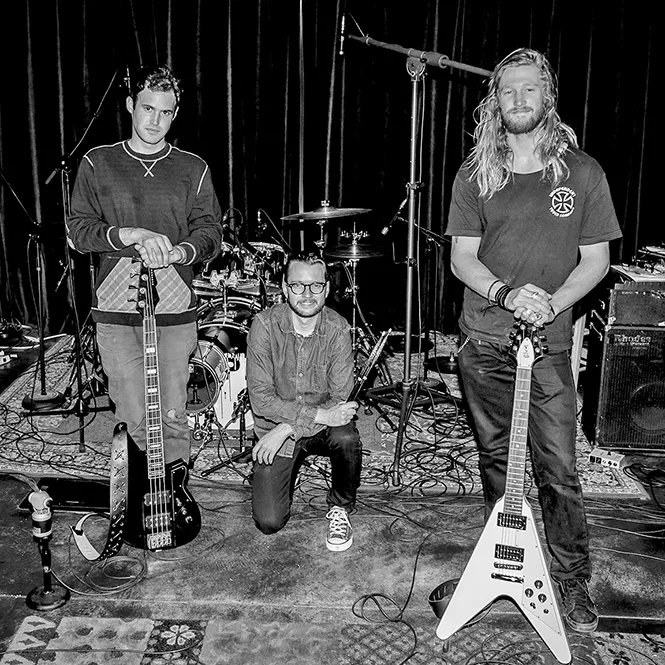 Great rock 'n' roll gets you pumped. In the July 3 installment of the City Weekly music blog, I wrote about rolling out of bed and cranking up Prom Queen, the new EP by local trio Kapix (pronounced CAP-icks). Despite the conventional wisdom that loud music is counterintuitive for first thing on a Monday morning, it just felt like the right thing to do.
"From the opening bars of 'Are You Coming or Not,' it was clearly a good move," I wrote. "I was instantly awake, my mind alive with references from Motorhead to AC/DC to New Wave of British Heavy Metal to Supagroup, playing air guitar and already dreading the end of the eight-track set. ... I'm now on a third playthrough and still stoked. Goddamn, it's hot." On the way to meet drummer/spokesdude Lance Emmers for an interview, I listened again.
The band's great, driving music is also great driving music, the kind that gives you a lead foot. It's a minor miracle that, on a drive long enough to get five tunes deep into the eight-song EP, the rearview mirror never reflected red-and-blue flashers. It's very possible that the vehicle swerved, since the steering wheel was by turns a guitar and drum kit.
As we settle onto our barstools, Emmers admits to something many musicians won't. En route to our meeting at The Leprechaun, he says, "I was listening to tracks from the album to get pumped for the interview."
Musicians have good reasons for not listening to their own work. It appears vain, even masturbatory. It's hard to enjoy something you're so close to, because you hear all the mistakes. Between writing, recording and performing the songs countless times, it's also work; you need a break from it. But Emmers' confession is refreshing.
Rock 'n' roll—the good stuff—is masturbatory. Bands are exhibitionists, coaxing eruptions from phallic symbols at high volume and cheers from people who paid to watch. It's obviously fun, which must eclipse any anxiety over perceived flaws in the recordings, or live flubs, or the notion that it could be drudgery. The whole concert experience is about getting off and letting off energy. As fans, we want the band to be into the music, because this rock 'n' roll thing only works when both sides are invested.
Of course, it's not always a rock 'n' roll fantasy. It's only logical that Emmers and his bandmates—Avery Ghaderi (vocals, bass, guitars) and Hagen Kearney (vocals, guitars, bass)—experience both the good and bad. Emmers says the writing and recording stages are initially exciting. "It's rad, you're writing something new and fun, you're on a ride, and you don't want the ride to stop," he says. Stress eventually settles upon you—it just goes with the territory, but there's a moment when it lifts.
That epiphany came for this recording when Emmers and Kearney took a motorcycle ride to the Causey Reservoir and Prom Queen's 6:47 epic "Freeway" played through Emmers' headphones. Over the sound of himself riding his hi-hat, Kearney's guitars rev, the chords sustain for full measures. The intervals between chords tighten; Emmers, the engine, start to piston, hitting harder on the twos and fours. The song rockets up the on ramp to outer space, and becomes a manic, fantastic ride that merges "Born to Be Wild" with Heavy Metal. "It was pretty fuckin' awesome," the drummer says.
That's about the size of it. Produced by Mike Sasich at Man vs. Music, Prom Queen is an energizing, thrilling jolt of rock packed with meaty riffs, wild solos, huge drums and anthemic choruses. As I wrote in the blog, it's such a good time that you really do dread the inevitable end. Interestingly, it's quite a divergence from Kapix's self-titled debut EP, which was recorded after the band's first couple of shows and featured a different lineup (Chris Burch in place of Kearney) and a much different sound—more indie or alternative rock. The balls-out sound came when Hagen stepped in after Burch departed.
"The first song we jammed on was 'Paranoid' by Black Sabbath," Emmers says. "And the first song we wrote together was 'Are You Coming or Not.'" The chemistry was so immediate and natural that Kapix decided to shift gears. That included shelving their old material, pulling all the copies of that debut EP and starting fresh. Their live shows also evolved, with all three members trading off on guitar, bass and drums (Kearney and Ghaderi share vocal duties). Emmers attributes the ease of the transition to keeping things basic, just rocking out and having fun.
"We're not trying to reinvent the wheel," he says, sipping his beer. Maybe not. But they're definitely keepin' it rollin'.