Page 3 of 3
Sixteen Days.
Hernandez met Nikitina in on Easter of 2007. He was delivering Easter baskets to his brother's apartment in the same building where Nikitina lived. "I was walking to the apartment and looking down at the Easter stuff, when I first saw these feet and shoes—and gorgeous legs. I looked up and saw Tanya, a beautiful lady wearing sunglasses and talking on a cell phone. It was love at first sight. The two kids were standing with her."
It was a year before they agreed to date. Hernandez proposed to her on Aug. 15, 2009.
Before Nikitina moved in with him, Hernandez says she was always struggling to get by. "When she first came here, she didn't know any English and she got odd jobs and worked at 7-Eleven," Hernandez says. "After the divorce, her English still wasn't the best, and she was alone, taking care of two kids with no one to help her."
He says that all of the times Jankowski took Nikitina to court, it was because he didn't want to pay child support. "Every time he took her back to court, his child support kept going up." He says that Nikitina owed $16,000 in legal bills as a result of the continuing court battle.
Hernandez says that Hanson scared Nikitina, who referred to her former mother-in-law as her ex-husband's "pit dog." "Whenever there was a problem between Tanya and her son, he wouldn't handle it, [Hanson] would." Hernandez says that Hanson left messages on Nikitina's phone, telling her the children should be with their father and that she was a terrible mother.
During his divorce, Hernandez had experienced his own custody conflict. After the custody battle relating to his two daughters ended, "My former wife grabbed her coffee and looked back at me. She said, 'I had some people offer to kill you.' "
Reflecting on that situation, he says, "I imagine that the thought of killing their spouse crosses the minds of many people who are divorcing."
About 2 1/2 weeks before her death, Nikitina "was leaning up against me while we were watching TV, and she suddenly became very upset. She said that if something happened to her, her children would go to that crazy family. I told her that was not going to happen, that we were getting married pretty soon and the children would be with me," he says. Nikitina and Hernandez planned to marry on Valentine's Day, 16 days after the day she was murdered.
"She had her wedding dress and had already given me my ring," says Hernandez.
Jankowski views Hernandez as a solid and stable person and says, "It would have been a fine option for Tanya to have him around, it would have been beneficial for her and good for the kids, who still have a continuing relationship with Rod. I really do hope that the state of Utah and the entire country sees how important fathers are to children. Most fathers are not the runaway fathers and want to be there for their kids. Many are pushed out the door rather than leaving on their own."
How To Heal.
Today, Jankowski chooses not to visit his mother "at this point in time. I don't know what I would say or if it would be beneficial in any way." His children drew pictures that he mailed to her. They also have many photos of both their mother and grandmother in their home.
Jankowski previously underwent therapy and both children currently visit a therapist. "They communicate to me and their therapist that they miss their mother. [My daughter] from time to time will start crying and other times say, 'I want Mommy.' " He says that the children draw pictures, and he has a helium tank at home that the children use to fill balloons and attach messages to their mother.
Hernandez hopes to send his own message of hope for the future. In the '70s, he played professionally in a band in the Las Vegas circuit. He quit playing in 1981 and has always missed it. He says that, during the time they lived together, Nikitina saw his guitars and photos of his band and asked him to play for her. "She kept bugging me about it. I told her that when we got married on Valentine's Day, I would play for her." To deliver on that promise, he and Nikitina's former boss, Julie Peel, will hold a concert in Nikitina's memory.
"In Memory of," will be held 1-9 p.m. on Saturday, Oct. 16 at the Utah Cultural Celebration Center, 1355 W. 3100 South in West Valley City. Proceeds will benefit Nikitina's surviving children and other community services offering victim support. The public is invited to send photos to be included in a memory wall to honor those who have lost their lives to a violent crime (Visit InMemoryOfEvent.com). Featured will be the band Hot Sauce—a group Hernandez and other musicians recently assembled—as well as other live bands, cultural dancers, ethnic food, a citywide motorcycle ride, speakers and representatives from grief-support groups. A candlelight procession honoring victims will conclude the event.
"When this happened to me, for the first three months, I didn't want to live. I was drunk every day," Hernandez says. "I didn't know about victim-support groups. They sought me out and helped me, and if it wasn't for them, I wouldn't have survived."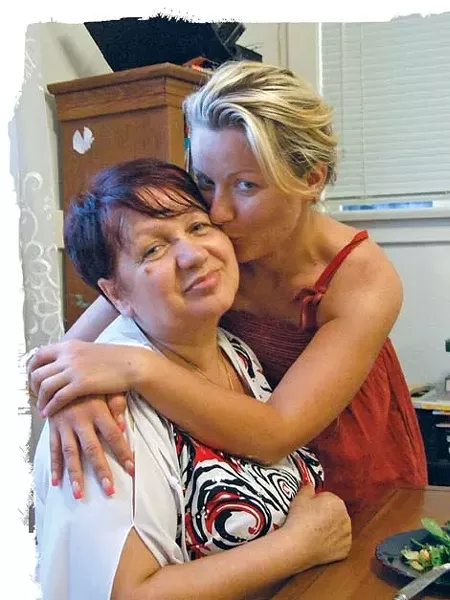 Today, Hernandez is the link between Nikitina's sister, her parents—who currently live in the Ukraine but plan to relocate to the United States—and her children (see his blog
here
). While the children now live with their father, Hernandez continues to see them at their soccer games and on outings. "When I visit the kids, it's hard on me because I want to talk about Tanya, and the kids say they aren't supposed to talk about her."
On a recent roller-skating outing at Hollywood Connections, Nikitina's son said he wanted to go home. "When I said, 'We'll go home in a minute,' he said, 'I want to go to our home.'" Hernandez drove the children back to the house he shared with Nikitina. The boy "went to his bedroom, put all his toys around him and read a book. I missed my home the way it used to be with the music on and Tanya dancing around the house."
While Hernandez doesn't know what lies ahead, he needs to be prepared for life after the Oct. 16 concert, when he predicts he will experience a big letdown. "Every day, when I wake up, I think about Tanya. I wake up in the middle of the night thinking about her. Every day, I miss her so much. I want to dream about her, and I can't. I hope to be able to dream about her someday, and when I can, she will be alive again."