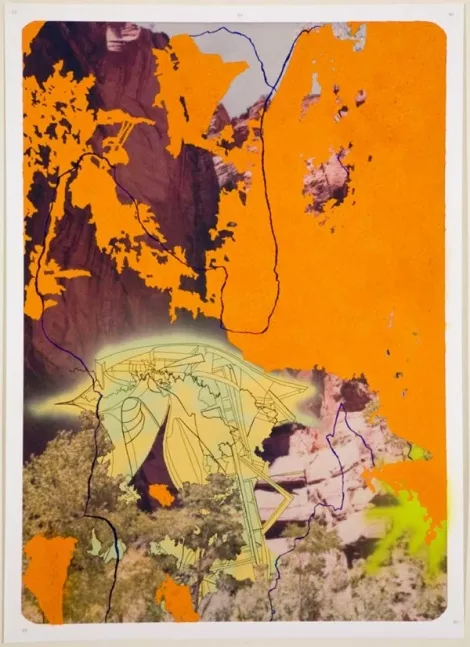 Kim Schoenstadt
Lake Powell Series: Site Plan 4
Site-specific artworks have developed in different ways since the term originated in the 1970s, but rarely has it taken a new view on location itself as in the works of Kim Schoenstadt. The Chicago native, who now resides in Los Angeles, looks at the urban landscape of modern life under a lens that reveals the multidimensionality of its experience, and its layers—so much that, at times, it's almost like being in two places at once.

Schoenstadt is being awarded the inaugural Catherine Doctorow Prize for Contemporary Painting, which includes a $15,000 cash prize and a solo exhibition, by the Salt Lake Art Center and the Jarvis & Constance Doctorow Family Foundation. The prize does two things, SLAC director Adam Price believes: "It expands the connectivity of the Art Center out into the nation, as we asked for nominations of emerging and mid-career contemporary painters. It also brings artists at the cutting edge of contemporary painting to Salt Lake. It's unlike anything that's been shown here before."

Schoenstadt's work breaks the plane of the painting and, in many cases, is applied directly to the gallery wall itself, as in the case of a work using Tony Smith sculptural shapes to create the illusion of depth. These works are highly cerebral yet also visceral; the winding stairway of a diving board is almost enough to induce vertigo.

The Fax Drawings series originated when a gallery wanted something really big, and she had only two weeks. She asked them to send her the floor plans. Using recycled paper, she accidentally misloaded the fax machine, and the result was a combination of discarded drawings and floor plans. "It's a nice moment, because it's specific to this gallery," she notes.

A sound dome in the hallway will also play audio of her drawing. A title plate is on the wall, but no artwork. She leaves it for viewers to imagine the work of art and complete it in their own minds. It's perhaps the ultimate work of conceptual art. And it's about "site" in a different way: It seeks to locate the viewer at the site of the creation of the work of art, as least mentally. Local musicians are also invited to create soundtracks for the exhibition and leave them in a milk crate in the gallery for viewers to listen to and create different experiences of the visual work.

Schoenstadt's works are site-specific in two ways, notes Price, in that they're both created for this space, and they're about this space. The "Fax Drawing" for the Salt Lake Art Center includes the floor plan of the gallery, a note from Price, the gallery's fax number and identification marks, and drawings of two homes in Salt Lake City, combined. The process of organizing the exhibition helped create some work that is in the show, and thus her work is meta-conceptual. It also attains a kind of urban ecology, with communication about the work spawning more work.

Her architectural drawings use overlapping images from several different sites, and this creates a sense of the ubiquity of architecture itself as a presence. It's as if space is collapsed into a single, urban landscape with no center, only vistas and views. She tends to use architecture that is aesthetically pleasing, and this world seems like it might be either utopian or severely dystopian.

The Lake Powell series uses a mash-up of architecture from southern Utah, Los Angeles and the Sinai desert. "I thought, Salt Lake is a city from the desert, and it struck me that L.A. is, too," Schoenstadt says. Archeology is about ideology and socioeconomics, which can have its dangers, but she says, "that's where architecture gets interesting. The architecture I choose has more going for it than a pretty face."

One of the buildings she uses was the Parliament building in Prague, then later the home of Radio Free Europe. "That's a pretty interesting transformation," she says.

In another participatory work, viewers can fill in sections of a drawing with numbers in chalk. Later, gallery workers will fill in paint by numbers, then the tape over the lines will be removed to create a painting in negative space. "I'm interested to see how high people will go; will they spill onto the floor?" she muses. The paint-by-number will be documented weekly.

The democratic experience of art is important to Schoenstadt because, she says, "It's a way to get out of my own head. It's a way to communicate with people."

She adds about the participatory works, "The worst thing is we might end up with nothing. The best is that people get to participate. I say, come and play, let's do this, let's have fun."

KIM SCHOENSTADT
Salt Lake Art Center
20 S. West Temple
801-328-4201
Through Feb. 18
Free
SLArtCenter.org