Page 2 of 3
Oily Skin
Juan and Javier grew up in Michoacan, Mexico, with three other brothers and two sisters. Their stern father filled Juan's childhood memories of life in Mexico and then in a chicken farm in Herriman with harsh discipline. As gay young adults and brothers, they moved in together. While Juan eventually pursued a monogamous gay life, Javier embraced the bar and bathhouse scene in Salt Lake City, his brother recalls. Javier formed a group of drag queens called Latino Divas. In 2001, the divas found a home at The Trapp Door's Sunday gay Latino night.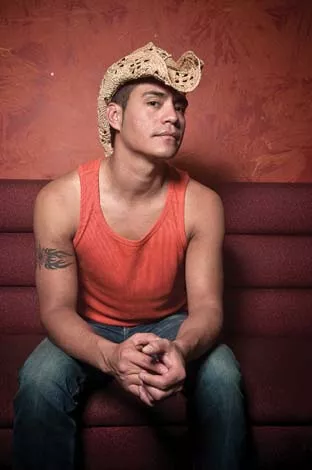 When Javier told his brother he wanted to become a woman, "I got really scared for him," Juan says. The effects of longterm hormone therapy on internal organs as well as injections of cooking, engine or mineral oil into lips, legs, thighs and buttocks to achieve feminine curves are known to cause life-threatening health problems. "I was very overprotective, but he kept telling me, 'It's my life,'" Juan says.
In 2001, Lopez volunteered at the Utah AIDS Foundation and used his brother's Trapp Door night to pass out condoms and do HIV prevention. After his brother's death, Juan took over the Latino Divas' shows at The Trapp Door, while also caring for a close friend of Javier's, 37-year-old artist Carlos Adame, who was dying of AIDS. Adame had no Social Security number and could not get Medicaid. Juan secured funding to learn how to care for him, whether it was administering shots or trying to heal his stomach when it split open following an operation. "I was sick with exhaustion," by the time Adame died. "There were times I needed to go out there and scream."
When Manuel Arano started a Sunday night show at the now-closed Club Exit, Juan gradually lost his performers and his following at the The Trapp Door to Arano's no-cover charge shows and cheap drinks. Lopez's mission, however, was not to make money. "I'm about helping," he says. "That's what I do."
In 2005, Arano took over The Trapp Door's gay Latino Sunday-night, pushing Juan aside. Feeling abandoned by the community, Juan trained as a nurse and currently does HIV-prevention outreach at Project Reality in downtown Salt Lake City.
Gay, Gay, Gay
While there are plenty of resources for HIV prevention, for mental health "there's nothing," Juan says. Although many gay Latinos suffer from depression, or being bipolar, they don't seek help. "We don't deal with those things." But even if they did seek help, finding therapists who are Spanish-speaking, gay affirming and offer services on a sliding scale or pro bono is "extremely difficult," Pride Center's Nuttall acknowledges. She's aware of only one volunteer therapist in Salt Lake City.
When Juan met now 33-year-old Javier Horta, his face, Juan recalls, "was like someone with no life. You could tell he was very depressed." Horta's horrific childhood and life reflects many of the struggles of young gay Latinos to find a footing in life, let alone in a foreign country without papers.
Horta grew up in Michoacan, where, he says, a male relative sexually abused him from when he was 6 years old into his late teens. Schoolmates threw him into barbed wire when he was 7, and when he had the courage to come out at 15, his father chased him from the house, firing shots at his feet, screaming, "I don't want fags in my house."
As a teen, Horta worked as a prostitute in a Mexican bar with female sex workers. He believes God protected him from contracting AIDS. Horta cared for his dying mother, who had hepatitis. After she died, he crossed the border into the United States, only to end up homeless and begging for food. In Denver, he met a bisexual man who took him to Ogden in 2006, then abandoned him on the street when he returned to his wife.
Horta found work as a waiter in a Mexican restaurant in West Valley City and made enough money to rent an apartment and get a car. But he was haunted by his childhood abuse, couldn't sleep at night and constantly cried. Juan took him to a Hispanic nonprofit where, Horta says, a volunteer therapist worked with him to overcome his traumatic childhood and the guilt he felt at believing he had "provoked people to abuse me."
In comparison to Horta's cadaverous appearance when Juan first met him, now Horta has an expressive face lit with wide, life-bright brown eyes and works two apartment-maintenance jobs six to seven days of the week.
Diana, a slender transgender woman in a low-cut, yellow blouse describes in a husky voice fleeing a similar life to Horta's, one of poverty, brutality and discrimination in Mexico, while her tears fall almost unnoticed onto her blouse. She was her parents' only boy, and her seven sisters routinely punished her for her feminine walk and mannerisms. When she was 11, a neighbor raped her. Several months later, bleeding anally from an infection, her father and one of her sisters abandoned her at a hospital for four days, where a doctor diagnosed her as having gonorrhea.
When she was 21, she and her male partner hired a coyote—Spanish for guide—to take them across the border to the United States. The coyote, however, she says, tried to abandon her in the desert because she was transgender.
In the Mexican town Diana grew up in, definitions of alternative sexual orientation were "only gay, gay, gay," she says. Through counseling at Hermanos de Luna y Sol in 2006, "I began to see what I wanted." She worked as a hair stylist to afford breast implants and is now saving for gender-reassignment surgery.
Diana has struggled with discrimination in Salt Lake City. Some Latino clients reject her as a "joto," Mexican slang for gay, and refuse to let her cut their hair.