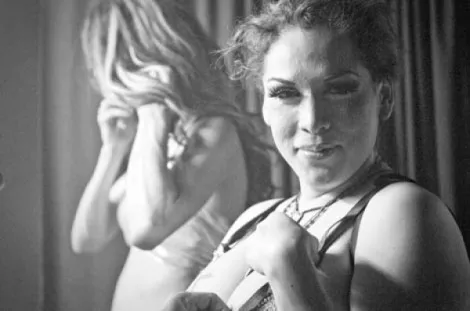 When Juan Lopez found his brother, Javier, hanging from a rope in the backyard shed of the West Valley City house they shared, his brother, he says, "had a huge smile, as if he'd finally found happiness."
The brother had been dead for four hours, his nails turning black from pooling blood and his head almost separating from his body when Juan found him at about 10 p.m. on March 25, 2003. Hysterical, he cut the 31 year old down and laid him on the ground. The room was full of fabric that Javier—a brother, but also a transgender woman—had used to make dresses.
For the funeral viewing, Juan, now 40, dressed his brother as a man so as not to offend their Mexican family. "They didn't want to know or talk about him being HIV positive," Juan recalls. That denial extended to the two brothers. Juan knew his brother had been diagnosed as HIV-positive two years before his death. "I wanted him to tell me, but he never did. The [Hispanic] culture never teaches you to be open."
For Javier's cremation, Juan dressed him as a woman. "I could do that for him." Javier had recently started taking hormones and had developed breasts. He was growing out his hair, had smooth skin and tattooed his eyelids.
Juan believes his brother was bipolar and killed himself in the midst of a depression. Javier, he says, "wanted to be a woman 100 percent, to have kids, something he knew wasn't possible in his lifetime. He couldn't accept that, and it hurt him every day."
Javier was a pioneer of a popular gay Latino Sunday night at now-closed gay nightclub The Trapp Door. He organized female impersonation shows called Latino Divas that featured drag queens, transvestites and transgender women. Before Latino Divas, attempts by activists to promote HIV prevention had met with failure. Juan, probably Utah's most experienced gay Latino community activist, used his brother's Sunday night event to promote HIV awareness.
For almost a decade, Juan, and more recently Utah Department of Health's HIV outreach coordinator Claudia Gonzalez, have been doggedly handing out condoms at both gay and straight Hispanic bars and clubs. Utah Department of Health HIV Education and Training coordinator Heather Bush says Utah's 2009 HIV-infection rate of 112 new infections was the highest on record. And while the Hispanic community only comprises 12 percent of the state's population, 21 percent of men and 21 percent of women with HIV/Aids in 2009 were Latino. "A lot of Hispanic men are bisexual," Juan says. Married Latino men who have sex with transgender prostitutes they pick up at straight Hispanic dance halls, then take STDs including HIV infections home to unsuspecting spouses are an enormous concern, HIV activists agree.
Interviews over several months with Latino gay men, lesbians, transsexuals and transgender women, some of whom are sex workers saving for their dream of gender-changing surgery, reveal a universe similar to 1970s San Francisco when gays were coming out and attempting to find a supportive community. The Salt Lake City Latino gay scene is similarly decadent and hedonistic. It's pleasure seeking with a dangerous dark side, however. As gay Latinos open up to the community, many find themselves caught up in unsafe sex, alcohol and drug abuse, and risky plastic surgery. These behaviors are all the more deadly since few are eligible to receive medical care due to their undocumented status.
Lacking government assistance and aid, the community is caring for itself. Juan is helping with his advocacy for safe sex. And if there is a scene for this crowd, 27-year-old gay-night impresario Manuel Arano is hellbent on creating one.
Second Options
One recent Saturday night at Club Edge, dressed in black T-shirt and knee-length pants, Arano, a languid dancer, drifts through the club, engaging briefly in different conversations. Some of his show's retinue of drag queens and transsexuals hover around him, yet he remains separate, both from them and from the temper tantrums—over, for example, which drag queen will open and close a show—that occasionally erupt in their midst. Atala, a 25-year-old transvestite and frequent performer in Arano's shows who grew up in Layton, says, as a drag queen, "I used to love to fight, to get drunk." Other drag queens and transvestites hated him, he says. "They put crushed glass in my compact. All we want to be is stars."
This is a community riddled with gossip. "I've died of AIDS no matter how many times, I've committed suicide no matter how many times," Juan says.
Arano initially succeeded Javier's Latino Divas with his own "Pachanga Night," which until the weekend before this year's Pride festival had been at the Sugar House-based Hispanic nightclub Karamba for 12 months. It was arguably the place to be seen for a community that has only gradually emerged into the neon light, and also the place to learn and verify the day's gossip.
But "the scene" has just relocated: On the final night of the Utah Pride Festival, Arano launched his new night, "Papichulo" (which means "Cute Guy"), at Club Edge (615 N. 400 West) leaving in his wake aggrieved managers at Karamba and conflicted regulars trying to decide where their allegiances lay. Karamba manager Martin Medina says his club will continue with a Sunday gay Latino night.
Juan worries that the crowd only has eyes for Arano's gaudy nightclub spectacles, meanwhile ignoring the disturbing health issues that boil beneath.
"Everything Juan did was about the community," Jennifer Nuttall, the Utah Pride Center adult programs director says. "It's really hard for him to see the shift" to Arano. She adds there's no reason why the community, which she says needs leaders, can't have both men at the forefront.
Juan says his dream is "for the community to come together and care for each other." That, though, may well be low on the list of priorities, considering all the obstacles gay Latinos can face. Perhaps the largest obstacle is that between 70 and 90 percent of Utah's gay Latino population, Juan estimates, are undocumented. Lack of papers means no access to Medicaid for mental-health issues, leading many Latino GLBT community members in Utah, traumatized by coming out into an often unyielding and punitive Hispanic culture, whether in the United States or abroad, to find solace in substance abuse rather than seek help.
Alex Moya, the director of the Utah AIDS Foundation's Hispanic arm, Hermanos de Luna y Sol, argues Latinos are a second or third option when it comes to parceling out resources. "It's like we're a second thought," Moya says. "Everyone talks about being inclusive, diverse, but how do we get there?"
"I don't think their needs are being met," Nuttall says. The center, she adds, has hired consultants to help it be more inclusive. Juan points out, however, that the lack of resources may well reflect a greater appetite in the community for partying than, for example, taking courses to become sorely needed medical interpreters. "It's hard to pull them out of the bars," he says.
Oily Skin
Juan and Javier grew up in Michoacan, Mexico, with three other brothers and two sisters. Their stern father filled Juan's childhood memories of life in Mexico and then in a chicken farm in Herriman with harsh discipline. As gay young adults and brothers, they moved in together. While Juan eventually pursued a monogamous gay life, Javier embraced the bar and bathhouse scene in Salt Lake City, his brother recalls. Javier formed a group of drag queens called Latino Divas. In 2001, the divas found a home at The Trapp Door's Sunday gay Latino night.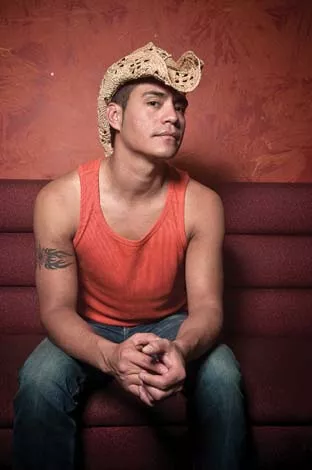 When Javier told his brother he wanted to become a woman, "I got really scared for him," Juan says. The effects of longterm hormone therapy on internal organs as well as injections of cooking, engine or mineral oil into lips, legs, thighs and buttocks to achieve feminine curves are known to cause life-threatening health problems. "I was very overprotective, but he kept telling me, 'It's my life,'" Juan says.
In 2001, Lopez volunteered at the Utah AIDS Foundation and used his brother's Trapp Door night to pass out condoms and do HIV prevention. After his brother's death, Juan took over the Latino Divas' shows at The Trapp Door, while also caring for a close friend of Javier's, 37-year-old artist Carlos Adame, who was dying of AIDS. Adame had no Social Security number and could not get Medicaid. Juan secured funding to learn how to care for him, whether it was administering shots or trying to heal his stomach when it split open following an operation. "I was sick with exhaustion," by the time Adame died. "There were times I needed to go out there and scream."
When Manuel Arano started a Sunday night show at the now-closed Club Exit, Juan gradually lost his performers and his following at the The Trapp Door to Arano's no-cover charge shows and cheap drinks. Lopez's mission, however, was not to make money. "I'm about helping," he says. "That's what I do."
In 2005, Arano took over The Trapp Door's gay Latino Sunday-night, pushing Juan aside. Feeling abandoned by the community, Juan trained as a nurse and currently does HIV-prevention outreach at Project Reality in downtown Salt Lake City.
Gay, Gay, Gay
While there are plenty of resources for HIV prevention, for mental health "there's nothing," Juan says. Although many gay Latinos suffer from depression, or being bipolar, they don't seek help. "We don't deal with those things." But even if they did seek help, finding therapists who are Spanish-speaking, gay affirming and offer services on a sliding scale or pro bono is "extremely difficult," Pride Center's Nuttall acknowledges. She's aware of only one volunteer therapist in Salt Lake City.
When Juan met now 33-year-old Javier Horta, his face, Juan recalls, "was like someone with no life. You could tell he was very depressed." Horta's horrific childhood and life reflects many of the struggles of young gay Latinos to find a footing in life, let alone in a foreign country without papers.
Horta grew up in Michoacan, where, he says, a male relative sexually abused him from when he was 6 years old into his late teens. Schoolmates threw him into barbed wire when he was 7, and when he had the courage to come out at 15, his father chased him from the house, firing shots at his feet, screaming, "I don't want fags in my house."
As a teen, Horta worked as a prostitute in a Mexican bar with female sex workers. He believes God protected him from contracting AIDS. Horta cared for his dying mother, who had hepatitis. After she died, he crossed the border into the United States, only to end up homeless and begging for food. In Denver, he met a bisexual man who took him to Ogden in 2006, then abandoned him on the street when he returned to his wife.
Horta found work as a waiter in a Mexican restaurant in West Valley City and made enough money to rent an apartment and get a car. But he was haunted by his childhood abuse, couldn't sleep at night and constantly cried. Juan took him to a Hispanic nonprofit where, Horta says, a volunteer therapist worked with him to overcome his traumatic childhood and the guilt he felt at believing he had "provoked people to abuse me."
In comparison to Horta's cadaverous appearance when Juan first met him, now Horta has an expressive face lit with wide, life-bright brown eyes and works two apartment-maintenance jobs six to seven days of the week.
Diana, a slender transgender woman in a low-cut, yellow blouse describes in a husky voice fleeing a similar life to Horta's, one of poverty, brutality and discrimination in Mexico, while her tears fall almost unnoticed onto her blouse. She was her parents' only boy, and her seven sisters routinely punished her for her feminine walk and mannerisms. When she was 11, a neighbor raped her. Several months later, bleeding anally from an infection, her father and one of her sisters abandoned her at a hospital for four days, where a doctor diagnosed her as having gonorrhea.
When she was 21, she and her male partner hired a coyote—Spanish for guide—to take them across the border to the United States. The coyote, however, she says, tried to abandon her in the desert because she was transgender.
In the Mexican town Diana grew up in, definitions of alternative sexual orientation were "only gay, gay, gay," she says. Through counseling at Hermanos de Luna y Sol in 2006, "I began to see what I wanted." She worked as a hair stylist to afford breast implants and is now saving for gender-reassignment surgery.
Diana has struggled with discrimination in Salt Lake City. Some Latino clients reject her as a "joto," Mexican slang for gay, and refuse to let her cut their hair.
Chicks With Dicks
When Diana first arrived in Salt Lake City, friends quickly introduced her to Arano. He is the first port of call for many undocumented Latino drag queens and transgender women fleeing abusive relationships or searching for work in Utah. His journey to Salt Lake City could not have been more different from Diana's. When he was a 17-year-old acting student in Mexico, a couple asked him to accompany them across the border and care for their three babies. "They called me on the Monday, I went on the Friday."
Those who recall the humble, young man they knew 10 years ago, when he was struggling to come out of the closet do not always recognize him in the social-media savvy, Latino-night-scene star he has become.
"He's part of [the Hispanic community]," Moya says. "It's easier for us to see his defects and his virtues." While many admire his night, which at The Trapp Door enjoyed capacity crowds of 300 or more every Sunday, according to Club Edge DJ Jeff Hacker, Arano's shows and competition with other clubs "also makes him enemies," Moya says.
Whether at Karamba or his current venue, Club Edge, Nuttall, a passionate advocate for Latinos, says Arano "is providing a space where the gay Latino community can come together." That's why she and gay Latino activists like Moya and Lopez work with Arano to do outreach work. "Manuel is building his success on the shoulders of many other people who have worked very hard for the community but haven't got recognition," she adds.
Each year in March, Arano organizes the annual crowning of Miss Gay Pride Latino and the emperatriz, or empress. This year's Latina empress, whose duties include raising funds for gay Latino nonprofits, is 43-year-old dancer Lorena Escarraga. She arrived in Salt Lake City from Las Vegas only six months ago and proudly displays her American passport that says she is a woman.
"The most beautiful thing in the world is a woman," Escarraga says. "Woman is sacred, a mother, beauty." The dream to be a woman is, inevitably, an elusive one. "I am aware of who I am," she says. "I am not a woman. I want to be what I will never be in my life. But I feel good like this, to feel more woman."
Escarraga's journey toward womanhood was not without its bumps. She says she had cooking oil injected into her thighs in Mexico. Her body temperature rose dramatically, and she was forced to have it removed. "It cost me $4,000 to put in, $6,000 to get it taken out."
Transgender hair stylist and club performer Alejandra, a 43-year-old Californian émigré and one time Hollywood stripper, wasn't so lucky. She says men in Los Angeles she later learned were using fake medical credentials injected her thighs with mineral oil. After seven years, her left thigh itched painfully. She scratched it with a hairbrush, only to open the skin. She put on a large bandage, but taking it off three days later opened a hole big enough to put her fist in.
Alejandra lives in her elderly mother's basement, the sheetrock walls and floor bare, black plastic bags and a disco ball hanging from the ceiling. Juan has accompanied her to see a number of Salt Lake City doctors, who told her they can do nothing to extract the oil or stop her skin from splitting open. At the West Valley City salon where she works, her mood darkens quickly. Her leg, she says, "is killing me. I don't know if I want to live more … nobody knows the pain I go through."
Most transgender Latinas, because of lack of financial resources, "have done the transformation themselves," Juan says. "They have a dream to become someone and they are willing to do anything to reach that dream." That includes selling sex.
When Alejandra lived in Hollywood, she says "chicks with dicks" were in high demand. Her friends earned $1,000 a night after advertising the services of a "T.S." (transsexual). Clients would ask two questions, Alejandra says. "Are you functional and how many inches is it?"
Escarraga won't answer rumors of whether she still has the penis she was born with.
"Secretos, secretos," she says coyly. "Maybe yes, maybe no."
Her philosophy, she says, is to be the best transsexual she can be. If she were to be a prostitute, "you have to be one with class, not a common and vulgar one ... who does it only for drugs."

Four Beers
Transgender prostitutes seeking clients prefer straight clubs to Arano's spectacles. Partly it's because they don't consider themselves as gay, Juan says, so gay men hold no attraction. But it's also because they want straight or bisexual men—the latter known as mayetes in Mexican Spanish slang—either to pick up or to service as prostitutes and so finance their dreams of surgically completing their transformation to women.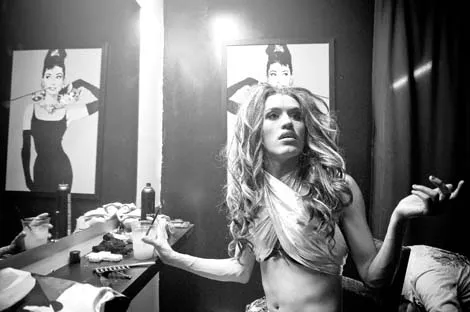 One late May Friday night, Juan, who says he works with 25 transgender sex workers, is counting out condoms into three equal piles as part of his HIV-prevention outreach efforts. "They fight, otherwise," he says with a smile, referring to the house's occupants, Karina, Amanda and "M" who requested anonymity. He's sitting on M's bed, her room shut off from the house by a makeshift curtain that a middle-age American and occasional sex partner, who M calls "el cowboy," put up for her. Lopez estimates 50 transgender women are sex workers in Salt Lake City and several are HIV-positive.
Karina insists on condoms. "Si no hay globo, no hay fiesta," she says. No condom, no party. She sits on the floor, her legs drawn behind her, and talks about how at midnight on weekends she often goes to straight Latino clubs like Mi Mexico in South Salt Lake. She stands by the bar for a few minutes, and then goes out to the parking lot to see who follows.
"What's the difference between a gay man and a straight man?" Juan jokes. "Four beers." Men start drinking or using drugs, he says, "and get so horny, they just want satisfaction. Sometimes, 10 [male clients] will take one or two of the workers, and all of them go through them."
Karina works at a West Jordan hair salon during the day and services clients who call her or whom she picks up at the clubs. She's saving for breast implants, which will cost her $5,600. Three years ago, she stopped taking hormones, and recently her hormone-generated breasts have deflated.
Before the economic crisis, prostitution was booming and she would see two or three men daily. "Now, all the world wants it free." Still, business remains brisk. While she talks, upstairs Amanda is with a client. It's her third that evening, and Lopez estimates she's already earned over $400.
More than 80 percent of her customers, Karina says, want something that ironically she is unable to provide, at least without props. "Most of my clients are gays in the closet," she says. They deny their own homosexuality, she argues, while wanting her to anally penetrate them. Since she is not sexually aroused by such an act and cannot achieve an erection with a penis already affected by hormone therapy, she uses sex toys.
When her clients, however, seek to penetrate her, she always has to manually check they are wearing condoms just before they consummate the deed. "So many of them take it off," she says.
I Am Woman
It's midnight, just hours before Utah's Gay Pride parade begins on June 6. Arano, who hopes his new Sunday night at Club Edge will forge strong links between the Latino and Anglo gay communities, and his emperatiz, Escarraga, will both take part.
Mention of the parade, however, draws blank looks from Karina and Amanda who are at home in Salt Lake City. Already tired from a long day of cutting hair, as Sunday's first minutes tick by, they are getting ready for their other job, prostitution.
Downstairs, "I'm inventing," M says, roaming around her room, trying on different pieces of fabric to create a miniskirt to go with her breast-showcasing tank top and the straggly remains of a set of fishnets. She fixes the broken high heels she plans to wear to Mi Mexico that night, then starts applying several layers of foundation makeup.
M says she isn't a sex worker, even while admitting she is dressing as a puta and will often ask men for money after sex. She brings men home and, "if they get rough, I throw them out. One guy said, 'If I discover you're not operated, I'll hit you.' I threw him out, too."
Meanwhile, Amanda and Karina, the latter wearing a black teddy, regularly descend the staircase, letting men in and out. By 2 a.m., they are still busy upstairs, the rhythmic sounds of sex audible through the thin walls.
M, still waiting for her friends to go out, stands in the doorway, looking out at the silent street. A small child in the neighboring house cries out, "Mama, mama," then sobs.
If M hears the crying child, she doesn't say. She stands still, frozen in silhouette, in the shadows at least, an alluring, statuesque woman.