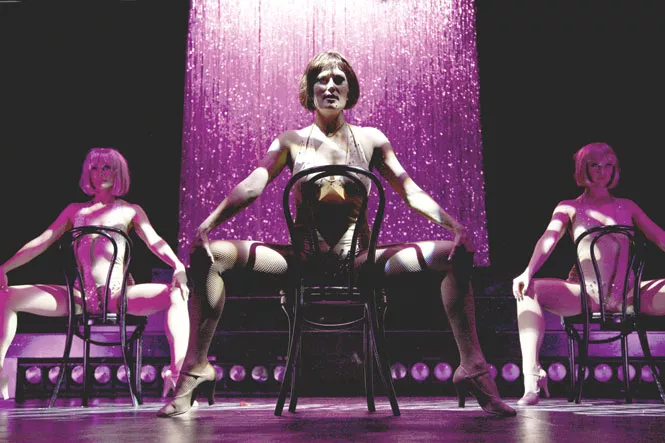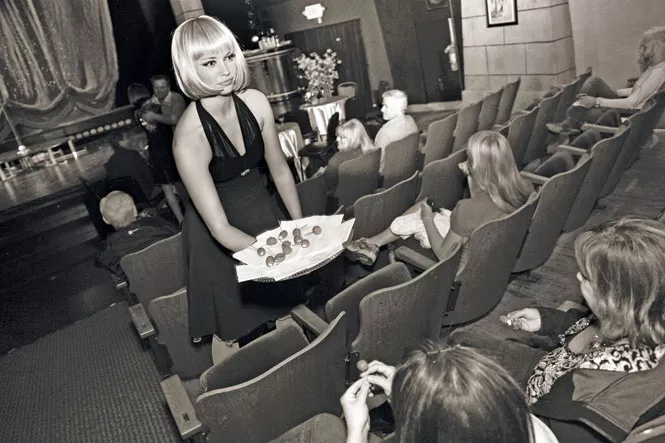 Dinner and a show used to mean precisely that—theater, song and dance combining for a grand live-action stage show, put on for dressed-to-the-nines patrons seated just a few feet from the stage, making them feel like part of the act even as they drank and supped.
The Rose Wagner will be home to just such an experience throughout October, hosting the Kit Kat Cabaret, which brings together performances from various eras of theater and film.
Dancer and choreographer Rebecca Joy Raboy came up with the concept while performing on a cruise ship in 2010. A performer since age 5, Raboy is also a fan of classic movie musicals, particularly those starring Fred Astaire and Ginger Rogers, and says she often found herself wishing that there were classier options out there to perform or see.
So Raboy, taking on a new role as producer and director, built the show that she wanted to see.
"The definition of cabaret is 'song, dance and comedy, done in an establishment that serves food and drink.' That's it," Raboy says. She adds that what Utahns might think of when they hear the word "cabaret" is more often burlesque. "People get those two confused, so it's a real fight in Utah when people hear cabaret and they think, 'Oh, it's an adult show, it's naughty, and they probably take off their clothes.' [But] it's a classy show, and we don't take off our clothes."
Kit Kat Cabaret's initial run, in 2012, was just three performances at the Egyptian Theatre in Park City, the atmosphere of which was transformed into that of an old cabaret lounge. Raboy then rebuilt her all-local company to 17 cast members and six directors.
The company is comprised of highly skilled members of the performing-arts scene, like music director Anne Puzey, artistic director Andrew Iotcovici and stage manager Elizabeth Black. Established actors Monte Garcia, Cate Conroy, Erica Walters and Scott Maruri take the lead roles, and alongside them are a plethora of talented performers who have been part of companies such as Odyssey Dance, Ballet West and DF Dance Studio.
"I don't believe in hierarchy because it takes everyone involved to create a great show," Raboy says. "Everyone gets paid the same whether they are a lead, a dancer or a director. We've been very fortunate not to have any divas or major drama happening within our cast."
No one era defines the show; the performances blend styles from the 1920s through the 1960s—tap, tango, fosse, aerial acrobatics, adage, jazz—and adds a dash of modern style. It's the kind of spectacle that Utahns don't often get the chance to see, Raboy says, which makes the show special.
Another unique aspect of the show comes from the audience members themselves. Black-tie dress is encouraged, and the evening will begin with a red-carpet experience. Traditional theater-style seating is available, but tickets can also be purchased for seats around the bar, or right next to the stage. Patrons will be treated during the show to local food and beverages, which Raboy selected to complement the style of the evening. Cocktails will be made by Vive Juicery and Five Wives Vodka, and Raboy collaborated with Casey Staker from Zest Kitchen & Bar for the food.
"We want our guests to feel like they are royalty, and we accomplish this with impeccable hospitality—something that has gone missing from a time gone by," Raboy says. "My goal is to give our guests an experience they've never had before, to bring something to Utah that is innovative and classy—a night to remember. It's an evening to pull out your cameras, dust off your fur coats and tuxedos, frost yourself in your pearls and top hats, for an evening of elegance and pizzazz."