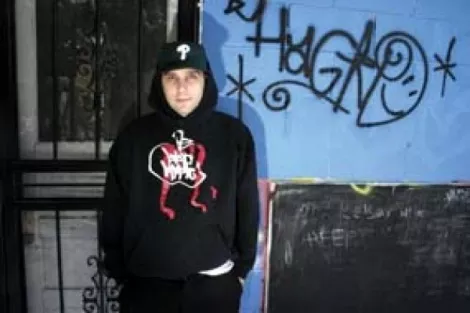 nSalt Lake City emcee/hip-hop producer Mike Booth is known for his signature symphonic hooks and lyrics in The Fantasmic Four and The Bad Apples, his project with Louis Wildamiss. Their latest release, How Ya Like Dem Apples Pt. I (Penalty Box Records), has snagged plenty of strong critical acclaim and delivers a sound somewhere between The Beastie Boys and Eminem. Booth also hosts a weekly radio show on GlobeRadio.slcc.edu, every Saturday, noon-2 p.m.
n
Mike Booth
n31 years old
nUtah resident for 6 years
nOriginally from Northtown, Las Vegas, NV
n
So, I hear you're into nature. Any favorite spots?
nThe Salt Flats. You figure it out [Booth wryly implies something about deserts being good places to dispose of 'things']. I used to paint graffiti all the time. That was back when I'd really get out in nature.
n
How long did you actively paint graffiti?
n12 years
n
Who are some of your favorite street artists?
nBike and Snipe. Those kids are ill. And they're local cats. Snipes shit is awesome: some of the coolest stuff around.
n
Who are some of your most idolized national street artists?
nKier and Chew.
n
What crew did you associate with when you were actively bombing back in the day?
nI can't say what crew I was in because we were in the Salt Lake Sheriff's radar for a while.
n
You seem to be very real with your take on the classic "Four Elements" of hip-hop.
nThat's the epitome of what [I do]. It's how I live, I rap, I write graffiti. I used to break dance. Now I DJ. Just 'cause I'm married with kids doesn't mean shit. This is my life. If you're doing something past 25, it's not a phase—it's who you are.
n
What have you been reading lately?
nRant by Chuck Palahniuk.
n
How do you give back to the community? Any charities have your support?
nRenew the zoo. I did some props for that. And anytime autism is involved; we're going out to San Jose to do a show for people who raise money for autism. We'd be willing to hook up with somebody locally to give proceeds of the whole album and just sell it for them.
n
Perfect afternoon?
nHanging out with my girls and recording music. Although the radio station is pretty fun, but what can you do in an afternoon?
n
Favorite watering hole?
nMonk's
n
Favorite venue to play?
nHarry O's was pretty damned good; it was pretty fresh as a venue. Club Sound, too.
n
Favorite lunch spot?
nMoochies
n
Coffee fix?
nCafe Expresso (drive thru).
n
What does the future hold? Any plans to move?
nI'll stay for at least the next four or five years. Right now this is nice, besides it being cold, which sucks. I'm kind of a pussy. I grew up in Vegas. I'm like, "It's 70 degrees in here—it's cold!"
n
Any upcoming events scheduled?
nThe radio show and we're gonna be hosting a $500 emcee battle Feb. 7. That's gonna be at 859 E. 800 South. We've got tickets for $10.