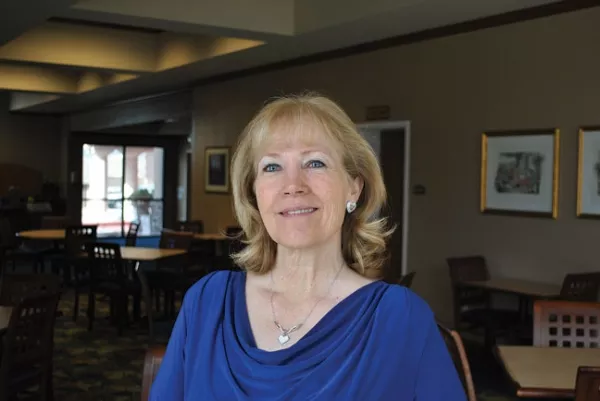 Rachel Piper
Kristyn Decker
Kristyn Decker lived in polygamy for 50 years before leaving. Now happily remarried, Decker has written books about her life and experiences and works with Holding Out Help, an organization that provides resources and assistance to those leaving polygamy. On May 24, Decker will be signing books from 1 to 4 p.m. at the Barnes & Noble in Sugar House (1104 E. 2100 South, 801-463-2610). Visit HoldingOutHelp.org for more information.

What was life like in a polygamous community?
I was born and raised in polygamy. My uncle, Rulon Allred, was the leader of the group shortly after the time I was born. He was murdered by the LeBaron group, and my father became the leader.

My mother is the first of my father's 13 wives, so the upbringing for me was, from the time that I was born, that you have to live polygamy in order to be saved. But as I got older, I realized that things that were going on in my life weren't OK—I was molested, there was abuse, there was heartache and sadness. I watched my mother cry all the time in her loneliness and sadness. I call it miserably happy—she was lonely and sad, and yet, she felt she was pleasing God and doing what He wanted her to do. And she taught me well; I did the same thing, and married my [first] husband, who was raised to believe in polygamy too.

All along, we were looking for another wife, but it was very difficult, because of course it would make me sad or jealous—and yet, this is what I had to do, to be saved in the Celestial Kingdom. He eventually married my second cousin—she was a friend, so we did the best we could. But I remember at the wedding, being just heartbroken and yet having to put on that smile on my face, and keep control to not break down and cry. If you are sad, mad or jealous, you pretty much have to deny your feelings. You're raised that you need to sacrifice everything—yourself, your soul, your feelings—in order to do this. So that's what I did. I was 25 when he married my second cousin, and when they left on their honeymoon, I thought I might fall apart. It was devastating, and yet rewarding—that miserable happy of "OK, now we're finally going to make it!" And that's the way polygamy is—it's coercive. You have to "protect the principle" (plural marriage) "at any cost." I heard that so many times. And whether that means throwing somebody under the bus, or lying about them, or covering up things—you protect the principle at any cost.

Don't some say that polygamy is a harmless lifestyle choice?
When I was in, I thought I believed it, too. I thought I was happy, I thought it was my choice. People say, "Can't it work?" Well, of course it can work. If you're in jail or in prison, you make it work. You figure out how to survive, how to stay sane from day to day, whatever it's going to take.

When I speak at different conferences, I'm not anti-polygamist—there's a bunch of incredible, wonderful people—but as research shows, it harmful to men, women and children, and to society as a whole, in many ways. A little over a year ago, I had been speaking about my first book, and I decided that people needed to talk about this—the stories I was hearing, not just my own. The more I helped people who were leaving and talked with people who had left, the more horror stories came out. I knew already it wasn't just me, but I realized more and more that something that needed to be done. I started the Sound Choices Coalition, and we try to inform and educate and be a resource to those who need help. I mentor as much as I can.
But there's not enough help. If there's anything I would advocate, it's that the state of Utah spend way more money helping those who want to leave polygamy. It's hard. It's like coming out of a cage. In the cage, you're told who, where, why, when, what, and then all of a sudden—or gradually—you're out in the wicked world, without money, job or an education. Most people who leave still believe they're going to hell. During my 10-year process, I thought, "Well, I might go to hell. But this is hell; hell's all around me."

Would decriminalizing polygamy help?
Pro-polygamy people and people who don't understand say, "Well, it should be decriminalized because then they won't have to stay in hiding." But there are families that have been living out in the public for 50, 60 years and know they aren't getting arrested. They're told that for control—if you tell, that they're going to come arrest you. But they don't arrest people just for living polygamy.

I pulled my children out of public school and taught them at home, and not because we were afraid that people were going to come arrest us, but because we were afraid of the evil—everybody on the outside is evil and wicked and bad. Their reclusiveness is more about keeping the kids uneducated from society, away from people who might influence them in leaving or realizing that they don't have to do this. Even after decriminalizing, they're still going to move away and hide.

Are you hoping your book will help people who want to leave polygamy?
I try to reach people by speaking out. If there's even one person that can get my book and go, "Oh, I felt that way!" and realize that Kristyn didn't go to hell and is happy ... because that's what you're told. People who leave are wicked. They're going to turn against us and tell lies. I participated to some degree when I was in that. Now I'm the villain, I'm the daughter of perdition. I knew the truth—supposedly—and now I'm speaking the opposite. I hear rumors about things that are being said about me, and it breaks my heart, but I understand it.

What I'm hoping is that we can get the public to see that it doesn't go hand in hand with same-sex marriages. People have said to me over and over again, "Well, if they're going to legalize same-sex marriage, then they should legalize polygamy. That should be OK." But there's no comparison. In same-sex marriage, you still have a partnership. You aren't told you have to have more children than you can take care of. These people aren't on welfare like 80 percent of plural families are. There's not one partner saying, "Hey, I get to have other partners and you don't." There's not that coercion that you have to do it or you go to hell.

What made you decide to leave?
I'd say I was leaving from the time I was little. It took me 50 years to get out, though, because of that brainwashing or indoctrination. But I questioned it from the time I was little. There were so many things that didn't seem just or fair. And then at the end, there was a culmination of things. I was "out" in my head and in my heart about 10 years before I really left. My soul had been suspicious about abusers in the Allred group from the time I was little, and it became known that a few men were molesting and raping. My own father publicly stated that, "this doesn't happen in the Allred group." Even my molestation and my sisters', he'd just ignored it and then said, "Oh, this doesn't happen." It was like, "How can you do that?" I'd told him about these men, and he and my mother would tell me, "You're the one who's wrong. You're the one who needs to pray and get the spirit of God. Fast and pray more, and you'll feel better, because he was called of God." It went on and on, and it finally hit me: "How can this be God?"

Twitter: @RachelTachel