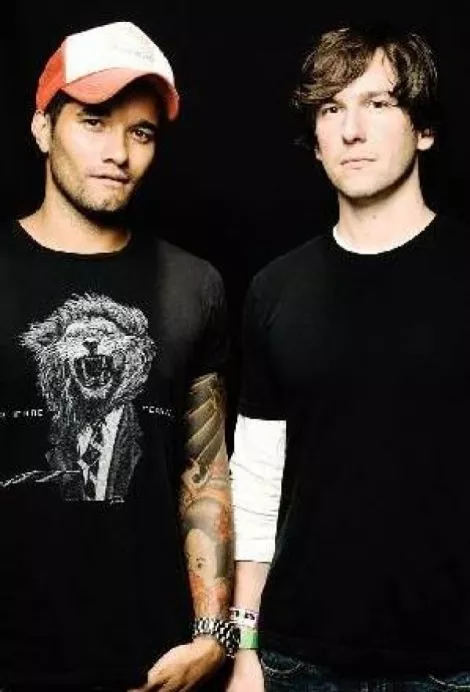 The remix is an inherently shaky proposition. Manipulating a realized piece to produce future fruits is always a dare. A great remix will embellish the original by simultaneously stressing its adept facets and wrenching in chic new cues; a poor one can feel unnecessary, dull, hokey, or—at worst—like a defilement of the source material. Risks aside, the practical gains of the remix (a fast facelift to finished work) have made it inescapable in certain zones: Pop rock can mutate into club tracks, remapped hip-hop shaves off full verses and cranks up the bass and amended indie rock ditches ideological burdens for kinetic and earthly rhythms.

The procedure is carefully orchestrated banditry. You just have to know what to flaunt and what to lose, what to loop and how long to loop it, when to stick around and when to wrap it up.

L.A. Riots are one coalition that predominantly deals in the remix. Cutting their teeth in the '90s with rave-ready drum and bass electronica, the duo of Daniel Ledisko and Jo'B serve as hired guns for those in need of a remix. Compared to mash-up mavens like Girl Talk and Danger Mouse, L.A. Riots' approach to the remix is traditional. Instead of using an intricate palette of samples pulled from an array of tracks, the team remixes a single song at a time, only using its content (with some exceptions). Also, unlike the aforementioned mash-up artists, their product is not illegal; on the contrary, it's sanctioned by labels. And check the clientele their connections have developed: earnest rockers Weezer, electropop aesthetes Hot Chip, and elusive electronic hipsters Crystal Castles. L.A. Riots have no discography of their own (they're still tailoring a full-length); instead, their name is scattered over two dozen-plus singles and EPs.

Sampling Riots-manned remixes provides a decent look into what they do. They spin the unimpressive pop of Kylie Minogue's "Boombox" into a pitch-twisting party ruled by skittering thumps of static. Not nearly as successful is their take on "That's Not My Name" by The Ting Tings, which replaces cheerleader bomps and cheeky singing with uneven hooks and stuttering vocal clips. "Part of Me" by alt-rock kingpin Chris Cornell stands on middle ground: Listening to the guy from Audioslave constantly go "No, that bitch ain't a part of me" gets obnoxious quickly but, to be fair, that's as likely the fault of his overextended belting as it is the repetition. The end analysis: The L.A. Riots remix is a weighty thing, built for mountainous speaker stacks, that turns out best the less it has to work with.

Rioter Ledisko is tight-lipped about the art of their planned-upon plundering. "We try to use as much of the track as possible," he says. "A lot of people do a remix and use one little line. That's why we have success with the labels: we're actually remixing the whole song." Editing "every song is different" but none are difficult. No surprise as to how they get the commissions: "We have management. We look at artists that are given to us and see if we want to do it." What sets them apart from other electronic artists? "We do our own thing. We have a sound that people like." Ledisko is either being cagey or there just really isn't much to say about the process.

One provocative snippet does come up: "We obviously have a sound that right now is pretty marketable and we're going with that," Ledisko says. The true statement indicates two things: L.A. Riots are competent at what they do but, as two of the many mercenaries of the form, are ultimately beholden to the originals. Intrinsically, L.A. Riots are a byproduct of others' work and, when on the job, can creatively wade out no further than the material that they are contracted to remix. It's an art dependent on foundations laid by others. Perhaps all of this analysis is too heady for songs that have been rearranged to stimulate the body perhaps more than the mind. Maybe we should just move. "We're just trying to make fun dance floor tunes," shrugs Ledisko. "We don't know where the music is going."

L.A. RIOTS
w/ Crystal Method
Murray Theater
4961 S. State
Sunday, June 14
7 p.m.
MurrayTheater.com