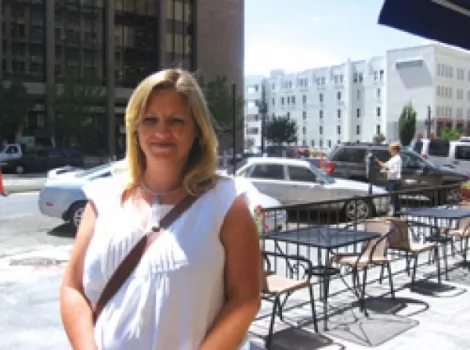 Next time you sit down at your favorite sports bar to watch the game, take a gander at the wait staff. The suggestion is hardly necessary, given the Hooterification of the industry. More likely than not, you'll see an all-female waiting corps, young and cute.
It's a winning combination—at least for the bar owners. But one Salt Lake City woman claims she's out of a bartending gig because, while she fit the look for six months, she didn't after she got pregnant.
Even before her belly began to show, Angela Tavey, 33, says she was on her way out after the boss got word this summer that she was pregnant. "He said, 'Angie, you're great. But my rule is: When you show, you've got to go.'" She hid her belly under a T-shirt through the end of June, which she was told would be her last month as a barkeep.
Because no formal lawsuit has been filed against the bar,
City Weekly
is not naming it. Messages left for the bar owner were not returned. But, in written responses to a state agency that investigated Tavey's claim for an unemployment check, the owner denied making the "when you show" comment. According to Utah Department of Workforce Services records, the owner said Tavey was to be removed from tending bar because her pregnancy meant she could no longer do the heavy lifting the job required. She was offered other jobs at the bar/restaurant.
Tavey says the alternate jobs were hardly comparable—working in the kitchen two days per week or working the door—both for hourly wages that paid nothing near what she could earn as a bartender. And Tavey doesn't understand how being pregnant interferes with mixing drinks or carrying trays of food. The job's only lifting duties were changing keg taps moved in and out of the bar by burly distributors and carrying cases of beer.
"I worked [at a different bar] through the 2002 Winter Olympics seven and a half months pregnant, 12-hour shifts. Don't tell me I'm not physically capable of carrying out the duties of a bartender," she says.
Tavey says her boss told her she was welcome back after the baby, but that he didn't think the bar was a healthy place for her. "There were [customers] who felt he had a right to do that. That it was inappropriate I be in a bar," she says. "That's not for him to decide."
Brian Barnard, Salt Lake City civil rights attorney, says Tavey is right. Barnard is not representing Tavey and is not familiar with her case, but he says what a pregnant woman can do at work "is something she needs to work out with her physician."
"With subtle changes, [claims of health concerns] have always been the basis for firing pregnant women," he says.
An employer can sometimes get away with hiring on looks, says Barnard. A gym likely could refuse to hire people who appeared out of shape, for example. When two men sued Hooters for denying them employment, the chain was allowed to continue an all-female wait staff as long as it opened other positions to men.
But firing someone, as Tavey alleges happened, because her physical appearance would change with pregnancy, is clearly illegal, Barnard says. Federal employment law specifically bars discriminating based on pregnancy, which the law terms a "temporary disability."
Tavey has found bartending to be ideal work for a single mother, providing her a solid income and flexibility to care for her family. Unemployed at the end of June, she moved into her mother's basement with her three children, ages 12, 9 and 5.
Tavey's application for a state unemployment check was denied by a hearing judge who found she had quit. The decision says the bar's denials of discrimination were believable and says Tavey didn't give a good reason for failing to show up for her last shifts.
But Tavey says she didn't quit. On the day of her last shift, she was in the emergency room at University Hospital being treated for abdominal pain, having arranged for a replacement barkeep. She provided a doctor's note for a pending appeal of her unemployment claim.
After 12 years in the industry, it hurts Tavey's pride to be dependant. "I've never not supported my family," she says. "My frustration is I'm perfectly capable of working. I'm physically able. There is no reason to terminate me other than the fact that [the owner] didn't want a pregnant lady behind his bar."
cw