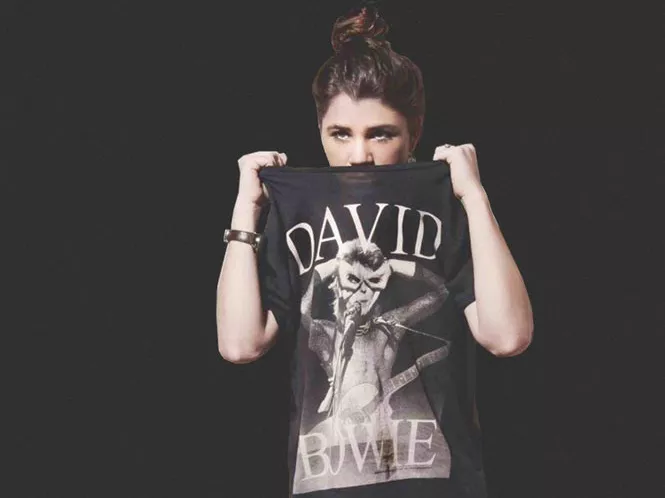 Aly Spaltro is at home on the road. The Brooklyn-based singer/songwriter, who performs as Lady Lamb, says touring reminds her of her childhood as a military kid, moving around to Air Force bases across the United States and overseas until finding a somewhat permanent home in Maine by the time she graduated from high school.
"I adapt easily to new places," she said. "I really enjoy being in a new place and being kind of transient."
Her songs are what take her on the road now, but it wasn't until Spaltro faced the unsettling prospect of being stationary that she even considered making music in the first place—let alone performing it for an audience.
When she was 18, Spaltro deferred her first year of college to go on a year-long volunteer trip to Central America. But when that fell through suddenly, she found herself stuck in her hometown while her friends left for school. Spaltro says she began songwriting as a way to "work through some things" after the setback.
She began recording those early songs after closing up shop in the basement of the town video store where she worked. "I had no plans to perform," she said. "For a while, I had no outside opinions at all. I was doing it in secret."
Since the release of her 2013 debut album, Ripely Pine, as Lady Lamb the Beekeeper (she goes simply by Lady Lamb now), the secret has gotten out, and her latest album and tour is the first real showcase of the growth Spaltro has made since she was a lonely teenager in the basement of a video store.
A self-described introvert, Spaltro says she is much more comfortable on stage than she has ever been before. "I think a lot of performers are actually very introverted in their lives, but they're able to get onstage and be vulnerable and expressive," she says. "[Performing] wasn't something that I planned on doing, but it is a very natural thing for me now."
Her songs, which are known for their wordy lyrics and meandering melodies, are still very personal, but Spaltro also understands that they're no longer meant just for her. That awareness imbues her latest album, After, with a new kind of self-assurance.
"I can't say I make it only for myself at this point," she said. "I feel like I have a responsibility to people, too."
After is musically leaner, and takes better advantage of Spaltro's strengths as a composer. Instead of arranging in the studio as she did with her debut, Spaltro had every song fully formed by the time she began recording. "I wanted to be very prepared for this album," she says. "I did all the pre-production in my apartment."
Still, there is a lot Spaltro has to say, and her lyrics remain her most defining quality as a songwriter.
"I obviously put a lot of care into the music, but it doesn't ever come first," she says. "The music is always a vehicle for the lyrics."
In her single "Spat Out Spit," Spaltro makes an earworm out of a train-ride daydream that spirals deeper and deeper until the chorus finds her questioning her own existence. "Have I been asleep this whole damn time, dreaming up a life?" she sings. "Will I wake to find that I'm deep in the woods, and I'm snarling on all fours?"
That's a heavy question, but Spaltro's too busy searching for the next question to ever arrive at a definitive answer. In a voice that can either explode or simmer—and sometimes do both within a single phrase—Spaltro tears through themes of lost love, past innocence and existential micro-obsessions in ways that glimpse her deepest subconscious without dwelling on any one thought for very long.
If there's one thing Spaltro can't handle, it's dwelling.