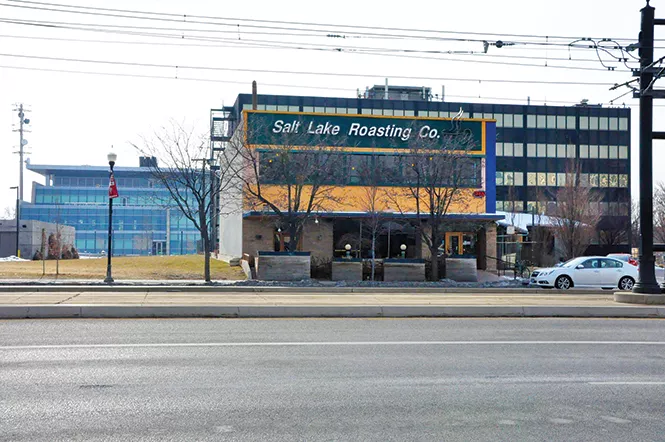 Bit by million-dollar bit, the City of Salt Lake has acquired multiple chunks of property along 400 South near the corner of 300 East, with the latest piece of the puzzle—the Salt Lake Roasting Co. building—falling into the city's hands at the end of 2015 for $1.7 million.
City planners have been enamored with the cluster of properties, including the Roasting Co., for more than a decade, slowly buying up parcels for future development. All told, the city now has $7 million tied up in four parcels. With the Salt Lake Roasting Co. building, the area can now become one big chip in the city's redevelopment efforts.
"We were trying to assemble all of the properties together because it's kind of a funky layout over there," says Mike Akerlow, the city's director of Housing & Neighborhood Development. "It makes it tricky to develop something around an existing building like that."
The city began gobbling up real estate on the block, which is directly east of the Salt Lake City Main Library, in 2008, when plans to place a new $125 million public-safety building there were solidified.
Jill Remington-Love, the city's former director of Community and Economic Development, told City Weekly in mid-2015 that it was around the same time—roughly 2008—when the city began having discussions with Roasting Co. owner John Bolton about buying his building.
Although those early discussions didn't result in a sale, the city purchased all of the property surrounding Bolton's business, including the former Barnes Bank building at 431 S. 300 East and an adjacent parcel for $3.8 million in 2008, and four parcels connected to the former Celtic Bank building at 340 E. 400 South in 2011 for $1.8 million.
Bolton says he decided to sell his building (Akerlow says Bolton initiated the most recent round of negotiations) partly because, with the Barnes Bank building sitting largely vacant to his west, the Celtic building to the east and the Public Safety building to the south, he says it wasn't hard to "read the writing on the wall."
"I knew the city wanted the property, and it's kind of obvious since they owned everything else around me that it would be inevitable that they would acquire it," Bolton says.
With Salt Lake City Mayor Jackie Biskupski's administration taking the helm, Akerlow says the portfolio of properties will be analyzed and, ideally, the city will be ready to solicit development proposals in the early part of this year.
While the city does occasionally offer up taxpayer-owned parcels for development—which was recently done with the former public-safety building at 315 E. 200 South that will be turned into a mix of affordable and market-rate apartments by Cowboy Partners LLC—the real-estate holdings around the Salt Lake Roasting Co. are unique.
Remington-Love said that Salt Lake City historically hasn't played developer, and in this case, acquisition of the Barnes Bank building was intended to house some of the city's planning department. When this didn't work out, and a prime piece of land sat vacant, the city joined the ranks of private developers that are often criticized for "land banking."
"I'm not aware of another time when we have purchased property for the intent of developing it," Remington-Love said. "When we purchase property, it's for a public purpose."
While this type of real-estate deal has historically been rare in Salt Lake City, Akerlow says it is not in other cities. And, in this case, any future development at this site, he adds, will likely be a mix of affordable housing and commerce.
Akerlow cited the former public-safety building as an example of city-owned property being used to help provide relief for the widening gap in affordable housing across the city. "That's an example of where the city has owned something and turned it around for a specific purpose, and we're going to do the same thing on Fourth South," he says.
In the meantime, Bolton now finds himself leasing a building from the city that he owned for nearly 26 years.
On Jan. 7, Bolton was busily preparing plans to commence a remodel on a building at 820 E. 400 South that once housed a Wasatch Pizza parlor. If everything goes smoothly, he hopes to be open at this new location—which is roughly half the size of his current digs—in the next five months.
Bolton began roasting beans in 1981 and opened his first shop at 249 E. 400 South in 1983. During his 32-year stint on 400 South, he's watched the area evolve. Among the most glaring changes for someone in the business of moving pounds of coffee and double lattes—a business that requires the faithful, repetitive sales from thousands of customers—is the street itself.
Once a wide thoroughfare with street parking, 400 South now resembles a throughway, with three traffic lanes unraveling on each side of a set of train tracks. Promises from city officials that Trax would bring customers from the University of Utah to Bolton's business, he says, did not materialize.
"As much as we've made great steps forward with public transportation, and Trax being a stellar example of that, I still think the majority of my customers don't access me by public transportation," Bolton says. "When I entertain questions about 'Where the hell can I park?' from every customer, I surmise, perhaps, that they're driving a vehicle to get here."
Bolton retained 20 parking spaces at the center of the block, but since the Public Safety Building opened, these spots are often full while traffic in the coffee shop is scant. When speaking about parking, Bolton offers a glimpse of the street in quieter days. "There was wonderful parking on Fourth South," Bolton says of the days before TRAX. "It was relatively a laid back, casual street."
The Roasting Co. building was built in the early 1950s, and Bolton says the city is the third owner. In addition to it being his workspace for a quarter of a century, Bolton lived in the building for 20 years.
Bolton says he believes his new space has the potential to carry his business into its new era. He hopes to continue doing most of what he currently does. What he won't do, though, is try to make his new home a replica of his old haunt.
"It's a wonderful building," he says. "I won't even attempt to duplicate it. It was a great place to spend some time, and I'm thankful for it." CW