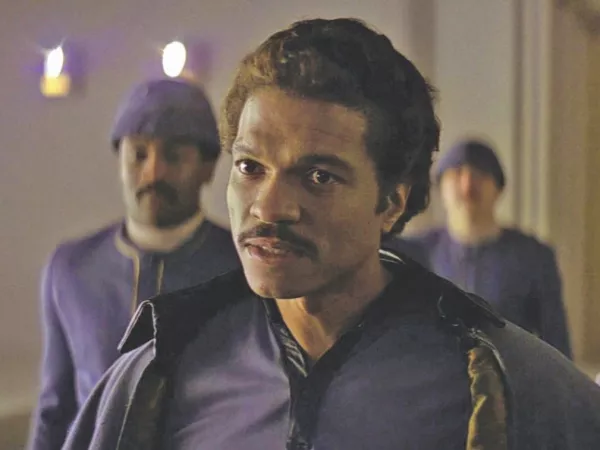 Billy Dee Williams as Lando Calrissian in Star Wars.
This week sees Salt Lake Comic Con once again invade the city's downtown area. With tens of thousands of tickets sold for the new FanX event, it's on track to be the biggest convention Salt Lake City has ever seen. And for those of us who are less interested in Olympic sports or organized religion, FanX will be the most exciting event to happen for geeks in Salt Lake City in … well, ever. Congregating on the streets around the Salt Palace Convention Center will be thousands of costumed geeks of all kind, curious onlookers and celebrity guests from the far future and galaxies far, far away.

One such celebrity guest coming to the throne of the desert empire is Billy Dee Williams, who might be best known as Lando Calrissian from the classic Star Wars trilogy, as well as Harvey Dent in Tim Burton's first Batman film. Few among us might only know him for his recent stint on a television show that involves some manner of dancing.

It's not his first time coming to Salt Lake City; he's filmed three movies here over the years, and describes our state as a different country, albeit one he has a lot of love for.

"The whole idea of getting out and meeting people who have given you a lot of support over the years is always a lot of fun for me," Williams says. "I absolutely enjoy it. Plus, I love to see the creativity that comes out of all those people, their costumes and things. It's always been very interesting to me."

He also reminisces about the way things in the movie industry were in the 1980s, when he was able to take his first step into the world of geekdom that he's so well-known for today.

"You had people back then like George Lucas and Spielberg, Coppola and Scorsese, all these new filmmakers who were doing all of these interesting things in cinema, and for me to work with one of those interesting people was something I really looked forward to," he says. "Conventions weren't even popular at that time, though, at least not in the way they are today, so I never anticipated getting into this kind of stuff. However, the fact that I'm able to do it—and I do do it—is that I hope that I've done my job and have the fan base, and have touched people's lives."

And touch people's lives he has. He gets asked constantly to quote lines from movies and advertising he's done that he barely remembers saying in the first place. The two biggest quotes he's been asked for are from his time as Lando, and from his appearance as the Colt 45 malt liquor pitchman.

"I get asked all the time to say 'It works every time' and 'Don't let the smooth taste fool you.' " (Despite this recognition—Lando's endorsement was the best Colt ever paid for—you still can't get Colt 45 here in Utah; Utahns will just have to find something else that works every time.)

As a working journalist chatting with one of the core cast members of the original Star Wars trilogy, I was obligated to ask about him about potentially reprising Lando for the upcoming Episode VII. He's not been talked to about it, but he doesn't see Lando retiring.

"Lando has had a life of his own without the question of Episode VII. I don't know that anyone else could do Lando, and I don't think anyone will ever separate me, the actor, from that character. I will always be remembered for that character."

And I don't think that's a bad thing, anyway.

SALT LAKE COMIC CON FAN X
Salt Palace Convention Center
April 17-19
$10-$175
SLComicCon.com
Byan Young is the editor-in-chief of BigShinyRobot.com
Twitter: @swankmotron