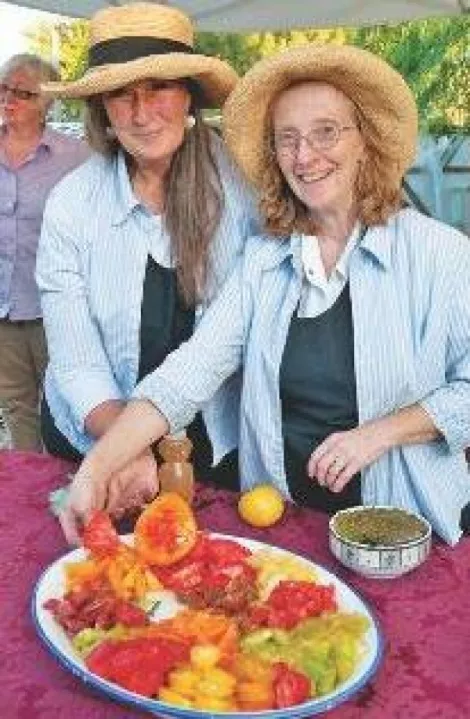 Flocks of geese honked their way over South Jordan, darkness descended, crickets launched a countryside chorus—but nothing distracted the group listening to Heidi Williams and Patricia Messer, the Late Bloomin' Heirloom tomato ladies. Together, the self-described "late bloomers" explained the easy art of seedsaving in their garden of earthly delights.

Another gathering of Slow Food Utah (SlowFoodUtah.org), this event drew kindred souls who find sustenance in the slower side of food and support "good, clean and fair" practices. Between bites of a potluck supper and sips of wine, we sat on portable chairs and learned exactly why you pay around $4 a pound for hei rloom tomatoes (varieties that are more than 50 years old) or grow them yourself. These babies are special.

If you've tasted heirloom tomatoes, you know they are a revelation—from lemony and tart to deep, dark cherry and every nuance in between. Sometimes, their shapes are odd. And always, their colors are astonishingly beautiful. Like rose varieties, their names don't always make sense, but they are evocative. For instance, that evening we tasted Pink Brandywine, Lillian Lemon, Kellog's Breakfast, Chocolate Cherries and a Late Bloomin' favorite, the Heidi.

Heidi and Patricia talk about their plump, round, sensuous tomatoes the way most people describe being in love. It's all about nurturing, appreciation and beauty—both outer and inner. You can find Late Bloomin' Heirlooms at the Downtown Farmer's Market every Saturday. But if you're really into tomatoes, gardening and learning about joining the ranks of seedsavers, the best thing you can do is join one of the ladies' seed-saving and tomato planting classes during September or October. Their Website details these and other classes and tells more of the story of the lovely late bloomers.
More info at LateBloominHeirlooms.com