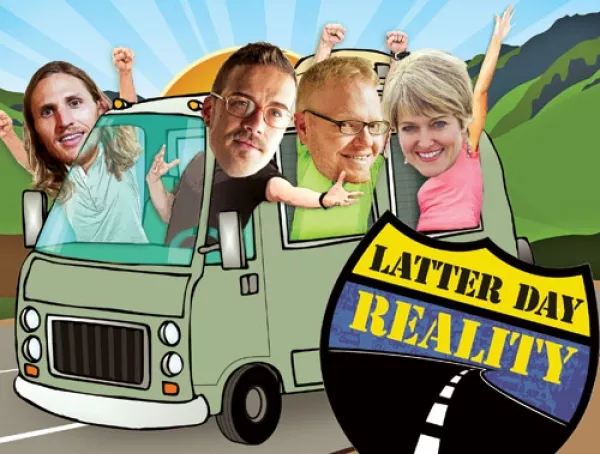 Dammit. I was almost on a reality show.
A few years ago, when I was working at a newspaper in Mammoth Lakes, Calif., my co-workers and I were approached by a group of Hollywood producers to do a reality show. The concept was simple: Show how a small ski-town paper grinds for content on a weekly basis while the employees balance their somewhat dysfunctional personal lives. I was all for it.
Being the youngest writer in the office, I felt like I had to fulfill the stereotype of the wild party guy. So, during the phone interviews, I'd say whatever I felt they wanted to hear. "Yeah, I'm sort of a jerk, but I have a heart of gold, you know?"
The studio was called Go Go Lucky Entertainment, makers of such fine reality television as Laguna Beach, Rollergirls and, my personal favorite, Hot Girls in Scary Places. Unfortunately, after a lengthy interview process, the idea fizzled.
We weren't told why the show never came to fruition. But I believe it never panned out because we simply weren't that interesting and—more importantly—none of us truly fit a decent reality-show stereotype.
It pains me to say this, but any reality show worth its salt has a firm handle on stereotypes. You know: the token gay guy, the oblivious sorority girl and the angry meathead. Oversimplified characters with scenes edited out of context, these stereotypes make the unfamiliar easy to grasp, and also make for decent TV watching.
As members of the viewing public, we know reality TV isn't real. But that doesn't stop from saying to ourselves, "Man, everyone from New Jersey is a douchebag!" Reality TV serves up an easy-to-swallow version of what we know nothing about. The Real Housewives of New Jersey and Jersey Shore supposedly represent all there is to know about the Garden State. Shows like Here Comes Honey Boo Boo, Swamp People and Love & Hip Hop: Atlanta reveal what it's like to be from that "backward" state of Georgia. And as for Californians, well, just throw a dart at the TV guide. So what about Utah?
Over the past few years, it's become more and more evident that the Beehive State is a dependable source for reality-TV "talent." Remember when Ryan Benson dropped the most pounds on The Biggest Loser? How about when David Archuleta got second place on American Idol? Hell, Mitt Romney ran for president, and that was easily the best reality show in over a decade. Apparently, being from Utah is a thing, and people love it. The evidence can be seen in shows like Survivor, The Real World, The Bachelor, Project Runway—the list goes on.
It seems any red-blooded American would happily sit down to a show that mentions Mormons, polygamy or BYU students. It's sooo foreign! I like to imagine there's some guy in Connecticut watching Sister Wives right now with as much focus as when he viewed the Mars rover landing.
City Weekly's TV critic, Bill Frost, has long observed the Utah "factor" in reality-show programming. "Utah isn't necessarily a 'better' breeding ground for reality-TV stars; we're apparently just more desperate for the attention—good, bad or that special circle of Bachelor/Bachelorette shame. That's probably why Utahns put up with so many losers, since so few have actually 'won' anything on these shows," he says.
While some attain fleeing fame, reality stars aren't paid handsomely and rarely find fortune—unless they win it all or become so popular that they're able to negotiate return appearances or second seasons.
"It's kind of like the Utah Jazz: No ring, but at least we got on the TV box!" Frost says.
Since not every home-grown reality star fits the same mold, we hit up a few familiar Utahns. Tyson Apostol and Dawn Meehan of Survivor, Skippy Jessop of the Virgin Diaries and Keith Bryce of Project Runway break down the ins and outs of being a Utah reality star—and what it's like when it's all over.
The Lovable Utah Jerk: Tyson Apostol
To understand Tyson Apostol, you should know that he's a smoker who smokes just to piss people off.
"I only smoke when I'm in a big crowd of people because it's the most offensive thing you can do without getting arrested. You can masturbate in public, but you'll get arrested for that. But if you smoke in public, people are offended, but they can't do anything about it. I like to go out and take a huge drag and then blow it in someone's face from the side."
As you can see, Apostol had no problem filling the role of reality-show antagonist. He's appeared on both Survivor: Tocantins and Survivor: Heroes & Villains.
When the Provo resident got back from his 27-day stint on Survivor: Tocantins, he knew he was going to be portrayed as the bad guy. This was mostly due to the fact that he couldn't stand a certain cast member, Sierra Reed. "I felt like the best thing I could do as a human being was to let [Reed] know how dumb she was. That was my job. So they pretty much showed me shitting on her nonstop. But, you know, I thought it was great they did that to me."
Whatever your feelings are toward Apostol personally, players like him are a necessary evil on reality television. For Survivor, he was the perfect castaway: a BYU dropout and Jack Mormon with a personality that aligns with The Real World's Puck.
"The Mormons are a loyal and large enough demographic that it's gonna impact the ratings," Apostol says. "They usually want a unique back story, and a lot of Mormons have a unique back story because they went on a mission. Then, to get a unique Mormon that's gonna piss everyone off is also the ticket. I suppose Survivor needs me more than I need them."
On the finale of Survivor: Tocantins, host Jeff Probst asked Apostol about his reception back in Utah. Apostol responded, "Well, people either loved me or hated me, but people loved or hated Jesus, too, so you have to take it for what it's worth."
Not surprisingly, Apostol angered a few Utah viewers. The worst response came from a family friend.
"I got an e-mail from my late grandpa's colleague that said my grandpa would be so disappointed with how I represented the family's name, and that I should be ashamed of myself. So, I wrote back, 'Dear Tyson Apostol fan: As you can imagine, Tyson cannot respond to each and every piece of fan mail he gets, but know that this e-mail is going into the grand tally to win Tyson's Fan Favorite. Thanks for your support.' Then at the bottom, it said something like this is an automated message from the webmaster or something like that. I was hoping he would respond, 'No, no, don't count my message!' and then I could keep re-sending it over and over again."
Apostol embraces the criticism. "Sure, I had someone say to me once, 'Are you as big a jerk in real life as you were on TV?' and I said, 'Yeah.' It's just easier to say yes. Who cares? But I get mostly the good stuff, especially in public. I had people say things like, 'Oh, you made Utahns look normal and cool.' Of course, some people would scowl, but scowling almost never hurts me."
Currently, Apostol sells bikes and organizes cycling events for a living. He's also done a little TV work on the side. Many people know him as the guy from the MonsterSak commercials, or from his Star Wars-themed "Somebody That I Used to Know" parody that has racked up more than 8 million views on YouTube.
As for returning to reality television, Apostol seems apprehensive. "[Survivor] is like 30 seasons in now. I was seasons 18 and 20. Wouldn't you have to be a little ashamed of yourself to go back now? They treat you like shit ... that's the problem. They'll go through the regular casting process, and they say they'll call you back in two weeks. A month and a half goes by, and they're like, 'Oh, we're struggling. CBS is doing this and legal is doing that.' If you were in another industry, you'd be fired. But on the other hand, it's a free vacation. It's not even hard. Like when people go out there and they cry, I'm, like, 'Really? You haven't lived life, then, if this is the hardest thing you've ever done. Because this is the easiest thing I've ever done.' "