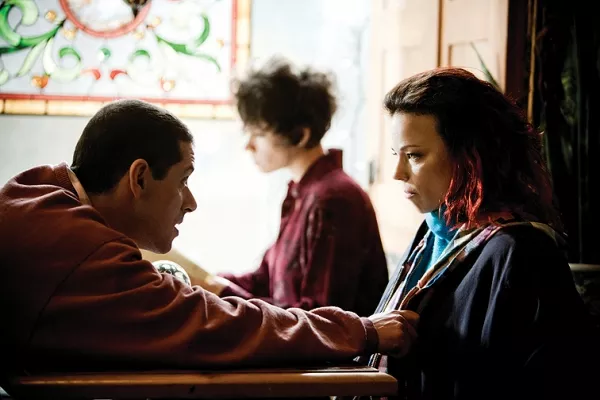 When we first see Laurence Alia (Melvil Poupaud) in Xavier Dolan's electrifying, emotionally epic Laurence Anyways, we don't really see him—or "her," as the case may be. True, we see bits and pieces of her: the back of her head with flowing dark hair; the pale green jacket. But we don't see Laurence's face as she strolls down the streets of Montreal and runs errands. Instead, we see the faces of those watching her go by—sometimes blank, sometimes baffled, sometimes vaguely frightened, all of them unsure quite how to react to a man dressed as a woman.

Laurence Anyways spends more than 2 1/2 hours on 10 years in Laurence's life, but Dolan hasn't made an "issue" movie entirely about the challenges facing transgender people in a world that can't figure out what box to check for them. Instead, Dolan makes what is in some ways a riskier choice: Crafting a story that's just as much about the other people whose lives are turned upside-down by such a transition. As much as it is about Laurence's coming out, it's also about that societal stare at those who are part of her life.

The focus on that side is Fred (Suzanne Clément), two years into a live-in relationship with Laurence when the story begins in 1990. She's staggered at first by his announcement that he wants to live as the woman he's always felt himself to be; she believes that he's been lying to her while secretly being "gay." Yet, soon she decides she's going to try to support Laurence through his process of transition—which is bound to be challenging, considering he's a high school English teacher.

Dolan is already a remarkable cinematic stylist at the age of only 24, yet in his previous features like Heartbeats was unable to find an anchor for his facility with superficial imagery. Here, he delivers a landslide of instantly memorable moments: Fred's entrance at a gala party, desperately in need of shedding the weight of her difficult relationship with Laurence; a fantastical stroll down the street during which it's raining clothes. But there's a stronger sense of emotional necessity for Dolan's showier choices. When Laurence walks into her classroom for the first time dressed as a woman, Dolan sets up the camera at the back of the room, taking in the students becoming hushed. And when one student raises a hand—and the question is about the classwork, rather than Laurence's unusual appearance—the zoom in to Laurence's smile, expressing the possibility that the world might not be over, is exhilarating.

It's also hard not to find Laurence Anyways even more compelling when it's focused on Fred than when it's focused on Laurence. Poupaud's performance is solid, conveying the inevitable anger when Laurence's colleagues confront her about complaints from parents, and her growing comfort in her own skin as she connects with a small "family" of fellow trans people. Clément's work, however, is astonishing, one of the richest cinematic portrayals ever of someone trying to come to grips with what it means to love someone.
She gets plenty of big acting moments, like a furious verbal assault on a diner waitress whose casual expressions of confusion over Laurence's identity send her over the edge. Yet, she's just as terrific in more restrained scenes, wrestling with an option—the ability simply to walk away, into a "normal" life—that Laurence can no longer imagine.

Perhaps the most remarkable thing about Laurence Anyways is that despite a running time of 168 minutes, it rarely feels overstuffed. Dolan allows room to explore all the peaks and valleys in Laurence and Fred's relationship, as well as how much more complicated the choices facing both these characters are than in a typical romantic drama. And it certainly doesn't hurt that Dolan's terrific musical choices and high-energy direction provide a boost any time it feels the pace is flagging. Mostly, however, he gives us something potent and genuine, even heartbreaking, as he ends the story by flashing back to the giddy moment when Laurence and Fred first feel a connection. Laurence Anyways provides a brilliantly staged reminder that we never know if we'll be able to navigate the obstacles that always follow that first giddy moment.

LAURENCE ANYWAYS


Melvil Poupaud, Suzanne Clément
Not Rated