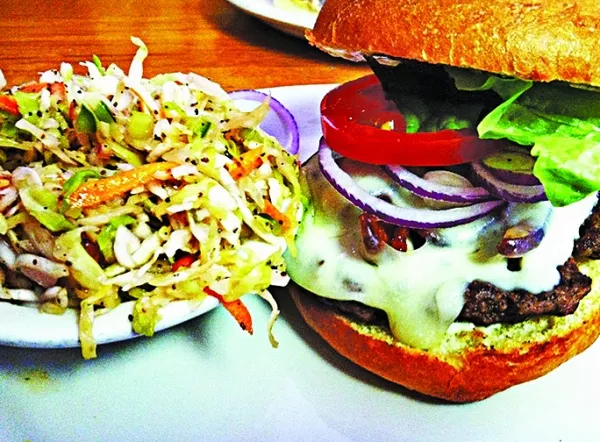 Left Fork Grill's cheeseburger & coleslaw
As you drive west on 3900 South, toward the bridge over Interstate 15, you'll probably think that the red, yellow & blue sign you pass is a mirage. But if you turn around to investigate, you'll find out that the bright sign belongs to Left Fork Grill. It may seem out of place, there on the border between office buildings and industrial parks, but the food makes you feel right at home. It's housemade, and no detail is overlooked. The small-town-diner feel leaves you content to sit back and enjoy the day.
Feeling particularly ravenous the day I visited, I went with the Left Fork burger. It's a half-pound of ground chuck—they had me at "half pound"—served with your choice of cheese, garlic mayonnaise, lettuce, tomato and onion on a brioche bun, with a choice of carrot chips, fries or coleslaw on the side. All this for $7.99 (add bacon for 99 cents)—who could turn that down?
Burgers and fries may be nearly inseparable, but I went with the coleslaw because, an hour earlier, I had staved off my hunger pangs by eating my daughter's fast-food tater tots. Not eating breakfast will do that to you. I was potatoed out and grateful for it the minute that I bit into the coleslaw. The shredded cabbage, carrots, peppers, hint of vinegar and sprinkling of spices tasted incredibly fresh and made me crave it more with each bite.
Now on to the burger: That juicy grilled chuck smothered in provolone was a perfect complement to the rich and tender brioche bun. I love a good burger, and hunt them out diligently. This definitely belongs on the awards platform.
A large burger and bowl of coleslaw left me very full. However, the question of, "Would you like a slice of blackberrycream pie for dessert?" was too tempting to resist. I managed to find room for the pie also. You should, too.

LEFT FORK GRILL
68 W. 3900 South
801-266-4322
LeftForkGrill.ipower.com