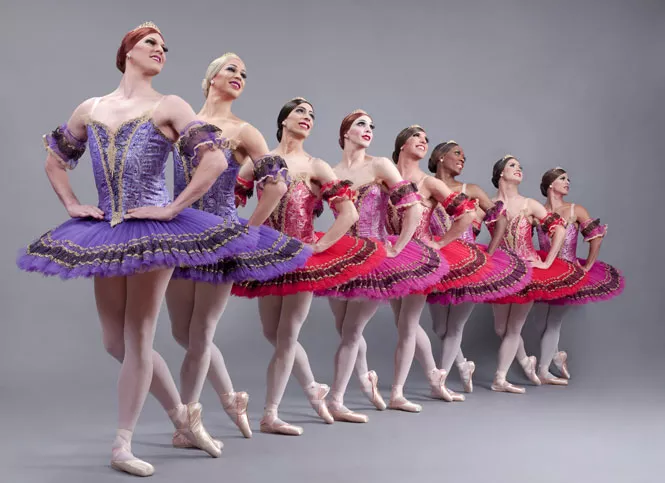 When it comes to classical ballet, it may seem that there's little room for variation or radical interpretation. Yet, shortly after Ballet West concludes a run of its version of Swan Lake, the New York-based Les Ballets Trockadero de Monte Carlo company will take the stage at Kingsbury Hall and show just how differently Swan Lake can be done.
If this difference isn't apparent during the first few moments of the opening act, it certainly will be when the swans enter from the wings. Nina Immobilashvili performs as one of those swans alongside Helen, Nina, Sonia, Maria, Moussia, Eugenia and Doris. All together, in perfect white crowns and tulle, they float across the stage. But what's amiss? Those broad shoulders, those square jaws: Are they all men?
In a world where dance struggles to remain relevant, the professional all-male company Les Ballets Trockadero de Monte Carlo has, since 1974, used talent, tutus and alter-egos to create a lasting artistic niche in an unusual intersection between ballet and comedy, and between virtuosic performance and drag show. Forty-one years ago, the company gave their first late-night performance at a second-story loft theater in the Meatpacking District of Manhattan. There, the male dancers did an unthinkable thing: They performed female ballet roles. They wore tutus and danced en pointe.
It was a time, recalls Trockadero Artistic Director Tory Dobrin, when men dancing en pointe was a career-wrecker. "There were only two ballet teachers I knew of who would teach pointe to men," Dobrin said during a phone interview from New York City. "When I joined the company [in 1980], it was definitely something you did later in life after a 'serious' career."
But, mid-1970s' New York was increasingly defined by liberation movements, including the gay rights and women's movements. It was also a place filled with drag theater. On their opening night, the Trocks (as they are affectionately known) performed to a standing-room-only audience. Within a year of that performance, bolstered by outstanding critical reviews and funding from the National Endowment for the Arts, they hired a full-time teacher and a ballet mistress, and made their first North American tour.
Les Ballets Trockadero might have serious, socio-political roots but, if they don't make you laugh, they're not doing their job. Since the beginning, says Dobrin, the company has tried to find a balance between comedy and ballet. While still taking their art form seriously—Trockadero's dancers all come with stunning ballet credentials, and the company is known for its faithful renditions of the classics—amusement and delight is their goal.
Certainly, some of the performance's most amusing qualities come through the dancers' alter-egos, an homage to ballet history. "There was a time," explains Dobrin, "when, in order to be considered a dancer of quality, you had to be Russian." The renowned Paris-based company Ballets Russes, under the direction of artistic director Sergei Diaghilev, often drew inspiration for music and design from Russian folklore. The dancers, who came from all across Europe, took Russian names as an extension of the company's aesthetic and identity.
Similarly, Trockadero dancers can find both humor and inspiration through the alter-egos they inhabit. In an interview with Dr. Selby Schwartz in the University of Edinburgh Journal of Culture and the Arts, dancer Robert Carter explained his transformation when he puts on makeup to become Olga Supphozova: "I begin to enter a different world. ... I see Olga as being fastidiously delicate and pretty. I am a forceful dancer. Putting on my makeup starts to change my energy and prepares me to become Olga onstage."
Just as important as the dancer getting into the right frame of mind is the audience getting there, too. The Trocks do that by immediately going off the deep end. Swan Lake—the opening act full of Russian glamour, dying swans and large men—is the company's signature work. "It's pretty campy," says Dobrin, "definitely one of our funnier ballets, with lots of slapstick humor."
The second act, Go for Barocco, by choreographer Peter Anastos, parodies the mannerisms and devices used by the beloved contemporary ballet choreographer George Balanchine. "The comedy in this piece," says Dobrin, "comes naturally with the choreography and not as much through the characterization." Mastering the strict choreographic timing that Balanchine employed, set to music by Bach, the Trocks turn the complicated steps into a child's game.
Finally, the company dips back into the classics with a rendition of Paquita, staged by Elena Kunikova—who also, Dobrin mentions, staged the same work for Ballet West. One of the company's more serious pieces, it allows the dancers to showcase their athletic and artistic virtuosity.
Though their performances mingle high art and camp, Les Ballets Trockadero de Monte Carlo doesn't mock dance as an art. Blended with ample amounts of skill, style and beauty, the slapstick and drag are creative interpretations. So, don't be afraid to laugh.