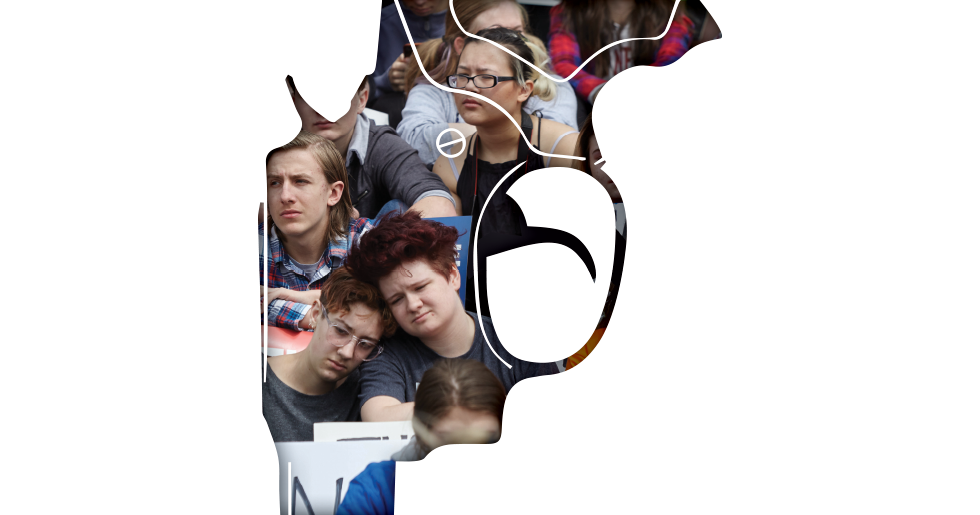 Sarah Arnoff/Derek Carlisle
Six months ago, on Feb. 14, a tragic set of actions changed thousands of lives in Parkland, Fla. A man carried a gun into what should have been a safe space—in this instance a school, though similar situations have played out in movie theaters, churches, neighborhood parks and people's homes across the U.S.—and committed an act of terrorism, ending the lives of 17 people between the ages of 14 and 49.
An all too familiar scene followed—people spoke out, some calling for thoughts and prayers; some for legislative changes. But then something unusual happened. Student survivors of the massacre started advocating for themselves and their teenage peers. They kicked off a movement that highlights intersectionality, one which emphasizes that shootings don't just happen in schools. And they demanded that lawmakers pass bills that will make the country a safer place for all.
That movement took root nationwide, including here in Utah. What follows are interviews with a handful of locals who are engaging in the debate from varying sides. They are parents and teenagers, poets and lawmakers, activists and student journalists. But most importantly, they're all standing up for their rights. And they're not sitting down any time soon.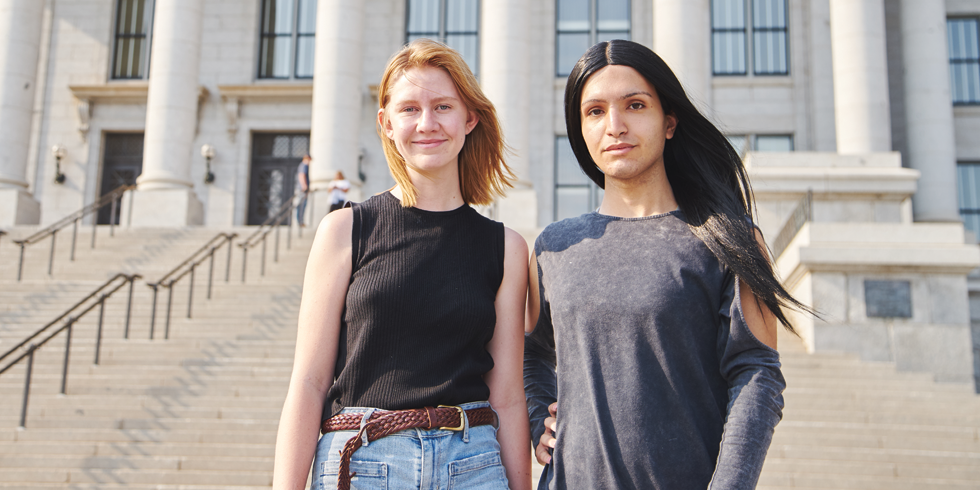 Sarah Arnoff
Elizabeth Love and Ermiya Fanaeian
The Reformers
Responsible firearm owners: Ermiya Fanaeian and Elizabeth Love know what you're thinking—they don't want to take your guns.
"We all support the Second Amendment, we just don't want criminals to have guns," Love, an 18-year-old recent West High School grad, says. Fanaeian, also 18, who just graduated from the Salt Lake School for the Performing Arts, is more explicit: "We are not for repealing the Second Amendment in any way, shape or form."
Fanaeian and Love participated in the Road to Change event in Sandy last month, during which an audience member asked if, under their proposals, he would be allowed to use his weapon to defend himself or loved ones. Love said yes, March For Our Lives Salt Lake City's mission does not conflict with gun owners defending themselves.
Love says the National Rifle Association is manipulating people into thinking that the reform movement is made up of a bunch of gun-hoarding, rights-violating young adults. "It's not easy to turn people against what we're actually proposing, so they're trying to reframe the debate into something that it's not," she tells City Weekly.
Love says what they're advocating is likely to be looked upon favorably by people who exercise their Second Amendment rights—better mental health support in schools, universal background checks of prospective firearms purchasers, using due process to take guns from people who might be a threat to themselves or others and a "No Notoriety" campaign in which the media is encouraged to follow protocols that inform the public but don't glamorize the heinous acts of shooters. But people opposed to any and all reform, Love says, often ignore that her peers aren't just talking about school safety. "We're also talking about movie theaters, churches, offices, grocery stores, the streets—everywhere that there is gun violence."
And then there's the relationship between firearms and self harm, which accounts for the majority of annual gun deaths in the country. Citing research from Everytown for Gun Safety, Love says those who try to end their lives using a gun are successful the overwhelming majority of the time. Attempted suicide survivors, however, often die by other causes. "It's very important that people survive suicide attempts, and firearms don't allow space for that," Love says.
"What people don't understand about gun reform is it's a multifaceted issue with multiplicities and complexities," Fanaeian, a transgender youth activist, says, emphasizing the intersection of queer identities and gun violence. "Gun violence disproportionately affects marginalized communities the most."
There's a reason, Fanaeian suggests, that older generations might find it hard to understand the reasoning behind the movement. "They do not realize that feeling when you're sitting in school, having to check where to hide or where to escape."
"There were always kids at our school we would look at, and we would worry they would become the next school shooter," Love says.
Fanaeian and Love, both of whom are executive organizers of the local March For Our Lives chapter, aren't new to championing gun reform. "For me, the catalyst was Newtown [Conn.] when I was in seventh grade," Love says. When she got older, she interned with the Gun Violence Prevention Center of Utah, eventually organizing the rally at the Utah Capitol after the Florida shooting. Fanaeian has been politically active with LGBTQ movements and organizations for the past four years, experiences that led her to gun reform.
Now, the recent high school grads are helping select the next leaders of the local March For Our Lives movement. Love plans to continue the fight from New York City, where she'll be attending Columbia University this fall. She plans on working on reform at the federal level, because universal background checks would be weakened if some states had laxer laws than others.
Staying local, Fanaeian plans on attending the University of Utah, where she'll continue her advocacy. "I'm certainly not going to stop organizing any time soon," she says.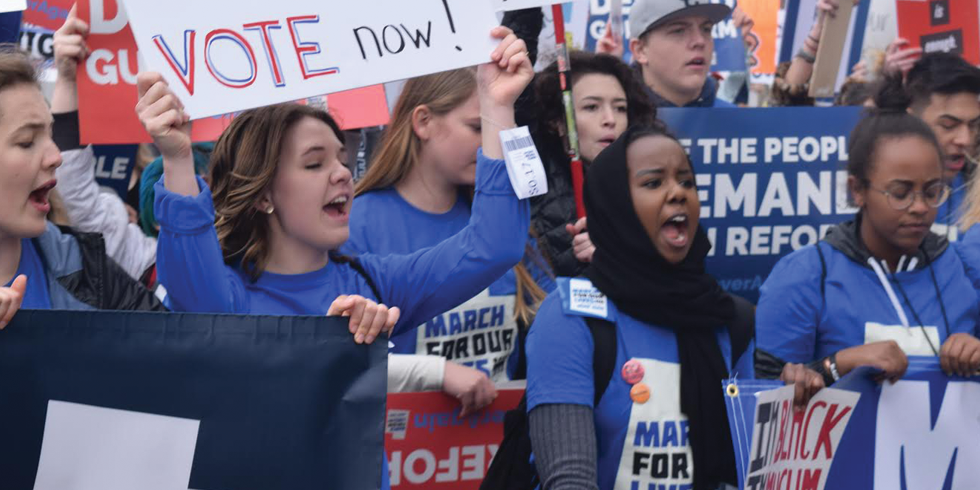 Ray Howze
Saida Dahir
The Poet
Saida Dahir's earliest memory involving guns and her academic pursuits happened during second or third grade. An armed gunman had robbed the bank near her school, and students were evacuated by a SWAT team. Two years later came the Sandy Hook shooting, in which a man shot and killed 20 children between 6 and 7 years old. The emergency drills started shortly thereafter, Dahir remembers, making the unthinkable a reality.
"Ever since we were kids, mass shootings have kind of followed us," Dahir says. "We've had to grow up far quicker than we were supposed to."
She started speaking out in favor of gun reform when she was in eighth grade. "I'm from the Somali community [which] has a very hard time with gangs," Dahir, who came to the U.S. in 2003 from Kenya, says.


"People always had these thoughts that this was not right, but no one really took the first steps in this long, long overdue race," Dahir says. "We had the biggest march in Utah history for the March For Our Lives," she adds, as people young and old came out to support students tired of fearing for their lives while learning in their classrooms.
Although their viewpoints appear at odds, Dahir thinks there's overlap between proponents of gun reform and people worried their firearms will be taken away. She says she, too, talked to members of the Utah Gun Exchange at last month's Road to Change panel. Some of them were her peers, her fellow classmates.
"There's a lot of common ground. These people don't want to see people die, but they don't want their rights taken away," Dahir says, emphasizing that local gun reformers are pro-Second Amendment. Ultimately, Dahir thinks the opposing sides want the same thing. "We just want to cause less hurt in this world," she says.
Dahir was one of the founding members of March For Our Lives Salt Lake City. She'll be on the executive team next school year, planning more marches and public events that could include her own unique form of activism.
"Somalia is known as the land of poets," Dahir says. She started writing poetry around second grade, mostly about her own personal feelings—"I used to want to be a musician. Then I realized I couldn't sing," she says. Once the first draft of President Trump's so-called "Muslim Ban" came out during Dahir's freshman year of high school, her poetry became political. She'd never heard political poems or spoken word before, so this was a space Dahir felt she could make her own.
"I wanted to be an activist, and I wanted to do things to change the world. And I realized maybe the way I could change the world was through poetry," Dahir says. "I feel like I'm combining two things I love: activism and art. It's called 'Artivism.'"
"I never knew what activism was until I started writing poetry," she adds.
Since then, Dahir's performed spoken word at gun reform rallies and at news conferences held to honor immigrants and refugees. The subjects vary, but her work has the same themes. "The general message for my poems is that even though things are hard right now, we're working extra hard to make them better," she says.
Dahir has a blog called "The Walking Stereotype." She named it after herself, a Muslim Somali refugee and a black woman. She knows she can be identified by any of those things—the color of her skin, the hijab she wears—but one identity is important to her above all else.
"If someone was going to recognize one thing of all of those things, I want them to recognize my poetry," Dahir says, "and I want them to recognize me as a poet."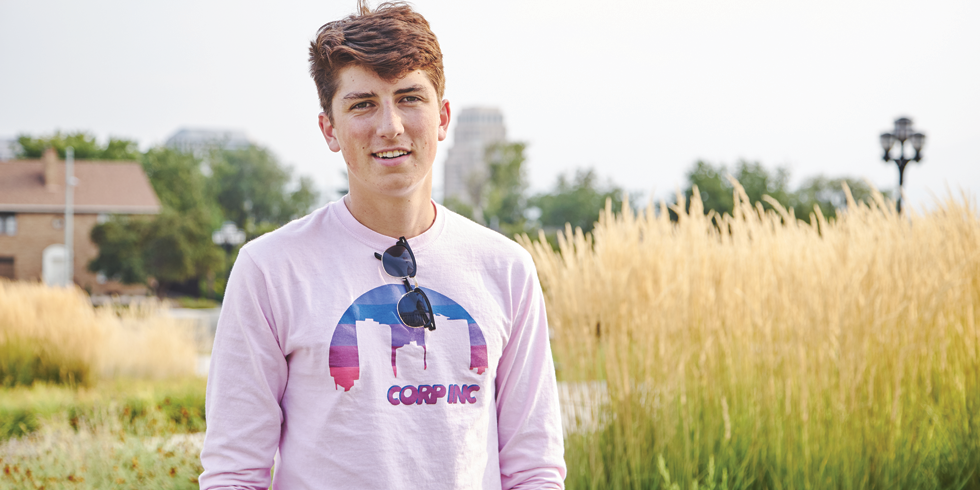 Sarah Arnoff
Eric Markewitz
The Budding Journalist
Eric Markewitz worked under Elizabeth Love at the Red and Black, West High's student newspaper. Love, an editor-in-chief mindful of her activism, would often assign Markewitz the political coverage. "It would not have a lot of journalistic integrity if she was the one writing the articles," Markewitz says.
Markewitz, 18, a recent grad who will attend the University of Puget Sound, covered two March For Our Lives-related events at his high school—a walk out and a march to the Capitol, writing in his report on the latter that his peers had joined the "Largest Youth Protests Since Vietnam."
Markewitz felt his reporting should include more than just each speakers' remarks and the size of the crowd. "I kind of wanted to preserve the energy and feel of how it felt to be there," he says. "It felt like young kids were doing something meaningful and powerful, and people were listening."
The speeches were engaging, but Markewitz says they were largely just repeating what they'd already heard on the news. What was more interesting to him was talking to people in the crowd about why they had come. "I feel like most students are pro-2A, especially in Utah," Markewitz says, referring to the Second Amendment. "I think for students it's not really seen as 'Taking our guns,' it's more, 'Kids are dying in the classroom and we need to do something.'"
Gun enthusiasts also had been at the Capitol that day, defending their right to bear arms. "It was kind of unsettling," Markewitz recalls. "Someone open-carrying [a weapon] and yelling at you is a really scary kind of feeling."
Markewitz says his reporting suggests prominent March For Our Lives SLC organizers and members aren't campaigning to take everyone's guns, contrary to popular and national opinion. "Most of them seem like they don't necessarily want a gun themselves, but don't see why another person can't own a gun," he says. "A lot of them are pretty strong pro-gun activists, and the whole point is they're trying to create a movement where everybody is on the same page."
Unsure what he wants to study in college, Markewitz could see himself being a professional journalist someday. Regardless of his career path, he learned a valuable lesson from his coverage—"It's really easy to get caught up in the moment."
He watched as opposing sides' arguments devolved from substantive debates into shouting matches, unproductive engagements predicated on personal attacks. "It's so depressing to watch," he says. "They're not doing anything meaningful. They're just bickering, and it's not helpful."
Markewitz says student newspaper and television station journalists fulfill a vital role in the March For Our Lives era. First, they shouldn't just be rewriting news releases or parroting national coverage. And they must remain objective and find ways to localize their reporting while still showing that "students do awesome things and can make a difference."
Before he graduated, Markewitz spent some time in West High School's newspaper archives, where he found issues that dated back decades. "It kind of showed you what it was like back then," he says.
Poring over those old copies, Markewitz saw snapshots of his fellow alumni—ghosts of graduated classes long past. He glimpsed what it was like to be a high schooler in Salt Lake City in previous decades, and he could visualize the priorities of students who attended West High long before he did.
"You basically try to capture that year of school, that graduating class," Markewitz says, explaining his philosophy on high school journalism and summarizing what he learned in the archives. "You capture their whole energy."
Kelan Lyons
Collin Thorup
The Firearm-owning Family
Collin Thorup started learning about guns before his eighth birthday. His mother, Tina, says another son of hers, now 3 ½, fired his first gun—a BB—when he was 2. Lessons start when the children are young so they can understand basic rules of gun safety like "Don't point them at people," or "If you see a gun, walk away and come say something."
"We want them to understand how to even utilize a toy gun from the very beginning," Tina says. "My daughter, she loves going out shooting with us, and thinks it's a great opportunity to have time with the family."
The Thorups didn't have guns in the home until 12 years ago, when Tina's brother-in-law, a police officer, recommended they get firearms to protect themselves. Over time, they started to use them as a recreational activity, a tradition that's become a way for them to bond.
Tina's "all for guns," but her opinions differ from her son's. "Want guns, don't want guns, that's fine. I don't have an opinion on it, but he does."
Collin, a 16-year-old student at Hunter High School in West Valley City, is a member of several guns rights organizations, including Teens for the Republic and March For Our Rights. He's organized or participated in a handful of public demonstrations expressing his support for the Second Amendment, and he routinely speaks to local media about what he calls the "political side" of owning and purchasing firearms.
"Without the political side, you can't have the fun side," he says, referring to "shooting crazy guns."
"Growing up in elementary and junior high, everyone liked guns, they were the cool thing and stuff. Once this started happening, everyone switched to, 'Guns are bad and no one wants them,' and they all want them gone now," Collin says. After all, when his parents and grandparents were younger, they had rifle racks on their trucks and their schools had shooting ranges. "I think it's a societal change," he says.
In an attempt to foster public dialogue, Collin plans on soon starting a podcast that will feature conversations between him and reform advocates. "We all want safety. None of us want these mass shootings to happen," he says.
Collin suggests classes on responsible gun ownership and information sessions on how to legally purchase a firearm and acquire a concealed-carry permit. "If we could teach children and teens and kids who are uninformed about that, incidences would go down much more," he says.
For her part, Tina sees her role as being a supportive parent, regardless of whether she sees eye-to-eye with her son. Both of Collin's grandmothers have views that contrast with his, but one still supports him and goes to his rallies. But the other, Tina says, refuses to engage with Collin on the subject and doesn't support his political messaging.
"That's where I have my concerns, is, support your kids, support them in what they're believing, support your family," Tina says. "He wants to become a political voice for this and become an activist. And I am 100 percent for that. I think it's fantastic that's what he wants to do, and, how can I support him in being able to do that?"
Like any parent, Tina worries about Collin. She knows he gets threatened for publicizing his views, and it's alarming to her how public-facing his mission is. "Rolling Stone just quoted him," she says. "It's scary to have these kids so out in front like they are."
Concerns aside, it's been "mind-boggling" for Tina to learn so much about Collin "as a human being" and not just see him as her child.
"My kid is thinking as an adult in many ways. Yeah, he still has a lot to learn, and experience goes a long way, but his heart is in the right place," Tina says. "He's willing to have a conversation, so I should as well."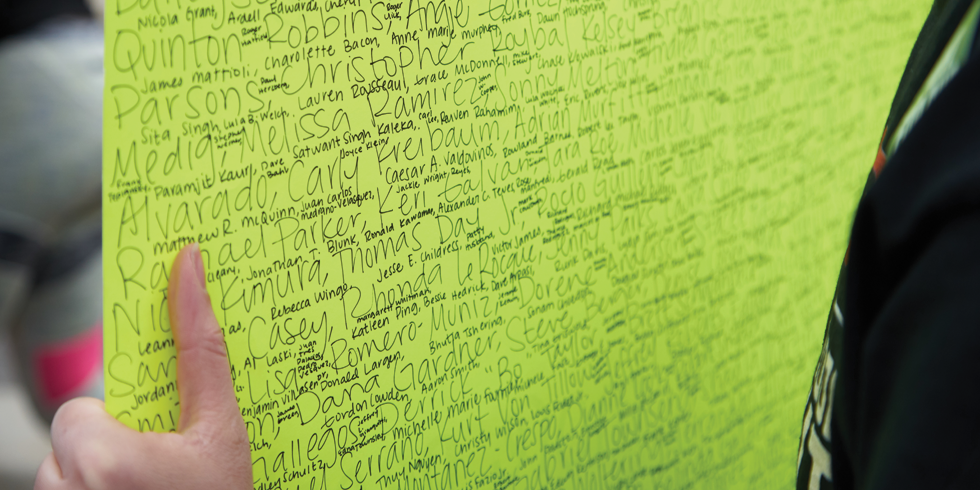 The Lawmaker
Rep. Angela Romero has been advocating for gun reform for 26 years, first as a teenage member of the Utah Coalition of La Raza and then as the Democratic representative of District 26 in the Legislature. "I have family members in particular who got caught up in the system because a gun was used in the commission of a crime," she says, referring to a cousin sentenced to 65 years in federal prison because of mandatory-minimum sentencing. "Sixty-five was lenient," Romero says before asking broader questions about such laws—Do the punishments always fit the crimes? Who do these penalties impact, really?
"We're not talking about the underlying issue, the systemic issue, which is why do people use guns to hurt others?" Romero says. "If you go back and you look at these mass shooters and you look at guns used in urban settings, you're looking at hurt people who, in turn, hurt other people."
Romero separates gun violence into three topics: Urban, domestic and mass shootings. Imagine a Venn diagram, each category distinct but overlapping in some way with the other two. Each requires distinct policies to address their root causes, but there's at least one thing that could help all three.
"I think the commonality for all of these three issues is access to mental-health professionals," Romero says, but that's just one piece of the puzzle. "Not everybody has equal access to the same opportunities. Until we talk about equality in terms of equity, we'll still have gun violence.
Take, for instance, urban violence, in which city residents in communities of color use guns to harm one another. Romero says analysis of this type of bloodshed frequently fails to take systemic issues into account and neglects to understand that, "No one wakes up and says, 'I want to hurt people.'"
"How does lack of opportunity, how does that all play out on who picks up a gun and who's criminally prosecuted for gun violence?" Romero asks. In other words, poverty, disparities in educational opportunities, lack of access to resources compared to higher-income areas—this all contributes to gun violence in urban settings.
"Historical trauma plays a huge role in where we are as communities today," Romero says.
Cautioning against viewing Parkland as the beginning of youth activism on gun reform, Romero says young people have been speaking out for a while. "I think we had more media attention because it impacted not only communities of color, but it impacted white youth," she explains. "It just hasn't been highlighted like it is now."
Romero says she hasn't been in touch with the local March For Our Lives chapter. "They haven't ever reached out to me, and I haven't ever reached out to them," she says, but in the past she has worked with student activists, and been involved in a few of their events.
"I'm glad that young people in Utah and across the country are pointing out this is not just about mass shootings—this is about urban violence," Romero says. "Some of us in communities of color have been talking about intersectionality for 20 years, before intersectionality was cool."
"I'm grateful for them being advocates," Romero says of area teens and young adults seeking reform and understanding it's a complex issue that cannot be disentangled from history. But she'd also welcome whomever wanted to join a cause that's been important to her for almost three decades. "I could care less what the person's age is," Romero says. What's important is their resolve, their commitment to understanding the issues and their willingness to work together to make their schools, relationships and communities a safer place for all.
"It always amazes me when adults say, 'This is our future.' They're our present," Romero says of politically active teenagers either dismissed as naive kids or considered to be investments that will eventually pay dividends.
"I understand from lived experience that people write you off because of your age," she says. "What makes my voice stronger than their voice?" After all, she was their age when she started advocating for reform.