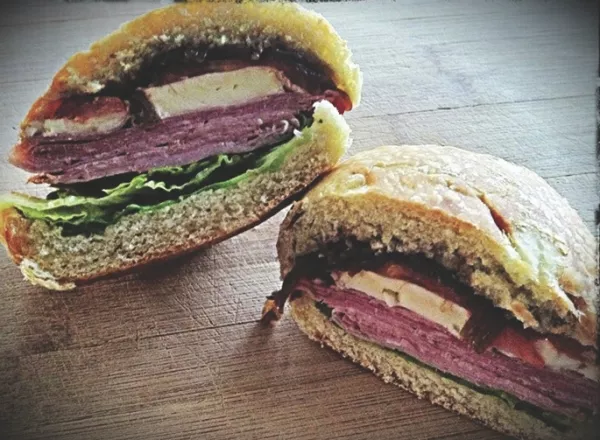 The jammin' jambon sandwich
An unusual sandwich may be hiding in a locale that many people believe only sells produce. Liberty Heights Fresh fits many of your food needs into a small location—and can also satisfy your lunch hunger. Not only can you pick up organic navel oranges, but also meats, cheeses, and delicious soups and sandwiches. With 11 sandwich options, you're sure to find something to elevate your lunch.
One of the best of these culinary delights is the jammin' jambon, featuring Niman Ranch ham, Brie, lettuce, tomato and balsamic-onion marmalade on housemade focaccia. This may sound like a lot of competing flavors fighting for attention, but they complement each other well. The Brie is creamy, with just the right amount included so the sharp flavor doesn't overpower the rest of the sandwich. The ham is sliced thin and stacked high. The balsamic- onion marmalade could also be sold as a side dish; you won't notice it at first glance, but there it is, wedged between the tomato and focaccia. Like the quiet person in the group who ends up making the biggest impact, the balsamic marmalade will leave you awestruck. It's the only condiment needed.
The focaccia could be saved for a review all on its own. As the bookends for 10 of the 11 sandwiches (the seven-grain being the bread used for the verde sandwich), the focaccia is made daily and is the creation of an artist. The experience is similar to finding the perfect croissant: an exterior golden-brown crust with a chewy texture that, with little effort, gives way to a soft, flaky and flavorful center. There is also just a hint of sourdough flavor, which makes the bread addicting on its own.
For about the same price as a fast-food combo meal, you can have a fresh, high-quality food adventure. I'll be trying the Yankee clipper and Sonoma coma sandwiches next. If only lunch could be twice a day.
LIBERTY HEIGHTS FRESH
1290 S. 1100 East
801-583-7374
LibertyHeightsFresh.com