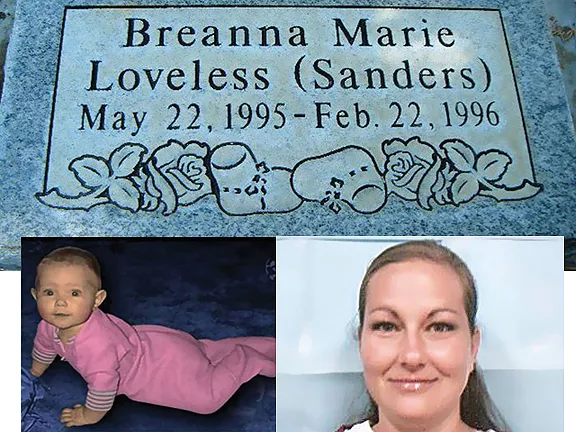 Bobbie Widdison (right) was convicted in 1998 for the murder of her daughter Breanna (left)
For the past three years, Bobbie Dawn Widdison and her family have been planning for her eventual release from the Utah State Prison, after the Utah Board of Pardons & Parole decided in 2011 that Widdison had taken sufficient responsibility for the 1996 killing of her 9-month-old baby, Breanna, and merited parole in 2018.
But in late April 2014, following "new information" given to the parole board by Widdison's former babysitter, the board scrubbed that date for a new one: May 18, 2113. The 41-year-old will die in prison.
"To give me that hope then take it away ... I don't know how they expect me to be a human with that gone," Widdison says.
In 1996, Widdison, 23, was already the mother of two little girls when she gave birth to Breanna, the result of a brief relationship with a man in Delta, Utah. According to court documents, she and her then-husband, Travis, became physically abusive to Breanna in her last weeks of life, resulting in a once happy, smiling baby suffering multiple fractures and injuries and becoming listless and mute. Officers summoned to Widdison's residence found Travis giving mouth-to-mouth to a baby already stiffening with rigor mortis.
In the wake of the baby's death, and in the 16 years since, questions have lingered over how Breanna died. The Widdisons "either violently abused her 9-month-old baby to the point that she could not fight her respiratory infection and thereby causing her to die of pneumonia, or she outright suffocated the infant," wrote an Adult Probation & Parole investigator in the 1998 pre-sentencing investigation report. In 2004, 2007 and 2011, parole hearing officers—who are also board members—asked Widdison to explain Breanna's death. The 2011 board found she had taken enough responsibility to be given a release date.
But three years later, the board, whose members are appointed by the Utah governor on a staggered basis, disagreed, drawing on statements by Widdison's former babysitter—information Widdison's attorney, former prosecutor Lorenzo Miller, termed "unsubstantiated allegations" in a motion recently filed in 3rd District Court.
Miller says that while some might, in light of Widdison's crime, agree with the board's most recent decision, "I don't think anybody would agree that the parole board should give a date, give an expectation that if she worked hard, did what she was told to do, she would be released, only to take it away from her just as she was getting close to paroling."
Miller says Utah's sentencing matrix guidelines indicate that Widdison should serve 87 months for her type of crime, but the board gave her 20 years. In his motion, Miller says that the board singled her out for harsher treatment than other offenders incarcerated for similar crimes, that it had violated her constitutional rights and subjected her to cruel and unusual punishment by giving her a parole date and then taking it back three years later.
The parole board's administrator, Greg Johnson, in response to e-mailed questions, says that parole dates "are tentative and may be changed at any time prior to release, including decisions to reduce previous release dates."
Former Millard County Attorney Dexter Anderson, who prosecuted Widdison for Breanna's death, says he doesn't agree with the new sentence. "It was a terrible case, but I don't think she deserves to stay in there her whole life. It wasn't intentional murder. She didn't intend the baby to die, that I remember. She's paid about all she can pay."
At the heart of the parole board's frustrations with Widdison lies her inability—or her refusal, as board vice chair and former Salt Lake County prosecutor Angela Micklos sees it, according to the audio of parole hearings that City Weekly requested from the board—to articulate exactly how baby Breanna died.
"How many times do I have to do it?" Widdison asks. She argues that "taking responsibility involves a lot more than saying words out of your mouth," that it's about actions, about how she has lived her life in prison for the last 15 years: gaining an education, performing community service and teaching other inmates life skills so they can be eligible for parole.
Widdison's case generated heated emotions in Millard County in the run-up to the 1998 trial. She rejected a plea deal, was convicted of murder, and sentenced to five to life, along with two terms of one to 15 years for child abuse.
The baby's injuries and Widdison's failure to portray remorse were such that, the parole investigator wrote, he recommended that the board "expire all of her sentences," meaning she spend her life in prison. "Every effort should be made to assume Bobbie Widdison will not harm another human being."
At her first parole hearing in May 2004, the hearing officer said that Widdison had minimized her responsibility for her daughter's death. Three years later, Widdison told Clark Harms—then a parole hearing officer and now the chair of the board—that it had taken her much time and self-reflection to "realize I was responsible ultimately for [Breanna's] death," but Harms wrote in notes quoted in a later hearing that he found her acknowledgments "half-hearted and disingenuous."
Widdison came in front of the board a third time in 2011. By then, her unsuccessful legal battles through the appellate system to challenge her conviction had run their course.
In her 1998 trial, Widdison was also accused of abusing another of her daughters, Crysten, who was 4 years old at time of Breanna's death and spoke at the 2011 parole hearing. "I believe she needs to take accountability for what she did and show remorse of some kind," she said. "If this isn't done, I believe that she should remain in prison." Crysten still stands by that. Breanna's death "wasn't intentional, but the injuries were," she says.
Widdison told hearing officer Don Blanchard, "I didn't care for [Breanna], I didn't provide for her, I took advantage of her, I hurt her in ways that I can't even begin to describe. "I know that I caused these injuries," she said, "or at least some of these injuries."
Blanchard told her he felt she had made progress, and a few weeks later, Widdison learned she would be released in seven years. "I can tell my family there will be an end to this," she thought at the time.
Two years later, in late 2013, Jodi Finlinson applied to the parole board for a pardon and to have multiple charges expunged from her record. When she was 14, Finlinson had babysat Widdison's three little girls weeks before Breanna's death, and later testified briefly at Widdison's trial that the mother would treat Breanna "in a rough manner," according to a court transcript.
During the expungement hearing, Finlinson said Widdison had introduced her to drugs and meth. The board asked her to speak at Widdison's Feb. 18, 2014, rescission hearing—called to address issues surrounding a release date—so that the inmate could respond to Finlinson's new information.
Finlinson said in Widdison's February 2014 hearing that Widdison's introduction to drugs and meth had resulted in Finlinson's eventual addiction, which caused her to commit the crimes for which she was later charged.
Widdison denied Finlinson's accusations, pointing out that Finlinson had not mentioned them either to investigating detectives or on the stand 16 years ago.
Hearing officer Micklos was unimpressed. "I don't see any reason for her to fabricate," she said.
Finlinson's pardon and expungement request to the board was granted, according to a letter from the Department of Public Safety that City Weekly requested from Millard County Justice Court.
"She gets a pardon, my client gets a life sentence," Miller says.
The parole board's Johnson says Finlinson "was not offered anything" in exchange for her testimony at the rescission hearing.
Prior to the rescission hearing, the board had informed Widdison that its focus would be Finlinson's statements, but, according to audio from the hearing, rather than ask about what Finlinson had said, Micklos wanted a detailed accounting of Breanna's last weeks.
A shocked Widdison protested to Micklos that "I had no idea what I was walking into," but Micklos said she needed to explain, in detail, her daughter's murder.
"I think you know exactly what you did to [Breanna]," Micklos said. "And understandably it's hard to talk about." The board would have to decide what impact the "new information" would have on what Micklos termed her "tentative" parole date.
Micklos held a second, seven-minute hearing "to ensure that Ms. Widdison had ample time to respond to the information and the testimony given at the February hearing," the board's Johnson wrote in an e-mail to City Weekly.
Micklos wanted to revisit allegations previously raised in Widdison's legal battles, namely that she had abused one of her other daughters 18 years ago. But Widdison's answers left Micklos dissatisfied, and she repeatedly mocked the inmate's responses. According to Micklos' reading of trial documentation, she said, "you basically tortured Breanna." As far as Micklos was concerned, "I can't see us ever releasing you until there's some acknowledgment on your part of what you did."
Three weeks later, Widdison was told she was in for life.
"My personal belief is they did not like the decision of the prior board, and so they changed it without justification or cause," Miller says. "There is absolutely nothing new in her case from the time she was given a parole date to the time they took it away. And the information they relied on was available to the prosecutor, sentencing judge and anybody who looked into it, including the board."
Widdison says she's done all she can "to try and show I am remorseful and make myself to be rehabilitated. I don't know what they are looking for in remorse—to be belligerent, to be so shamefaced you can't look at anyone?"
Her remorse, she says, "is not something that anybody could ever understand," let alone explain in sound bites before an antagonistic hearing officer. "It's too overwhelming to think of somebody you loved more than anything else in the world whose life is gone because of your choices and actions. I live with that every day."