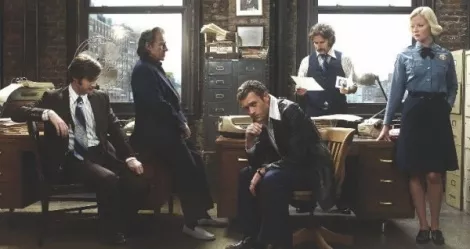 Life on Mars Wednesday, April 1 (ABC)
Series Finale: Speaking of great shows no one saw, Life on Mars is dead at 17 episodes— which is actually one more than the original British series ran, and nobody cried over that (the Brits are far better at TV brevity). The story of 2008 New York City cop Sam Tyler (Jason O'Mara) who gets hit by a car and transported back to 1973—either dimensionally or through comatose hallucination—and begins work for a much different and much hairier (I'll say it again: Michael Imperioli's mustache deserves an Emmy) NYPD, solving crimes old-school while trying to figure out his own cosmic conundrum, couldn't run for years. Sure, Life on Mars' immaculate attention to period look and sound (this is the most American airplay Mott the Hoople has ever enjoyed, the real '70s included), as well as its deft blend of humor and pathos, will be missed, but it's best to let go now. In the finale, Sam finds a possible way back to the present, but will he take it? Or stay in '73 with his new crew and budding love interest Annie (Gretchen Mol)? Gotta say, a world pre-American Karaoke Monkey and ironic mustaches is pretty appealing …
In the Motherhood Thursday, March 26 (ABC)
Series Debut: Any similarities to previous flop ABC comedy Notes From the Underbelly are purely coincidental—as long as you ignore an appearance by Notes costar Rachel Harris (snarky, blond, glasses; same character here), the use of children as suburban accessories/annoyances, and the overall air of midseason doom. Upside: In the Motherhood stars Cheryl Hines (Curb Your Enthusiasm), Megan Mullally (Will & Grace) and Jessica St. Clair (Best Week Ever) are all skilled comic actresses who have an immediate, easy chemistry and wring funny from the lamest modern-mom script turns. Downside: there are waaay too many lame modern-mom script turns. Don't get attached.

Mistresses Friday, March 27 (BBC America)
Season Finale: American TV lost its adult soap-opera mojo in the '80s; British TV found it in the '00s: Footballers' Wives, Hotel Babylon, Manchild, the Gordon Ramsey oeuvre—all so deliciously over-the-top. Mistresses is a worthy new entry, the story of four female friends, each involved in their own illicit affairs for their own reasons, few of which would make any sense to proper Americans. I would hope readers of The Only TV Column That Matters™ aren't proper Americans—catch up ondemand or online now.
Aqua Teen Hunger Force Sunday, March 29 (Adult Swim)
Season Premiere: The Aqua Teens find a genie at the dump, who then turns them invisible. After they accidentally kill said genie, Master Shake and a miniature Carl covertly videotape women in the bathroom, which of course leads to Carl being eaten alive by ants. Just as it was foretold in the Bible … and last year's Vol. 6 DVD set.
Cupid Tuesday, March 31 (ABC)
Series Debut: In 1998, future Veronica Mars creator Rob Thomas made a snappy little series for ABC called Cupid, about the mythological matchmaker (played by Jeremy Piven) banished to Earth by Zeus until he can connect 100 couples sans mystical powers—or at least that's the story he told his psychologist (Paula Marshall). Flirtatious dramedy and quick cancellation ensued. Now Thomas is remaking Cupid with different actors and the recent stench of The CW's similar (and similarly canceled) Valentine hanging low. Doesn't help that the 2.0 version fails to match the charm of the original, but so what? No one saw it!

Listen to Bill Mondays at 8 a.m. on X96's Radio From Hell.