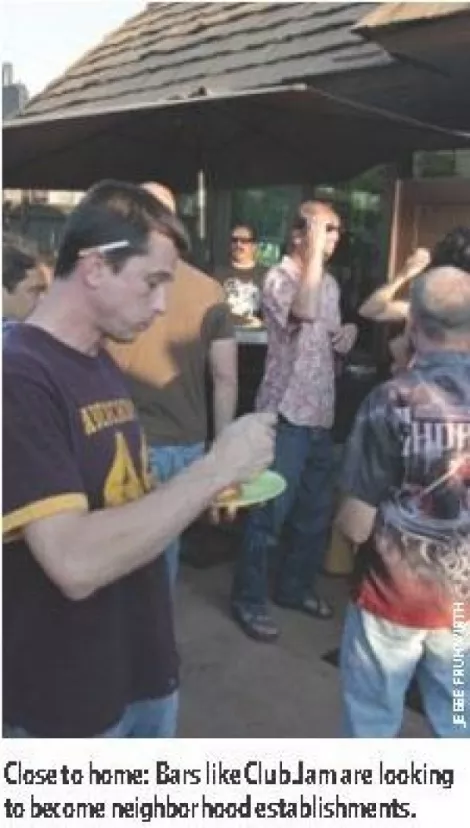 The Salt Lake City Mayor's Office is moving forward with a campaign promise to normalize the city's liquor laws, some of which are more restrictive than state laws. Among other things, it hopes to lay the groundwork for entertainment districts where several clubs can cluster, and also allow for small, liquor-serving pubs to be dispersed throughout the city's neighborhoods—neither of which is currently allowed. But without proactive reforms on the state level— where alcohol-leery Mormons control the show—the effort may be little more than empty blueprints.
Salt Lake City currently has 443 of the state's 1,666 alcohol licenses given to liquor bars, full-service restaurants and restaurants that serve only beer and wine; that's about 26 percent of the state's total allotted licenses. Unless the Legislature increases its quota of permitted liquor establishments in the state, the growth of liquor establishments statewide may be stifled, even with current liquor reforms.
"I don't think that you're going to see much change at all in the short-term here in the city because there are other forces at work," Salt Lake City Mayor Ralph Becker's chief of staff David Everitt says. He says there may be incidental changes—a new bar here or there—but nothing dramatic.
It won´t be because the Legislature will pass legislation to trump the city's initiative but that a passive Legislature will simply leave the quota system unchanged.
The Department of Alcoholic Beverage Control Commission Chair Sam Granato— who is seeking the 2010 Democratic nomination for the U.S. Senate seat currently held by Republican Sen. Bob Bennett—believes the quota system is stifling economic development and may continue to get worse.
"Do away with the quotas and let the free market work," Granato says, although as commission chair, he has no official capacity to change the quotas—that's a job for the Legislature. The commission's primary responsibility is deciding who gets the few liquor licenses that become available each month.
The quotas are recalculated quarterly and are based on state population estimates—currently at 2.758 million—from the Governor's Office of Planning and Budget. There is one full-service restaurant license given for every 5,200 Utahns, resulting in 535 of those licenses statewide; one liquor bar license for each 7,850 residents (342 total); and one beer-and-wine restaurant license for every 9,300 residents (287 total). Beeronly taverns are restricted to just one for every 30,500 residents. If state population grows by 1.4 percent, as estimates suggest it did between 2008 and 2009, then roughly 1.4 percent more licenses are issued. Also, if any license holder chooses not to reapply, that license is redistributed at the DABC's next meeting.
At the DABC's September meeting, there were only one full-service-restaurant license, five liquor club, and nine beerand-wine restaurant licenses available.
When there are more applicants than available licenses, the DABC Commission gives added consideration to the communities in which the applicants plan to operate.
For example, if an applicant in Nephi—which currently has only one licensed establishment—wants the same license as a restaurant in Salt Lake City, the commission is likely to give it to Nephi, said DABC Commission secretary Sharon Mackay. "Honestly, if there is only one or none in a city or county, that weighs heavily in their favor," Mackay said.
But how will neighborhood bar applicants be compared with others? No one knows. Granato said current members haven't discussed the potential for Salt Lake City neighborhood bars, and two new commission members will join the five-member body this year.
As for convincing the Legislature to increase the quotas, Salt Lake City´s Everitt says the city "is not planning an active role." Granato is hopeful, however, that legislators will change the quotas in the name of "good business." But he doesn't have any insight into the thinking of the Republicandominated Legislature.
Sen. John Valentine, R-Orem, who ran last year's bill ending private clubs, hopes to streamline Utah's liquor laws in the upcoming session. While there may be changes to liquor laws, he does not expect any changes to the quota system.

Josh Loftin contributed to this article.
Related stories:

Utah Liquor Licenses Unfairly Withheld
8 Questions for Alcoholic Beverage Control Nominees