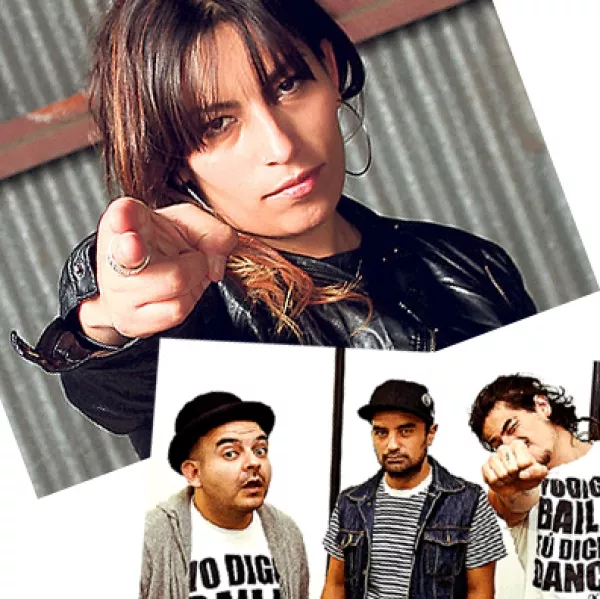 Ana Tijoux, Mexican Institute of Sound
When you stroll through the Living Traditions Festival grounds and hear the array of sounds and smell the culinary crafts ranging from traditional African fare to Turkish grub to South American specialties, you quickly realize Utah is not as homogenous and lily-white as our reputation would have you believe. As multicultural as Salt Lake City actually is, when it comes to musical offerings at Living Traditions, it is, indeed, a small world after all.
In 2012, even the featured guest musical artists booked by the Salt Lake Arts Council are indicative of just how small the world is. On the surface, it looks like festival organizers split the headliners evenly between two American blues acts and two Latin dance/hip-hop artists. But look deeper and you start to see stronger links between the acts despite their obvious differences in ages, home countries and musical styles.
To wit: Friday night features the one-two punch of Chilean MC Ana Tijoux, a brilliant, politically charged rapper; and the Mexican Institute of Sound, the project of one-man-gang Camilo Lara, forging a sound that's been compared to a Latin LCD Soundsystem. Lara's music is influenced by everything from traditional Mexican styles (like cumbia and mariachi music) to old-school hip-hop, and he's collaborated on songs with Beastie Boys' Ad-Rock. Tijoux also has an American connection; her latest release, La Bala, was recorded in Chile, but it was mixed and mastered in Detroit, which just happens to be the hometown of Saturday night's headliner, R&B treasure Bettye LaVette—another strong female voice. And Sunday headliner Charlie Musselwhite, a harmonica-blowing blues legend with roots in Memphis, Tenn., and Chicago, will follow his Salt Lake City gig with a trip straight to Mexico City—homebase for Lara's Mexican Institute of Sound.
See? Small world.
America has such a strong pop-culture presence around the world, it's not surprising to hear that Tijoux and Lara have been influenced by things like American hip-hop and jazz, but Musselwhite has found American musical influences in even more unlikely places during his more than 40 years touring and playing the blues.
"I was just in Japan, and I was amazed," Musselwhite said in an interview from his Northern California home. "I was in a music store and saw a record by The Blues Sisters. It was two Japanese girls playing the blues, and they sounded great! You can find really good blues everywhere. Especially in Brazil—they really capture the feeling. There are a whole lot of little girls playing blues harmonica down there. Little girls, teenagers, and they sound like Little Walter!"
The musical-influence game isn't a one-way street, though. Musselwhite's own music through the years has moved beyond the Chicago-blues style he started with to include Cuban influences, Tex-Mex border sounds and world music from around the globe. All of it, though, is rooted in his passionate, autobiographical songwriting, particularly later in his career on albums like The Well from 2010.
Tijoux's music is more obviously autobiographical. Her excellent debut, 1977, was named for the year of her birth, and her latest, La Bala, includes songs like "Shock," a searing look at the student protests happening in her hometown of Santiago as she was working on the album. As a "mother, musician and citizen," Tijoux said she felt a responsibility to pay homage to the passion of the protests.
"The political or social situation affects a country in so many senses," Tijoux wrote via e-mail. "Art is not excluded from this. We, as creators, are a reflection of the culture in a country and of what the country feels and thinks. Our responsibility as artists is to portray that. "
Mexican Institute of Sound's Lara is basically a one-man musical melting pot—the personification of what Living Traditions is all about. While he came to fame in his native Mexico, his music has taken him all over the world, collaborating with everyone from German dance producers to Mexican rock bands to the aforementioned American hip-hoppers in the Beastie Boys.
"Music travels, and that is all that matters," Lara says. "Playing outside Mexico is fun. In the United States, there are a lot of Spanish-speaking people, so it is not that different. But sometimes we play in places that just don't know what we're singing about, and it is still great."

LIVING TRADITIONS FESTIVAL
Washington Square
450 S. 200 East
Friday-Sunday, May 18-20
Free
LivingTraditionsFestival.com