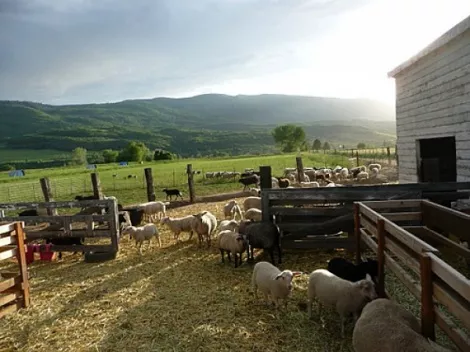 Local Lamb
Stig and Susan Hansen have been making their award-winning Snowy Mountain Sheep Creamery cheese for a while. Now, in addition to their terrific sheep's milk cheese, the Hansens are offering grass-fed, free-range lamb, available for retail purchase. Pastured around their home base in Ogden Valley, these heirloom lamb breeds are raised so that they're naturally disease resistant and without hormones or vaccines. Snowy Mountain's lamb is then hand-cut and processed locally, in Morgan. The butcher, Nathan Bingham, will even take cut-to-order special requests from customers. Snowy Mountain lamb is available at Caputo's Market & Deli (in the freezer section) and fresh at Caputo's Saturday Locavore Markets, or directly by calling Susan and Stig at 801-745-0388.
X96 Brew
Kerry, Bill and Gina—the X96 Radio From Hell crew—have been honored in many ways over the years, with some of the honors and accolades being a bit unusual. But this has got to rank up there with the best of them. Calling it "an unholy union of Squatters and Radio From Hell," Squatters has just released its first batch of X96 Radio From Hell brew: Red as Hell Ale. It's now available for your imbibing pleasure at The Beer Store (1763 S. 300 West), the downtown Salt Lake City Squatters location (147 W. Broadway), and select liquor stores.
New SLC Harmons
The gleaming new Harmons grocery store is now open in downtown Salt Lake City at City Creek (135 E. 100 South). Along with its upscale, modern décor, the newest Harmons—No. 16—also offers a coffee bar serving fresh-roasted Cafe Ibis coffee, pastries and gelato; a sushi bar; a 57-item delicatessen, which includes Harmons' new panini sandwiches; a wok bar with Asian-inspired hot dishes; a kitchenware boutique and cooking school led by chef Adalberto Diaz; a U.S. Post Office; a seafood counter featuring fish flown in fresh daily (in season); a pharmacy and full-time dietician available for free consultations; a no-plastic-grocery-bag policy; and much more. Visit HarmonsGrocery.com for more information.
Quote of the week: Lettuce is like conversation: It must be fresh and crisp, and so sparkling that you scarcely notice the bitter in it. —Charles Dudley Warner