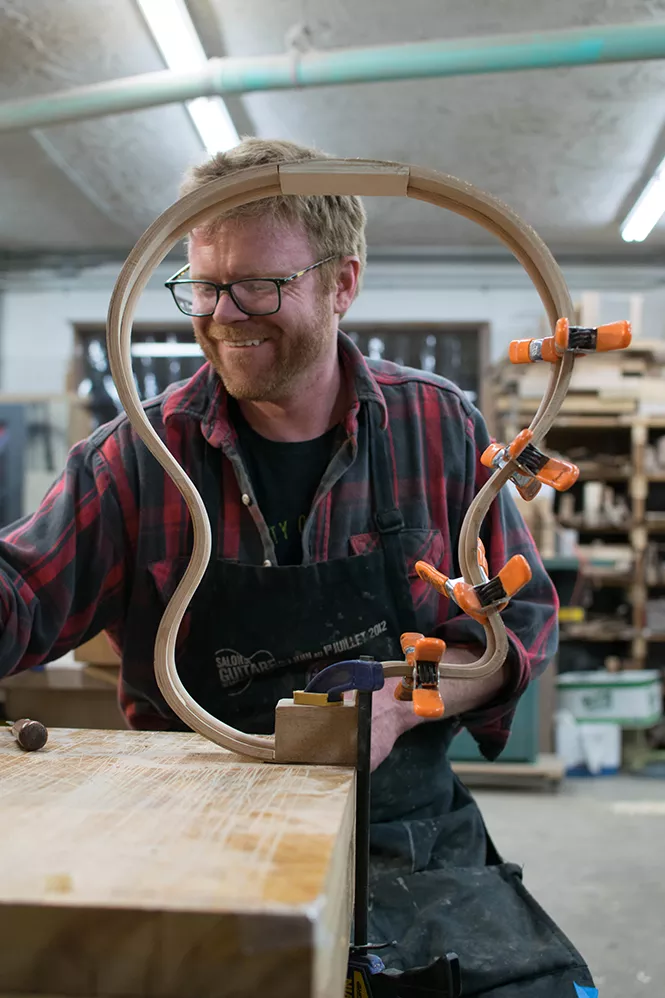 For the past half hour, Ryan Thorell has been gently rasping the spruce top of his creation with a razor blade in his Logan workshop. The blade has bent and twisted, little by little, to fit the form of his fingers. With each pass, flecks of wood accumulate on the paint-splattered workbench.
"I like to approach each guitar individually," the craftsman says, "and approach it from my perspective as it evolves throughout the years."
Thorell is constructing a 15-inch archtop acoustic guitar for a customer in San Francisco. The instrument is made from wood sourced from three continents—North America, Europe and Africa—and Thorell's last name is elegantly inlaid in cursive on the headstock. He says the client wanted a guitar that mirrored his traditional musical leanings, but with a modern touch. While the shape of the guitar is time-honored, the outside is edged with Central American bocote wood, its grain subtly resembling leopard spots.
For all the embellishments, however, at the end of the day the guitar-maker's goal is simplicity and playability. "My guitars have become more spartan," Thorell says, "and more about the instrument and its ability to perform as a tool for the musician."
Thorell has been slowly but surely building a reputation as one of the nation's best luthiers. "He's the real deal," says Bob Bakert, a music industry veteran of 30 years currently working for Eastman Guitars. "He's like a world-class guy hanging out in Logan, Utah, and he's so damn young."
Thorell, 38, looks like a woodworker should look—sporting laced work boots and blue jeans. In his shop sit half-a-dozen guitars he's either building or repairing. By his own estimate, he only produces between 12-20 handmade instruments a year. "I think having an approach that allows you to be productive and fly next to the ground has allowed me to really stay as a one-man shop," he says.
The career he's built as a luthier's luthier in an unassuming town is taking a turn. Last year, Thorell's most popular guitar model—the instrument he designed for his friend and famed jazz guitarist Frank Vignola—was carved and assembled by Eastman Guitars. The collaboration marked the first time one of his designs was picked up by a mainstream manufacturer. He says the move represents validation in a complicated market.
"I've gotten quite a bit of new business," Thorell says. "It's amazing how many people don't know who you are regardless of how much exposure you think you've already had—it's such a small niche of the market."
Thorell built his first guitar in 1993 at the age of 13, an angular electric guitar reflecting his musical interests at the time—namely, Metallica. He says he knew every riff from Metallica's guitarist, Kirk Hammett. When he discovered jazz, he began appreciating the instrument in a more earnest fashion. Motivated by the music of Eddie Lang, Wes Montgomery and George Benson, Thorell says he began practicing eight hours a day.
Once jazz guitar playing enveloped Thorell, he began studying at Arizona State University at the age of 16 with Vignola. Vignola left Arizona State the following year, and subsequently lost contact with his Utah-based student.
After several woodworking apprenticeships, Thorell began building guitars professionally in 2003. Nearly 10 years after their initial meeting, Vignola says the guitar manufacturer he endorsed was dropping all its endorsers. The news led to a handful of luthiers sending their instruments to Vignola hoping for an endorsement, but none truly made an impression—except one. He agreed to give that guitar a shot—unaware that its creator was his former student. "I played that guitar every day since he sent it to me," Vignola says.
Thorell continued to craft guitars and a reputation. And the players who own his guitars—and even some who don't—rave about them. "Everyone who has played my guitar—from George Benson to Tommy Emmanuel—just fell in love with it and played it for hours," Vignola says.
Bakert says after meeting Vignola at a seminar and seeing his custom Thorell guitar, he was sold. He now owns three. "I picked it up and played it and said, 'I've got to own one of these,' and I immediately called Ryan and ordered one," he recalls. He then pitched Thorell's design to Eastman Guitars, which spawned the project between Vignola, Thorell and the manufacturer.
Purchasing a handmade guitar from Thorell ordinarily would cost between $8,000-$15,000, a price only a dedicated few are willing or able to spend. However, the Thorell-designed Frank Vignola Signature Model from Eastman Guitars will be offered at $2,995—a price that hopefully will put his work in the hands of more musicians. "This is a big deal for Ryan, and I'm so very happy for him," Vignola says. "It's a very difficult market to be able to sell an $8,000 guitar to people."
The collaboration between artist, luthier and manufacturer is something of a rarity, according to Bakert and Vignola. For a manufacturer to produce a guitar in such a fashion exemplifies dedication to producing fine instruments. "We did it because we think it's a really cool guitar, and we think we're a really cool company," Bakert says, "and we think Frank is a cool guy and Ryan deserves some love here."
Once the production is completed, Vignola says he will retire the original guitar Thorell built and play the Eastman model exclusively. Vignola says he has been gathering signatures on the original guitar from musicians he appreciates—creating his own collectible. "It becomes irreplaceable," Vignola says. "It's like a '59 Les Paul—you just can't do that again."
In Vignola's view, Thorell's mix of attention to detail, cooperativeness and overall good nature makes him worthy of high praise. "He would do anything for anybody," Vignola says. "That's why I really wish him the most success, because he really deserves it."