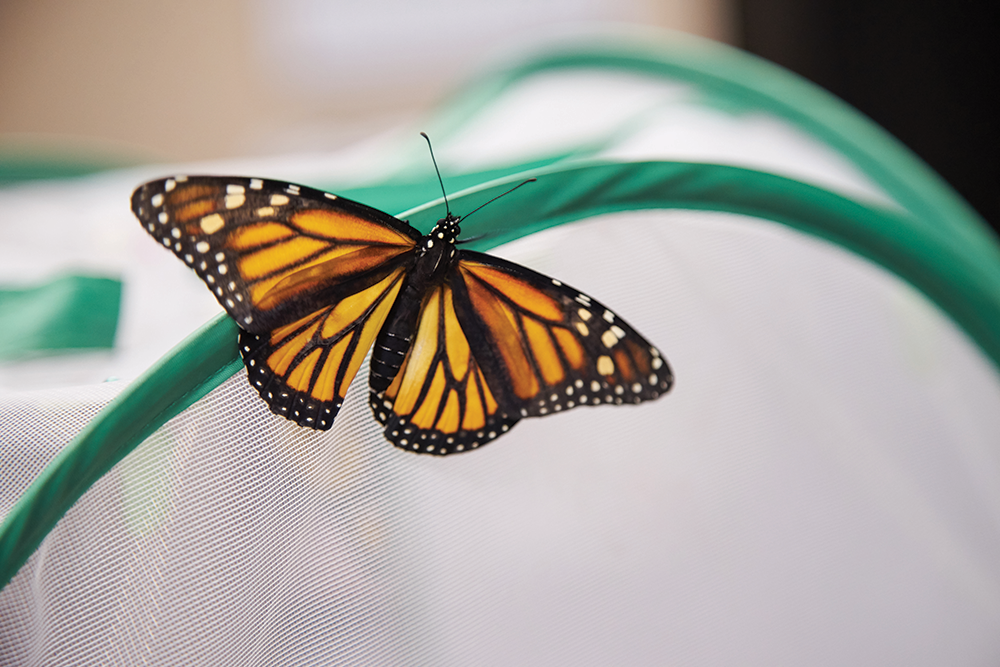 West of This Is the Place State Heritage Park, on Salt Lake City's East Bench, lies a small nature preserve. Gravel walking trails and signs welcome those looking for a quick detour from the traditional sidewalk jaunt. Just feet from Sunnyside Avenue, among the sagebrush and dry grass, more than a dozen milkweed plants grow—beckoning passing monarch butterflies to land and lay their eggs.
Pulling back the leaves on the one- to two-foot tall plants, though, nearby resident Rachel Taylor shows there are no eggs. There aren't any caterpillars or chrysalises either, and no signs the plants have been used by the butterflies. This year, the area is not the place for monarchs.
"This is just a horrible year," Taylor says, traipsing around the milkweed she's planted at the preserve. "The overwintering count was down significantly—Oregon, Washington, Idaho—none of us have any [butterflies] but we are seeing some in the canyons."
A few blocks away, Taylor inspects the much taller plants at her home for eggs. Still, none. The plants alongside her house are more than five feet tall, thanks to the benefit of a reliable water source and lots of TLC. But Taylor still hasn't been able to lure any migrating butterflies.
Even so, Taylor is relentless in her efforts guarding the plants from spiders and beetles that see the eggs as tasty monarch caviar. "They'll eat 98 percent of them, so that's their first hurdle," she says of perils budding butterflies face. "If they make it past that stage and into three or four days worth, then they're the tiniest little caterpillar."
Taylor's predicament isn't just felt on the local front. Butterflies west of the Rocky Mountains lay their eggs in states such as Utah, Idaho, Washington and Arizona, and winter in California. The annual count there—completed by scientists and volunteers—tallied just more than 192,000 monarchs last year. That number marked a five-year low, down from 300,000 the year before and 1.2 million 20 years ago. And according to a recent study funded by the U.S. Fish and Wildlife Service, the western monarch population has a 63 percent chance of becoming extinct if that trend continues.
Contributing factors like fewer nesting areas and habitat destruction are what Taylor and hundreds of other "citizen scientists" across the West are hoping to reverse, one plant at a time.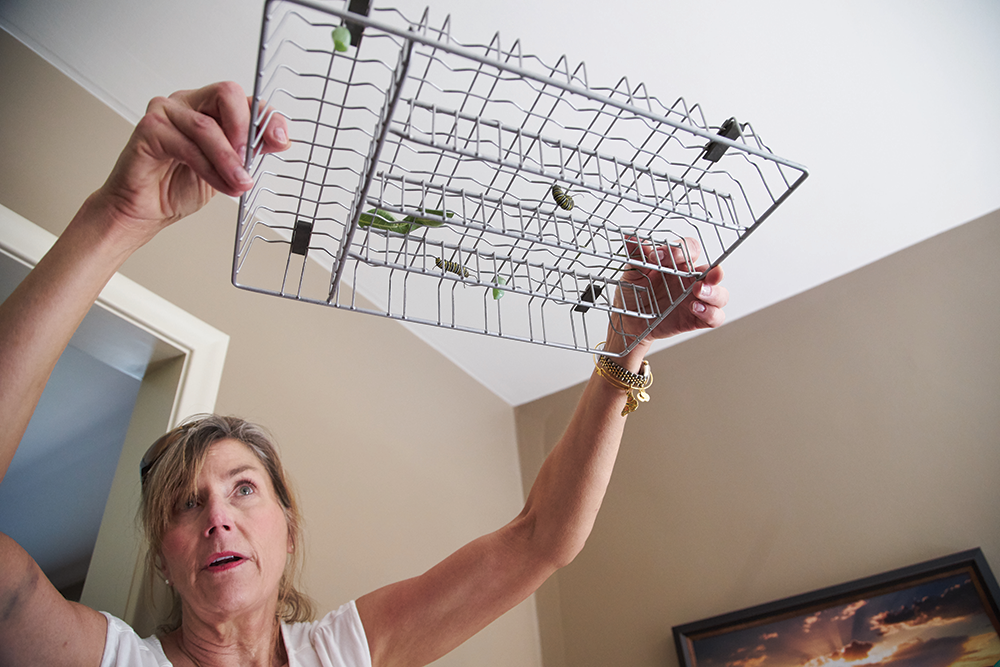 Sarah Arnoff
Rachel Taylor
Rooted in Royalty
Iconic for its bold orange, black and white coloring, the monarch butterfly (Danaus plexippus)—also known as the wanderer, common tiger and black-veined brown—has a history rooted in royalty.
It's believed the term "monarch" was given in honor of England's King William III, whose title "Prince of Orange" references the insect's dominant orange color. The butterfly was first described by Swedish botanist Carl Linnaeus as far back as 1758 in Systema Naturae.
As for its genus, "Danaus," the name comes from the mythical king of the same name in Egypt or Libya. Danaus was the great-grandson of Zeus. And according to Greek mythology, Plexippus was one of the 50 sons of Aegyptus, a former king of Egypt.
Today, the pollinator species is known for its annual migration, thousands of miles long, and its multigenerational return north.
"There is a difference between our wisdom and nature's simplicity—that reflects the burden of a complex intelligence," poet Alison Hawthorne Deming said in an interview with Nashville Review. "A complex intelligence like ours is impotent compared to the intelligence of a monarch butterfly migrating from Canada to Mexico, or the intelligence of hummingbirds that have co-evolved with the flowers all along their migration route. That seems so simple; it just happens, it just unfolds."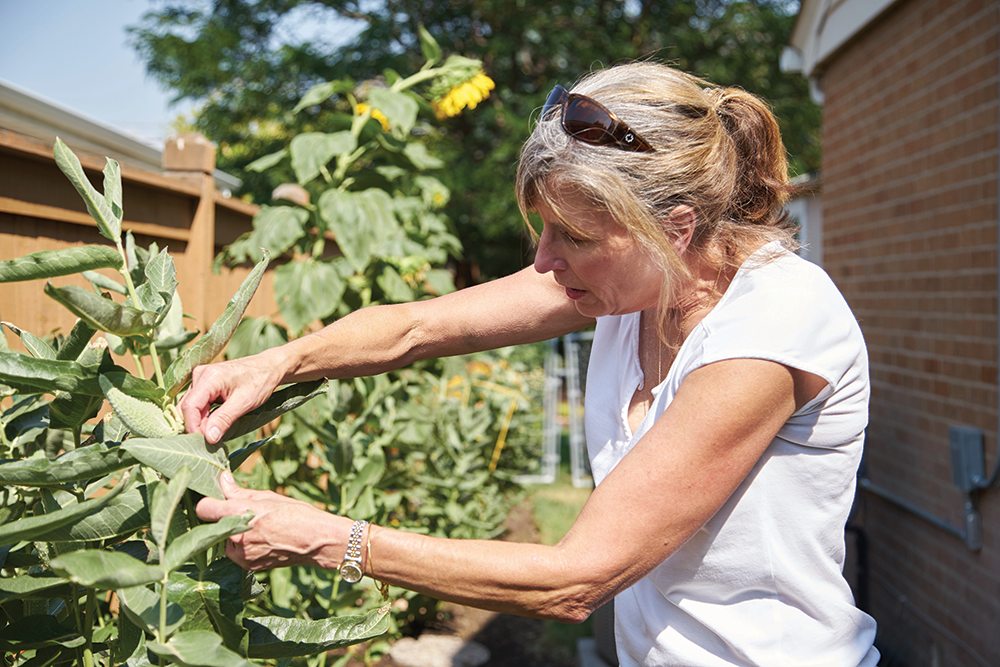 Protect Me, Maybe?
According to Tierra Curry, a senior scientist with the Center for Biological Diversity, people need to start paying attention to the species' dwindling numbers. More scientists and volunteers are counting butterflies in more places, yet overall population numbers continue to decrease. Part of that, she says, is due to changes in the butterfly's habitat.
"Climate change is kind of the elephant in the room. They can be hurt by increased severity of storms, things not blooming when they should," Curry says, adding that milkweed's susceptibility to drought isn't helping. "[Butterflies] need more milkweed in the ground and need other nectaring plants, because they have to fly through the Great Basin and over the Sierras."
The Center for Biological Diversity, along with other conservation groups like the Xerces Society, petitioned the Fish and Wildlife Service in 2014 to place monarchs on the Endangered Species List. The service says it found "protection may be warranted," and promises to conduct a "thorough assessment" to determine what the butterfly needs. A ruling on designating the monarch as endangered is expected in June 2019. The FWS could recommend it for listing; it could say protection is not warranted; or it could place it on a candidate waiting list.
In the meantime, Curry says conservation efforts have to be multi-pronged, starting with education. "Everybody thinks it's just milkweed, but adult monarchs nectar on over 100 different flowers," she says. "They need fall flowers so they can build up their fat reserves and can fly across the desert and survive the winter."
Mindy Wheeler, the rare plant conservation coordinator for Utah's Division of Natural Resources, has been working with Taylor and other local groups to broaden the state's butterfly and milkweed counting efforts. Wheeler explains that "some of the buzz" is that monarchs are off to a rough start this season. However, some of the wetland areas around Utah Lake and the Wasatch Front seemed to be "harboring quite a few monarchs."
This is the first year the state has been officially involved with the latest efforts to help the monarchs. Up until now, it's been mostly a grassroots effort to drum up support and awareness.
While the butterfly's endangered status is being decided, other efforts to help the monarchs are going full-bore.
The 2014 petition "sort of elevated efforts for conservation," Wheeler says. "Idaho, for example, has done a great job ... the state did a lot of monitoring and got a lot of people on the ground and found they have a lot of monarchs on the Snake River Plain.
"I would like to emulate Idaho and get more people on the ground and see what kind of data we can generate for monarch use in Utah, and make sure our conservation efforts are being put in the right place."
If you've heard of butterflies migrating to Mexico for the winter, you're correct. Monarchs still fly there. However, those butterflies represent the population east of the Rockies. And they seem to fare better than their western counterparts. As recently as 2016, scientists observed a 225 percent increase in the eastern population from 2015, but the number of western monarchs is in decline.
When the eastern monarchs reach Mexico, they reside on about 12 mountain tops. If a damaging storm comes along, it could significantly hurt them. But the western monarchs find themselves at a high risk, too. The geography they have to traverse to reach California can be treacherous and long.
"The western ones are even more imperiled, and it's just as important to plant milkweed for them," Curry says.
As a result of farming and development, milkweed—seen as a mere weed by some—was elbowed out of the landscape, so eastern efforts have centered on restoring the plant and putting it back onto land where it has a chance to attract monarchs.
On farms, "there used to be what people would call weedy edges," Wheeler says. "Some of those weedy edges would harbor nectar plants or milkweed, but some of the farming practices have changed [and] they use every last piece of land for their crops. So a lot of those weedy edges have disappeared, and, the milkweed has disappeared."
Now, scientists in the west are taking a note from the east's resurgence and encouraging the public, and farmers, to embrace milkweed. Whether the monarch receives official protection, though, might not make a difference. Taylor and Wheeler hope to drum up voluntary support for their conservation efforts before it turns into people complying with mandatory conservation rules. This goes further than just planting milkweed. They hope to educate the public on raising monarchs and how to keep the plants free from other predators.
"If they stop people from spraying Roundup and stuff, it's just going to piss off a bunch of farmers," Taylor says. "It's a lot easier to get people to buy-in in other ways."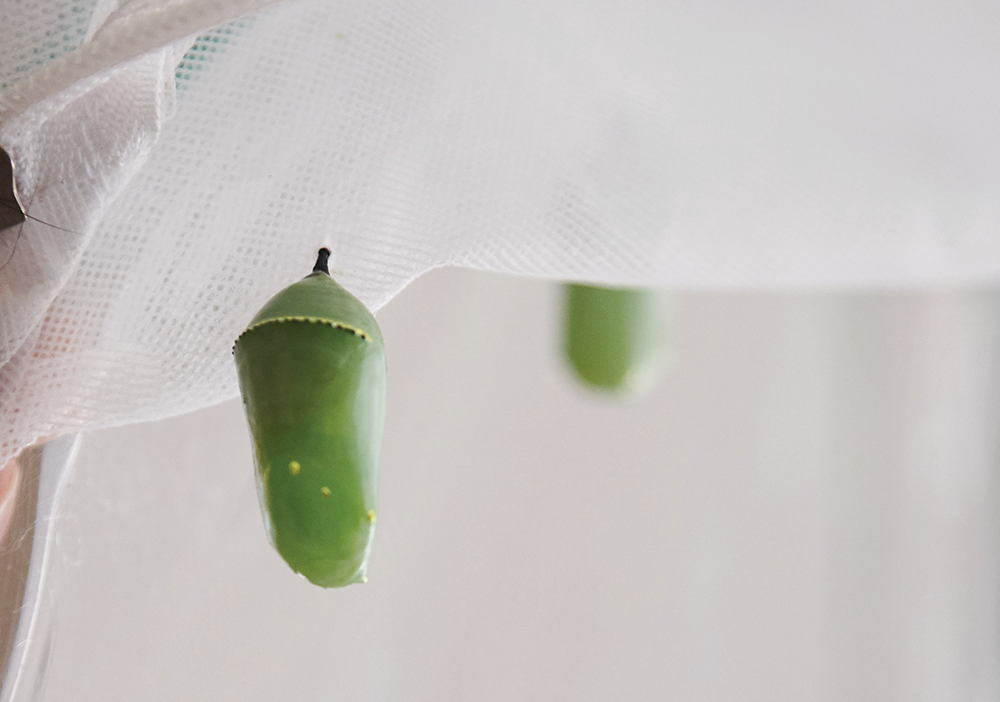 Spreading Her Wings
Taylor has been working with monarchs for the past five years. She and her husband run a recruiting company, so the butterflies are more of a hobby—but she doesn't show any signs of fatigue.
"I grew up in rural Utah and we used to have them everywhere and it just dawned on me we don't have them anymore, and why?" Taylor says. "So, I started researching them."
Part of her home habitat includes a mesh cage that houses chrysalises and caterpillars. Taylor hopes to involve more Utahns in searching for and planting milkweed, and tagging butterflies. With Wheeler's help, she's set up an online database (bit.ly/monarchsinutah) to collect and organize information across the state. Through the website, the public can contribute to data collection, tag butterflies and use smartphone apps such as iNaturalist or Monarch SOS.
The online spreadsheet she and Wheeler created only has two locations listed for milkweed out of the nearly 580 data points they hope to study throughout the state. To get a complete picture, they'll need hundreds of more submissions, so she hopes Utahns will contribute to the data collection effort and help spread the milkweed gospel.
"It's going to take a team. I think we're doing a pretty good job at assembling that team and will welcome any more that want to join," Wheeler says. Taylor, she points out, has also been working with prisons to grow milkweed to later distribute to folks who want it in their backyard.
Taylor's small patch of milkweed along the Sunnyside nature preserve is one of a few she has planted and monitored around the city in hopes of helping the butterflies make their journey to the coast.
"We've got to know what we've got and where we've got it," she says. "In the meantime, there's this groundswell of citizens planting milkweed, adding it back to the landscape, because if we don't have milkweed, we don't have monarchs. It's the only plant caterpillars can eat."
Taylor also volunteers to teach classes about monarch conservation—dubbed "Saving the Monarchy: One Milkweed at a Time"—at Red Butte Gardens and the Swaner Nature Preserve near Park City.
With the help of Salt Lake City's Parks and Public Lands Department, Taylor planted milkweed and established a waystation—a designated patch of milkweed for passing monarchs—as part of the city's Fairmont Park improvement project. Efforts also included dredging the park's pond, installing boardwalks and adding fish.
"We know they're struggling," Salt Lake City program manager Tyler Murdock says about the monarchs. "Our efforts have been to take some of these more formal designated park spaces and try to diversify them in ways we haven't done before."
Murdock says the city has also planted milkweed in other parts of the valley, such as along the Jordan River, Emigration Creek and at the Wasatch Hollow Preserve.
"We are always looking for opportunities to diversify our natural lands with vegetation and wildlife," he says. "The opportunity to plant milkweed in these areas doesn't have an impact on anything else and is pretty easy for us."
Changing the public's perception of milkweed, however, is another story. "It will grow along ditch banks and can kind of be an aggressive plant," Wheeler says.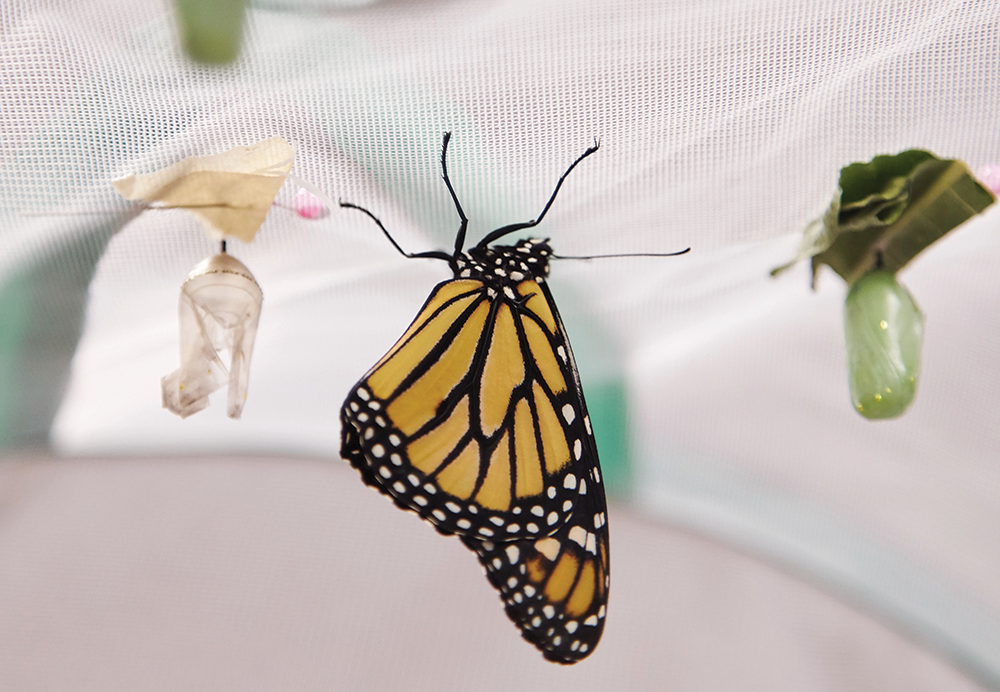 Up and Away
Four weeks after Taylor lamented the lack of monarch eggs at the waystation along Sunnyside Avenue, she shared a post to the Facebook group "Monarchs of the Wasatch Front Utah," a 300-member group open to those interested in monarch conservation.
"They're baaaaaaack!" she wrote. "Found 24 eggs at one of my waystations today."
The eggs were found on the new plants at Fairmont Park—a promising sign for the fall, Taylor says. They're also very small, no bigger than a pea. That's typical of the eggs, but Taylor says it's important to check the plants frequently because other insects find them to be tasty snacks.
"You have to beat the bugs," she says. "Maybe 95 percent out of 100 eggs get eaten by predatory bugs—milkweed beetles, praying mantis—you have to check the milkweed daily or every other day."
A few days later, Taylor found 10 more eggs. She'll now take the egg-bearing leaves home to raise and protect the insects from would-be predators in what she calls "protective custody." Once hatched, the caterpillars will live in her home and feast on milkweed until they're ready to undergo metamorphosis. Once the monarch reaches adult stage, she will release them into the wild. For ones raised after mid-August, Taylor will tag them with a sticker for the conservation study and wish them luck on their journey west. Some that were tagged in Cache Valley have been identified as far as California and as close as Vernal.
For the monarchs, their future is a strength-in-numbers situation. The more milkweed they have, the more chances they have to lay eggs and grow their population. "If people could just incorporate a few plants," into their gardens, Taylor says, it would help their months-long trek tremendously.
Despite finding some positive signs at Fairmont Park, Taylor hasn't had much luck at her other locations. She hasn't found any eggs along Sunnyside and only a few at her other designated spots. This season, she predicts, could be treacherous for monarchs.
"It's been a dry, dry year," she says. "There's plenty of milkweed, just no monarchs—I think it's going to be a low-number year."
Still, Taylor and others will keep fighting the delicate battle for the monarchs because the creatures will need all the help they can get against their biggest foe: Mother Nature.
"For the butterflies last year, some flew north too early and they froze," Curry bemoans. "If they don't get the trigger to migrate, they won't make it all the way to Mexico or California before they freeze."