Lord Huron, Lonesome Dreams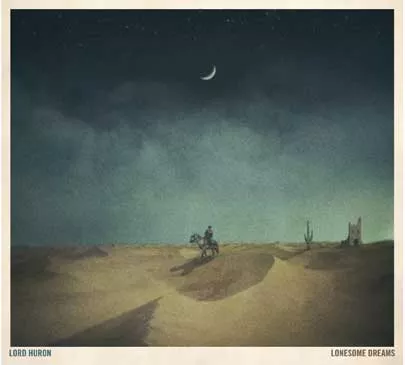 Lonesome Dreams
transcends folk—it travels into metaphysical realms, the stuff of dreams. At times, it grabs the listener away from reality and into a trance—like listening to the rhythm and cadence of repeated Buddhist mantras. The first full-length from
Lord Huron
, the brainchild of Ben Schneider, is filled with smooth transitions, nostalgic lyrics and eclectic sounds.
Aside from documenting religious awakenings, ghostly images and the longing for immortality, Lord Huron's nuanced sound is similar to My Morning Jacket or Arcade Fire, if at times a little too derivative of Fleet Foxes.
Traditional folk instruments are brought to new life, though, with sonic accoutrements from the East. The album's first track, "Ends of the Earth," comes to life with chiming bells behind the repetitive, meditative chorus: "To the ends of the Earth, would you follow me?/ There's a world that was meant for our eyes to see." From "Ends of the Earth" the album flows into "Time to Run." Each subsequent song pours like to a cascading waterfall, where some part—be it a verse or sound—is carried into the next piece of music. IAMSOUND Records, Oct. 9 (Frances Moody)
Sic Alps, Sic Alps

Every bit of music that
Sic Alps
has created seems a little askew: from its careening, off-balance rhythms and melodies to its utilization of the '60s garage-rock sonic palette. Their lack of indie-rock self-consciousness somehow makes this San Francisco-based psych-rock band seem more genuine, though. And that's one of their charms: Mike Donovan & Co's lack of style as a style.
This is the first album Sic Alps has recorded in the studio—as opposed to at home—and the leadoff track, "Glyphs," is aurally arresting, with string arrangements by Ryan Francesconi (Joanna Newsom's Have One On Me). It leads into a jittery stop-start melody—as if Stephen Malkmus had listened to late-period Beatles instead of the Fall—that is the harbinger of the remainder of the set. But the rest don't flaunt such obvious studio trickery: "God Bless Her, I Miss Her" uses the clarity of the studio sound to create a more direct plaintive ode to the one that got away, and "Moviehead" sounds like a mini-soundtrack for the great lost '70s road movie. Overall, this self-titled album is loose but never shambling. Drag City, Sept. 18 (Brian Staker)